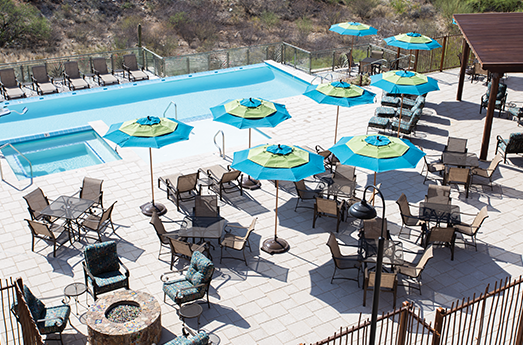 Hacienda Del Sol Undergoes $9.6 Million Expansion
By Mary Minor Davis
Five weeks before the COVID-19 epidemic was declared, the owners of Hacienda Del Sol Guest Ranch Resort had secured financing and signed development contracts to begin a $9.6 million expansion of the property – the second largest such project in less than 10 years. Just as the ink was drying, parts of the world went into quarantine and everything in the U.S. seemed to stop in its tracks.
Well, almost everything. Tom Firth, managing partner for the Hacienda, decided that commitments needed to be met, and work had to continue to keep people employed and the project on track.
"There were a lot of unknowns," he said. "The tourism industry wasn't predicted to return until 2022. We weren't sure if we were going to become a bank-owned property."
In 2016, the Hacienda embarked upon its first major multi-million-dollar expansion in half a century. In addition to major property upgrades, 32 Catalina rooms and suites were built in six two-story buildings. Outdoor showers were new features in several guest rooms.
"We've received a lot of positive feedback from guests on the Catalina rooms, so we wanted to create something that had a village feel to it but also complimented other development that stayed true to the look and feel of the Hacienda," he said.
Rincon Ridge Village added 40 queen and king bedrooms with most boasting views of the Rincon Mountains, and sporting outdoor shower facilities. "There's just something so refreshing about outdoor showers," Firth said, "especially when you're looking out at the mountains."
The Hacienda's tradition of showcasing local artists continues with many additional indoor and outdoor art pieces displayed throughout this latest expansion. Longtime interior designers Rene and Judy Tinsley returned to inject their signature hand-painted accents. The rooms also feature custom furniture designed and provided through Antiqua Mexico. Other contractors included Frank Mascia with CDG Architects and general contractor Chestnut Construction.
Just north of the entrance to the Hacienda is a 3,400-square-foot home recently purchased to become The Spa at Hacienda del Sol. There is also a small fitness center at the new lap pool installed in the village.
When Hacienda del Sol first opened its doors in 1995, it had 30 rooms. "We were really just a food and beverage operation with some sleeping quarters," Firth said. Today, with 97 keys and the additional amenities, the Hacienda is in an "efficient place as a premier Tucson resort," he added
The current partnership has served as the longest ownership, second only to original owners John and Helen Murphey, who built the Hacienda in 1929 and operated a girl's college preparatory school from 1930 to 1948. The elite families of Pillsbury, Vanderbilt, Maxwell and Westinghouse were among those attached to the school.
The property traded owners for many years before it was purchased by managing members Mike McGrath, Firth, Mike Stilb, Jeff Timan, Paul Ginsburg and Rick Fink (since deceased).
"We're now the longest owners of the Hacienda, surpassing the Murpheys by several years," Firth said. That continuity of ownership and the planning that has taken place over the years ensured that each expansion complemented what existed. That's evident throughout the property.
Fortunately, the prediction that the tourism industry wouldn't make a comeback until 2022 is proving to be untrue at the Hacienda. The Rincon Ridge Village started releasing rooms in May and was fully opened in early June. Firth said the Hacienda has seen high occupancy this spring, and weddings and corporate events are coming back.
Additional rooms, higher occupancy and more events mean the Hacienda is hiring. "We're looking for people in every department," Firth said, noting that, like others in the hospitality industry, finding the right people has been a challenge.
"We're really proud of the Hacienda and have worked hard to respect its history," Firth said. "While we've grown a lot over the past 26 years, we feel we've continued to showcase the best of the Hacienda and that translates to a first-class, intimate guest experience."