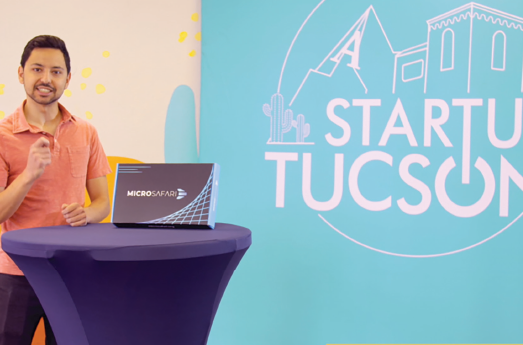 IdeaFunding Awards $65,000 in Prizes
By Loni Nannini
Though the economy is still feeling the reverberations of the global pandemic, the startup scene in Southern Arizona is on fire – and Startup Tucson just added virtual fuel to the flames.
In April, the local nonprofit and a group of community partners awarded more than $65,000 in prizes to small businesses through IdeaFunding, the region's largest entrepreneurial conference and annual pitch competition. In addition to the cash prizes, the digital day-long conference offered priceless exposure for 80 competing companies to an audience spanning 326 cities.
"We had people watching from London, Chicago, New York, Austin, Seattle and cities around the world, with a high percentage of viewers identifying as investors. IdeaFunding has always been magical because it is the opportunity for local entrepreneurs to come together and meet mentors and investors. This year we found that streaming offered a great opportunity to elevate our startup ecosystem," said Dre Thompson, executive VP of Startup Tucson.
Since its inception 24 years ago, IdeaFunding has facilitated that goal by providing mentorship, encouragement and training for a range of small businesses and new business starts. The one-on-one training and support, courtesy of the University of Arizona Center for Innovation, culminated in a five-minute presentation for each business at the competition. The event serves as a springboard to help participants grow – and sometimes sell – their businesses.
"In addition to an opportunity to showcase our ecosystem and talent, IdeaFunding is a learning tool designed to build relationships and help businesses hone their communication and pitch skills for thais conference and others around the country," said Thompson.
IdeaFunding has grown steadily over the years through partnerships with Pima Community College and the University of Arizona McGuire Center for Entrepreneurship.
The 2021 title sponsor was the Arizona Commerce Authority. UAVenture Capital provided the $10,000 cash for the MainStage Pitch Prize, which also included a year of incubation by the UArizona Center for Innovation (valued at $10,000). The highly coveted prize was awarded to Micro Safari, which markets self-contained micro-ecological system habitats and the tools needed to view them – including microscopes that attach to smartphones and tablets. The startup, founded by Tucson native Soroosh Hedayati, also topped the Consumer Products category.
The Biotech and Life Sciences category winner was Metfora, which analyzes metabolites in the blood to diagnose diseases. The Software as a Service prize went to Patter, a software application for organizing and managing meetings. The Science & Tech winner was Paramium Technology, which commercializes technology for fabricating antennas.
Women businesses and BIPOC-founded businesses (which stands for black, indigenous and people of color) were honored with the Adelante Arizona Awards, which were taken home by Ku'Panda, creator of vegan, handcrafted herbal tea skincare products, and Obánj, a luxury designer jewelry loan business. Revolute Robotics received the McGuire Center for Entrepreneurship Young Entrepreneur Prize. Diabetes Now won the United Way Social Impact Award, and the Optic Valley Optical Award went to USA Technologies.
Thompson said that the diverse nature of the participating businesses illustrates the depth of talent and innovation in Tucson and Arizona.
"When people think of startups, they often just think software or tech companies. We value the role they play in job creation and innovation and making Tucson what it is – but we really expanded this year in light of COVID to make sure small businesses, main-street businesses and creatives were getting the attention and spotlight as well," said Thompson.
Innovation and grit demonstrated during the pandemic were acknowledged with Community Resiliency Prizes presented to five local businesses – La Luna Coyote, Blax Friday, True Concord Voices & Orchestra, This n' That Creative Studio and Boss Women Unite. Local musicians, mixologists and comedians also received awards. Collectively, the businesses represent entrepreneurs who pivoted during the past year to keep their businesses afloat – a feat highlighted by IdeaFunding's "Resilience and Recovery" theme and illustrated by Micro Safari.
"Soroosh is such a COVID story. Prior to the pandemic, his main customers were science and children's museums. When they shut down, he had to figure out how to go direct-to-consumer. It was really a triumph of pivoting to maintain his business," Thompson said.
Hedayati, 26, who describes his product as "similar to Sea Monkeys but built for the 2020s," was thrilled about the IdeaFunding awards and the resulting exposure, which he described as monumental.
"I am continuing to explore potential partnerships and synergistic relationships with various folks who have reached out because of IdeaFunding," he said.
Ultimately, Hedayati believes that Tucson offers a unique small business community characterized by strong resources, a relatively low cost of living and affordable labor.
"Tucson is blessed to have a very robust startup ecosystem. It is a very good place to start a business. I moved back to Tucson specifically because I knew I could build Micro Safari here," he said.
Startup Tucson and its partners have cultivated that community, sparking a regional renaissance among small businesses and startups, which comprise 99.4% of businesses statewide.
"It feels like a renaissance on the ground, but it is uniquely Tucson in nature. Companies from other cities say that we are an exceptionally inviting and warm community, and even as we continue to grow, the thing that makes Tucson so distinctive is the support," said Thompson.