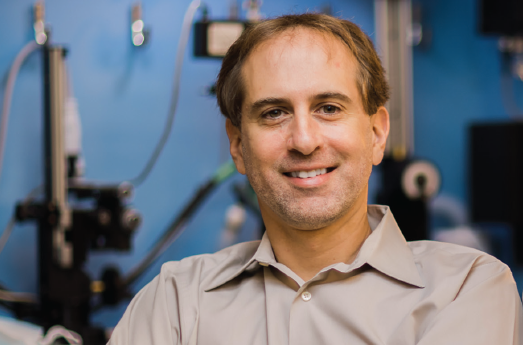 GermFree Disinfecting Responds to Need
By Christy Krueger
In future years, the devastating COVID-19 pandemic will be a memory most people would prefer to forget. But, as often happens, unexpected benefits may arise from the challenges we overcome, such as the development of new technology, processes and habits that will keep us safer going forward than ever before.
James Titone and Doug Airulla met 10 years ago when both were in the midst of busy careers – working for somebody else. Airulla was an executive with JPMorgan Chase. Titone was a physician's assistant at Ironwood Dermatology and previously an Army medic.
They often talked about their shared passions and striking out on their own. When the pandemic hit, it got them thinking about disease prevention. They conducted research and realized, in a lot of cases, janitorial cleaning wasn't enough for these times.
On June 1, 2020, the partners were up and running with their new company, GermFree Disinfecting, born in response to the question of how to keep Tucson-area businesses and homes safe for employees, customers and inhabitants. All disinfecting solutions used are safe for humans and leave no residual trace. A University of Arizona professor of bioscience engineering helped them develop their services.
Titone and Airulla created a three-level approach to disinfecting and fighting pathogens. GermClear is an eradication process used when there's an active presence of an infection. An example would be a gym owner who calls and says he thinks there's a MRSA outbreak in one of the locker rooms. By Pima County law, according to Airulla, all biological outbreaks must be reported, and an outbreak is defined as one case or more.
"These Pima County people educate businesses in person-to-person and surface spread prevention. We're versed in disinfection," Airulla said. "Sometimes a business will close for two weeks, but we go in wearing biohazard suits and we can get you back to business in one day." He said the whole-room dry fog process they use has been proven in clinical studies to effectively eliminate dangerous pathogens, and "it reaches everything."
For clients who want ongoing treatment, the GermSafe program actively prevents infection before it happens. It is generally done every three months and includes electrostatic spraying technology. Like electrostatic painting, a charge is used so the spray wraps around and sticks to all objects in a room, including doorknobs. Last August, American Airlines started using the same type of system on airplanes. The polymer film forms a bond, which remains for a minimum of 90 days, according to a UArizona study.
GermFree Certification involves educating clients on how to develop and maintain health and safety procedures, including training employees and providing educational materials and window stickers. "There really has to be a push to continue wearing masks and for a better understanding of what surface disinfecting is, especially in restaurants and in education," Titone said. Another simple habit is increasing ventilation. Studies have shown that keeping windows and doors open reduces infections. Marana Unified School District, one of GermFree's clients, keeps windows open in its school buses.
The company's commercial client list includes restaurants, healthcare facilities, schools and other businesses. GermFree is promoted in the community through its website, social media and traditional print and television advertising.
Daniel Scordato uses the GermSafe preventive services at his restaurant Vivace. 
"I started four or five months ago and they've been here twice – once a quarter. Plus, we do our own wiping. They really are thorough and check that everything is done and double check." He noted that GermFree personnel wipe some areas and spray all high-touch surfaces. "The way they explain it is when you coat with the sprayer, we don't have to wipe as often because the coating stays. I feel good about it. I'll keep doing it when this is over."
Although Airulla recently left the company for other pursuits, Titone is enthusiastic about GermFree's future. His primary goal is "to increase awareness of cleaning for health, not just appearance, and for our systems to be integrated in service operations of larger institutions and schools – places where large groups of people are going in and out."
Even when the current pandemic lessens, Titone believes there will always be a need for GermFree's services. "More infection prevention is what we have to have. It has to be everyone's concern so we can all be healthy."