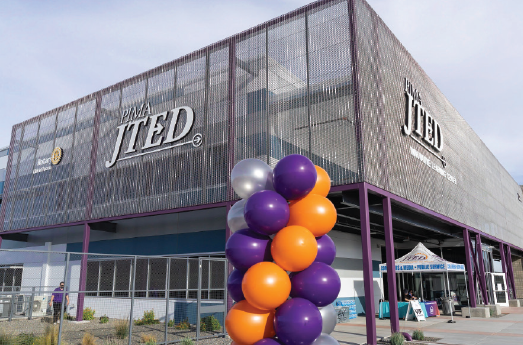 Pima JTED Center Open for Business
$17.5 Million Career Center Welcomes Students
By Tom Leyde
They were once known as trade schools, places where high school students who didn't plan to go to college could learn skills that could lead to stable jobs.
These days they might be referred to as career schools where high school students can launch careers as chefs, firefighters, medical assistants or in manufacturing and work their way through college if they choose.
Pima JTED (Joint Technical Education District) is that and more for students with the opening of a new facility. A ribbon-cutting ceremony and open house was held Oct. 8 at the new Pima JTED Innovative Learning Center @ The Bridges, 3300 S. Park Ave.
City, county and state officials turned out for the event, which included tours of the two-story, 50,000-square-foot building. Demonstrations were presented by students enrolled in Pima JTED classes.
Culinary students served food prepared on site. Those in the 3D Animation & Game Design program gave visitors a chance to see their projects through Oculus virtual reality devices. Veterinary science students talked about their training. And robotics students flew drones.
The Innovative Learning Center @ The Bridges, built by BFL Construction, was 16 years in the making. A property tax increase that voters passed overwhelmingly helped pay for the $17.5 million building. Ground was broken in May 2019.
The private sector chipped in, too. The Rotary Club of Tucson committed $250,000. Philanthropist Ross Potoff donated $1 million through Potoff Private Philanthropy.
"I think that we are vastly underestimating the capabilities of our students and our ability to merge them into a career that is meaningful and substantial, to give them the opportunity to build a life that everybody dreams of in this country," Bill Westcott, executive director of Potoff Private Philanthropy, said at the ribbon-cutting.
Mark Irvin, president of Rotary Club of Tucson, said Pima JTED was one of several proposals presented to the club for funding. "We were blown away with what JTED had to say," he said. "We thought it was an amazing presentation that they made. I think a lot of us had a strong understanding of what JTED is and what they wanted to do. We are just honored to be a part of this ribbon-cutting today."
Raytheon Missiles & Defense also stepped up to help the project. It paid $100,000 for naming rights to the Raytheon Event Center in the new building.
"Facilities like this absolutely help us meet our goals and our growth," said Allen Couture, VP of operations at Raytheon. "I met a few students today that I'll one day see walking down our halls at Raytheon Missiles & Defense."
"I expect some of the students and staff will come visit us out on our campuses to really understand what we're doing and how it relates to the learning that's happening in these facilities," Couture said.
Gabby Durazo, 18, is in her second year in JTED's licensed vocational nursing assistant program at the Sonoran Science Academy in Tucson.
"My goal is to become an OB/GYN nurse and then become a doctor," she said. "I have a very high goal and I know I will accomplish it."
Ethan Lopez, 18, is a third-year student in the Advanced Student Culinary Arts program.
"I've always had a passion for cooking since I was very little," he said.
Lopez plans to go on to a culinary arts school. Eventually, he wants to work for the Walt Disney Corp., which has one of the largest culinary arts programs in the world.
Simon Cook, a junior at Tanque Verde High School, is involved in the Precision Manufacturing program through JTED.
"I've always been interested in hands-on work, and I would like to get into a career in welding and manufacturing," he said.
Classes are held at the new building during the day and in the evening. Students younger than 22 can attend classes even if they don't have a high school diploma, said Greg D'Anna, director of public relations for Pima JTED.
JTED offers 65 different educational programs on 35 school campuses in Pima County. The program partners with Raytheon Missiles & Defense, Pima Community College and the University of Arizona, among others. More than 100,000 students have gone through JTED.
The building at The Bridges is located within 25 minutes of 52,000 Tucson area high school students.