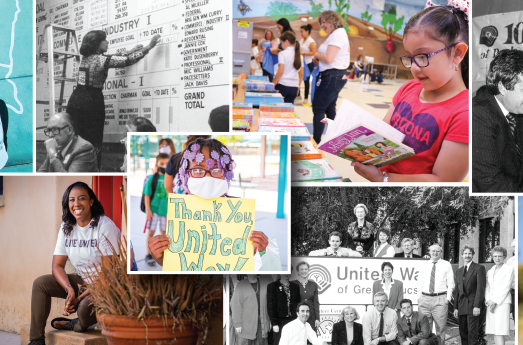 A Century of Changing Lives in Southern Arizona
By Loni Nannini
Over the last 100 years, United Way of Tucson and Southern Arizona has been a change-maker, a community-convener, a fundraiser, a problem-solver and an equity-distributor. This milestone offers the opportunity to reflect on an organization that has come to personify the unique people, power and infrastructure of community and philanthropy in the region.
"Very few institutions in Southern Arizona have been able to mark a full centennial of service, but with the support of our amazing donors, investors, stakeholders, volunteers, board members and staff, we have been on the ground serving the community for 100 years," said Tony Penn, president and CEO of United Way of Tucson and Southern Arizona.
"Over the past century, we have touched the lives of millions of people throughout Tucson and Southern Arizona. In 2021 alone, we impacted more than 233,000 lives. And we know that every story of impact on a child or family or senior is more than a story: it is a positive life transformation for a person," said Penn.
United in Southern Arizona — 100 Years of Transformations
United Way of Tucson and Southern Arizona began when 10 civic and charitable organizations in Tucson joined forces to launch the first Community Chest campaign in 1922. Hundreds of workers participated in the three-day campaign to "provide for civic betterment, and social and economic uplift."
Though it fell short of its ambitious $85,000 goal, a philanthropic movement was born. That movement vaulted forward in 1942 with the Tucson United Appeal, Inc.–the first Federated Campaign in conjunction with the Annual Workplace Campaign—which raised $70,910 and marked a turning point for business/government/philanthropic partnerships in Tucson.
Since then, the giving campaigns have been spearheaded by local business owners, entrepreneurs, politicians, philanthropists and influencers such as Evo DeConcini, Matt Mansfield, Arthur Pack, Katie Dusenberry, Bill Clements, Bobby Pennington, Humberto Lopez, and many more.
In the 1970s, the campaign evolved into United Way-Greater Tucson and the organization began strategic planning to transition from a pass-through entity that raised funds for other agencies to a full-service United Way with direct-service programs.
By 1982, with the recognition of donor choice as a key component of fundraising, the annual campaign raised $4.4 million and funneled money into 44 local agencies ranging from the Arthritis Foundation to the Boy Scouts of America to the The Salvation Army Tucson.
The 1980s also resulted in expansion through affiliates in Santa Cruz and Cochise counties and the launch of the Tocqueville Society in 1984 to honor donors who contribute $10,000-plus annually.
The millennium brought increased community engagement through Days of Caring, which has grown into the largest two days of volunteerism in Arizona. In 2019, almost 4,000 volunteers completed 135 projects.
Other involvement evolved through affinity groups such as Women United, which supports early education and literacy; and Young Leaders United, which raises funds for Opportunity Youth, a program to re-engage youth ages 16 to 24 with education and career opportunities.
A new era began in 2010 with the arrival of Penn, who was tasked with rebuilding the organization after the 2008 economic downturn resulted in dwindling workplace giving and erosion of United Way reserve funds to assist local aid agencies.
With 2020-21 Fiscal year revenues in excess of $24 million, Penn's data-driven vision has centered on a strategic plan to address the underlying issues of community poverty through the three pillars of Education, Financial Wellness and Healthy Communities.
United Pillars — Education, Financial Wellness, Healthy Communities
"Approximately 25% of people in Tucson and Southern Arizona live at or below the federal poverty rate," said Penn. "That is unacceptable and your United Way is doing something about it by responding to community needs, transforming lives and focusing on underlying issues to bring long-lasting systemic change to the community. We know that addressing three tiers of Community Impact—Education, Financial Wellness and Healthy Communities—will facilitate our goal of helping every child and every adult to maximize their potential."
In Fiscal year 2020-21, with the help of community partnerships, contributions, grants and government funding, United Way funneled $12.2 million into Community Impact initiatives
Education
United Way's efforts to advance equity and excellence in early education began in 1999 and was focused on low income neighborhoods with poor quality child care, as well as, parent outreach to encourage parents to seek higher quality care for their children.
Programs and partnerships are diverse. Cradle to Career utilizes data to improve educational outcomes. The Family Support Alliance provides at-risk families with parenting resources. The Great Expectations Program offers free professional development to early childhood educators and My Summer Library provides free books to low-income Kinder and first graders in 9 different school districts to mitigate summer learning loss and improve reading proficiency.
Financial Wellness
Myriad programs address the creation of financially stable households from career through retirement. Partnerships with Pima County, the City of Tucson and others connect low-wage earners with employment opportunities, promote financial literacy and position families to improve their quality of life. Among the most successful initiatives is the Volunteer Income Tax Assistance program, which provides free tax preparation by volunteer IRS-certified preparers for any household earning up to $66,000. VITA is now the largest tax preparer in the state. In 2020, it filed more than 14,000 tax returns for low-income families, resulting in a return of $26 million in federal funds to the community.
Healthy Communities
United Way of Tucson pursues this imperative through unique collaborations such as the ELDER Alliance and the End of Life Care Partnership, which brings together nonprofits, businesses, government agencies, community partners and residents age 50-plus to maximize quality of life. In 2020, more than 11,100 seniors were served through various programs. Healthy Communities also works with community partners such as El Rio and Banner Health to improve access to healthcare for low-income, working families.
"We know that a healthy community is a thriving community and we believe that all people should have access to health care and resources to maximize quality of life and dignity at every age," said Penn.
Ultimately, Penn said he views the continually-evolving strategic plan and creative collaborations as game changers in the effort to build strong, thriving, equitable communities—and economies—throughout Southern Arizona.
"Your United Way serves as a connector between community and business, and that shared value strategy helps business to be focused on its most valuable asset, which are its people. Business needs community and community needs business," said Penn.