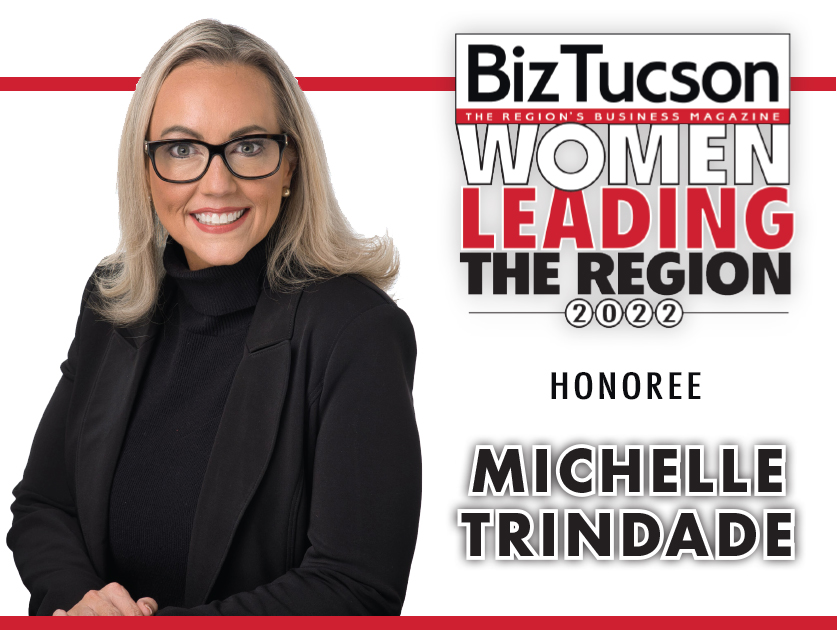 Senior VP, Customer Experience – GEICO
By Eva Halvax
Michelle Trindade finds potential in everything.
As senior VP of customer experience at GEICO, Trindade has been a catalyst for empowering teams to identify new, innovative ways to serve the insurer's more than 18 million policyholders.
Trindade's career at GEICO began in 1997 as a sales counselor in Florida. She credits her mom, who referred her to this position, for helping her discover the abundance of opportunities available at GEICO, which has led to her own 25-year career and counting.
In just one year, Trindade became supervisor; and then advanced through several leadership roles before being elected assistant VP in 2009 for the insurer's mid-Atlantic operations.
In 2018, Trindade's career with GEICO brought her to Arizona when she was named regional VP with responsibility for all insurance operations in seven western states. Upon her arrival, Trindade was quick to fall in love with the Tucson community. "There's something very special about the people in Tucson," she said.
Trindade was heavily invested in the construction of GEICO's new location in South Tucson. She facilitated the relocation of over 1,500 people and aimed to provide team members with a welcoming environment to establish and maintain their careers. This site has become the most environmentally friendly building within the company, as 80% of its electricity is generated from solar panels in the parking lot.
Through her life, Trindade has learned to balance many roles: working full-time while attending school through GEICO's tuition benefit, being a mother and volunteering. As a volunteer, Trindade takes her own personal mantra to heart. She focuses on what she calls the three Ts: Time, Talent and Treasure. Trindade believes it's most important to volunteer your time and talent to help others, and if you feel comfortable, follow that by donating money or critical supplies when possible.
Trindade was the vice chair of the board of directors of United Way of Tucson and Southern Arizona and actively volunteers with Zion City Church, where she mentors local business leaders and young adults.
"Our United Way and entire community are stronger because of Michelle Trindade and her inspirational leadership," said Tony Penn, CEO of United Way of Tucson and Southern Arizona. "Her thoughtful contributions to our board of directors have led to impact and innovation. All those who serve with Michelle are better because of her talent and spirit."