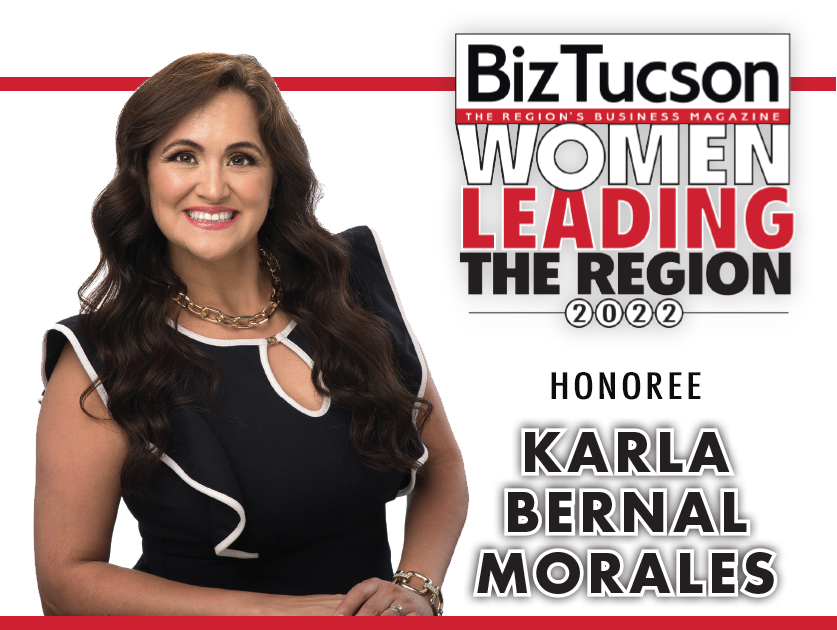 VP – Arizona Technology Council
By David Pittman
Karla Bernal Morales, a leader in education, nonprofit and governmental endeavors, is proving to be a huge success in her new position managing the Southern Arizona Office of the Arizona Technology Council.
The ATC is the state's premier trade association for science and technology companies. Morales, named VP in March 2021, oversees the organization here, which includes responsibility for strategy, development, operations, support of policy development, business goals and objectives and financial matters, as well as recruiting and retaining members, securing sponsorship and supporting events related to the region.
"Karla Morales is an outstanding community leader who has worked tirelessly to improve the innovation economy and create countless opportunities in technology for all throughout Southern Arizona," said Steven G. Zylstra, ATC's president and CEO. "She is an extremely valued member of our team and a key leader in our state's technology ecosystem who truly deserves this recognition."
"I absolutely love the opportunity to work in the tech sector," said Morales. "Pivoting into this industry was equally intimidating and rewarding. It has opened my eyes to the many opportunities available in Southern AZ and allowed me to combine two of my greatest passions: community improvement and economic growth."
There are about 800 member companies statewide in the ATC, nearly 300 of which are located in Southern Arizona. Morales said about 80% of the members are small- and medium-sized companies.
Prior to joining ATC, Karla worked in several capacities at University of Arizona, including director of the Office of Multicultural Advancement, senior program coordinator for the Office of Government & Community Relations, and coordinator of desk and summer operations for Housing & Residential Life. She served as executive director of Rio Rico Health & Wellness, director of resource development at United Way of Tucson and Southern Arizona and a program service evaluator for the Arizona Department of Economic Security.
Morales earned a bachelor's degree from UArizona and an MBA from Eller College of Management in May. She also is Chair of the Tucson Hispanic Chamber of Commerce board.
"I am a firm believer that representation matters and being the first female leader, for the tech sector trade association in our region, is a matter of great responsibility," said Morales. "My personal goal is to spread the message to all, but specifically women, that we have a right and a responsibility to not deprive our region and nation of the impactful contributions of the great women in science and technology."