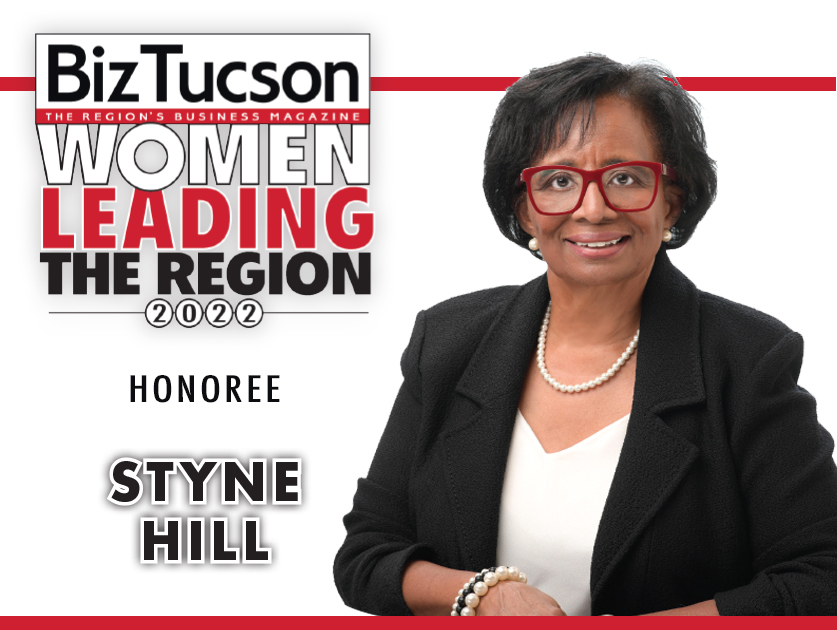 Chair – Community Foundation for Southern Arizona Board of Trustees
By David Pittman
With wisdom, skill and dedication, Wyllstyne D. Hill advanced to lofty executive levels within the high-tech, male-dominated military defense industry, while also contributing a long history of volunteer service that has benefitted numerous causes.
In an amazing 42-year career at Raytheon Missiles Systems, Hill climbed the ranks, taking on ever-larger projects and management positions until ultimately rising to VP and chief information officer overseeing a staff of more than 550 IT employees inside Southern Arizona's largest private company.
After retiring from Raytheon, she became the founder and president of her own firm, Styne Hill & Associates, which specializes in business and information systems strategies, including project management, leadership development, and program and data integration.
Hill is highly respected for her sustained leadership efforts helping various community causes, including the University of Arizona President's Black Community Advisory Council, the Arizona Technology Council, Tucson Urban League, United Way of Tucson and Southern Arizona and UArizona's Management Information Systems Board of Advisors. She currently chairs the Community Foundation for the Southern Arizona Board of Trustees.
CFSA president and CEO Jenny Flynn said the organization is "lucky" Hill leads the board.
"Styne Hill is a systems thinker who strengthens processes and operations, is committed to our community, and demonstrates deep care for the people she works with," Flynn said. "As a new CEO, I benefit every day from her decades of business experience as a pioneering woman of color in technology, leadership and community causes.
Hill began her career at Hughes Aircraft, which later became Raytheon, after graduating from Tuskegee University in Alabama in 1971 with a bachelor's degree in mathematics and a minor in computer science. She later completed the Arizona Executive Program through UArizona's Eller College of Management and has additional certifications from University of Chicago, University of Southern California and The Wharton School at the University of Pennsylvania.
"When I joined the company in the early 70s, the engineering field was male-dominated and there were few women and Blacks working in the engineering area," Hill said.
"I came to Tucson armed with a math and computer science degree and even though my first job was 'general clerk' to the department manager, I analyzed automated processes and designed reports to improve workflow, eliminate waste and improve the department processes and output. Wihin six months, I was promoted to production control and data analysis/metrics lead. I had leaders and mentors who helped me expand my skills in order to be promotable and I am grateful."