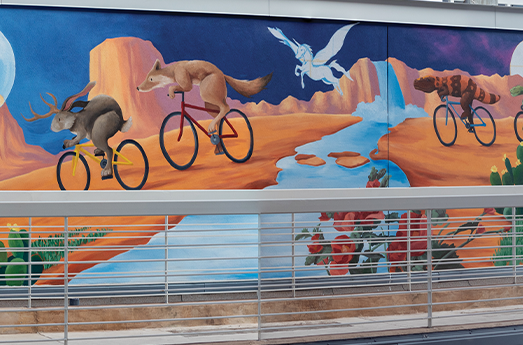 Vibrant New Mural for Diamond Children's Medical Center
By Tom Leyde
Children undergoing chemotherapy for cancer have a colorful new view from their rooms at Diamond Children's Medical Center.
A 900-square-foot mural by Tucson artist Joe Pagac was officially unveiled by hospital officials in January.
The brilliantly colored mural features dolphins, whales, kittens, puppies, animals riding bicycles and other items from nature. It was designed to lift up spirits and bring joy to the children receiving treatment.
The mural was a collaboration between the hospital and DPR Construction, the general contractor of Diamond Children's new pediatric hematology and oncology clinic at 1625 N. Campbell Ave. Painted on the side of an adjacent structure, the mural faces the windows of the new clinic.
DPR decided there was a need to curate a mural, said Sarah Frost, CEO of Banner — University Medical Center Tucson and Banner — University Medical Center South. The effort, she said, was "above and beyond" DPR's contract for the construction project.
Each year, Frost said, about 60 children begin their battle against cancer in Tucson. "We believe the children fighting this deserve the best," she said.
Matt Thrower, project executive for DPR Construction, said the new clinic and mural "is one of the best projects we've been involved in." The company had asked its team of partners to participate in the mural project, Thrower said.
"They wanted to be part of this mission to leave something special behind," he said.
The team raised over $31,000 for the project and approached artist Pagac to commission the piece. Pagac has painted several large murals in Tucson, including humpback whales on a building at Campbell Avenue and Grant Road and "Epic Ride" at Stone Avenue and Sixth Street.
"I was super excited about it," Pagac said. "I thought it was a special project, something that you still know you were in Tucson, something that inspires people."
He asked people what images they'd like to see when they are ill, and people responded on the Internet. He incorporated those images and presented illustrations to partners involved. When the group gave its OK, he went to work.
"There's something for everyone to focus on when they're getting their (cancer) treatments …," Tucson native Pagac said. "It's been an honor to be a part of this thing."
Pagac, assisted by painter Katherine Joyce, used augmented reality principles to seemingly make the images come to life. They used NovoColor paint for the project, which took two weeks to complete.
A special guest at the unveiling ceremony in January was Lino Cordova, 18, of Tucson, who sat in a wheelchair pushed by his mother, Michelle Leon Cordova. He has battled leukemia since the age of 8.
In remarks, Michelle said the puppies and kittens represented the medical staff, as well as strength and resilience. The dolphins represented togetherness, and the bicycling animals represented the joy of children.
She said she hopes the mural gives joy and strength to everyone.
Lino said a cancer patient's room can be a dark place without much color. The mural, he said, lets patients know there's more in the world and gives hope.
"If you don't allow hope in your life, it can take you to a dark place," he said. "I would not be here today if it weren't for all of you. You give me hope."