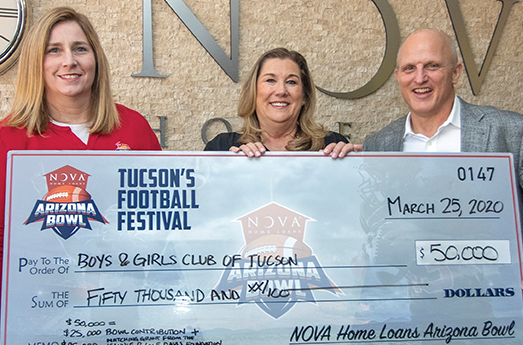 $500,000 to Nonprofits in Communities it Serves
By Rodney Campbell
In a year when community-building took on an even larger role, NOVA Home Loans stepped up and made significant charitable contributions across Southern Arizona in 2020.
NOVA made nearly $200,000 in gifts to nonprofits across the region, including a year-end donation to the Boys & Girls Clubs of Tucson. The gift carried a personal connection for NOVA Chairman and CEO Jon Volpe.
"I was a club kid myself, so I know how powerful an impact the BGCT staff and volunteers can have in the lives of at-risk kids," Volpe said. "They pushed me to pursue my dreams of going to Stanford and playing professional football, but most importantly, they showed me that it was possible to achieve personal growth even when you were dealt a rough hand."
NOVA has supported the clubs for the past two decades. The mortgage lender doubled its impact last year by teaming with the Jeannie and Cole Davis Foundation to give $50,000 to the Frank & Edith Morton Clubhouse and the BGCT "On the Go" virtual program, which uses social media to connect members and families to club activities during COVID-19-related school closures.
"This gift could not have come at a better time as we are repositioning our services to best meet the needs of Tucson's youth," BGCT CEO Debbie Wagner said.
The gift was part of NOVA's Focus on Giving campaign, which it launched last year to provide more than $500,000 in donations to 17 nonprofits in communities it serves. The program continues in 2021 as NOVA accepts suggestions for nonprofits to support through a website, novahomeloans.com/giving.
The company, which has offices in Arizona, California, Colorado, Nevada and Texas, has made more than $25 million in charitable donations in its 40-year history. NOVA is licensed in 15 states and has more than 1,000 team members across 20 branches.
One well-known impact was its title support of the NOVA Home Loans Arizona Bowl. From 2015-2019, the game generated more than $4 million in support for local charities. It was the only not-for-profit game on the NCAA bowl schedule.
"Giving back is in our DNA because we know we wouldn't be where we are without help from others," Volpe said.
The company also provides a paid day off each year for its team members to volunteer at nonprofits of their choice. Employees have used the time to mentor and coach kids, volunteer at shelters and food banks, "adopt" families in need and serve on the boards of children's hospitals.
Empowering its team is one reason why NOVA was chosen as a "Top Company to Work for in Arizona" last year by azcentral.com.
"We encourage our team members to pay it forward by playing active roles in communities we serve," Volpe said. "We are enabling both personal and professional growth and building a stronger foundation as a company."
Team members play a key role in supporting Miracle en El Barrio, an annual holiday toy drive that benefits children on Tucson's south side. In its 18 years, the event has provided more than 40,000 presents to kids who may not have otherwise received one. Last year, team members delivered toys and gave more than $17,000 in cash.
NOVA Education Exchange Manager Kathy Stern has organized the event for the past several years. One of her job's perks is having a management team that believes in supporting its communities.
"To be able to enrich our lives by helping others benefits not only our clients, but also our company environment," she said. "Working for a company that supports me trying to make the world a better place is a privilege. NOVA Home Loans truly sees the value in giving back."
The company's loan officers often make charitable contributions when they close transactions. The marketing department gives time as a group to help Ben's Bells. It's all about making Southern Arizona a more enjoyable place to live.
"As a mortgage lender, we're committed to building strong communities, but it goes beyond simply putting neighbors into homes," Volpe said. "It starts at the ground level by investing in causes that provide our people with the tools they need to lift themselves out of tough situations and become strong members of our communities we serve."