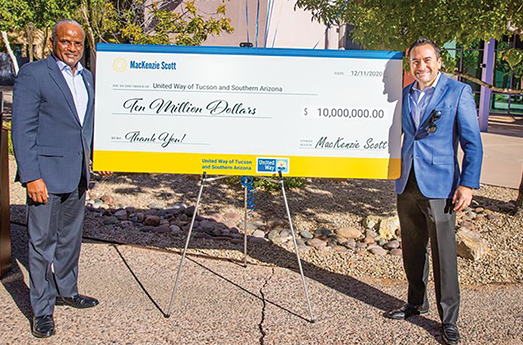 Historic $10 Million Gift from MacKenzie Scott
United Way of Tucson and Southern Arizona Hopes to Double Impact
By Romi Carrell Wittman
MacKenzie Scott, venture philanthropist and former spouse of Amazon founder Jeff Bezos, recently selected United Way of Tucson and Southern Arizona to receive a $10 million gift – the single largest in the 100-year-old organization's history.
The gift was announced in December 2020. A significant portion is being used to assist in COVID-19 relief efforts – specifically food, rents, mortgage and utility payments, diapers and medications, as well as other household and health-related items.
Tony Penn, CEO of the United Way of Tucson and Southern Arizona, said the gift also enables the organization to further its work in expanding equity with a specific focus on education and the digital divide that exists among disadvantaged students. "We will continue and expand our work with the disconnected youth population, which we refer to as Opportunity Youth," Penn said. "Opportunity Youth are 16- to-24-year-olds who are not in school or working due to a difficult upbringing. Many of these are African American, Hispanic and other children of color, and given the critical support they need, they will have the opportunity to thrive."
The funding has enabled the United Way to increase its financial wellness services and education services.
Thanks to the gift, Penn estimated the United Way's goal is to double its impact in the community within three years. The United Way has formally committed to assisting some 350,000 people annually within the next three years. Currently, the organization assists 175,000 people each year.
The United Way of Tucson and Southern Arizona qualified for the funding under a search process that Scott implemented to find worthy organizations to support. She assembled a team of nonprofit and philanthropy experts that focused its national search on three elements: impact, community need and equity.
Melissa D'Auria, senior director of marketing and communications for the local United Way, said, "[Scott] wanted to find an organization that had the capacity as well as the structure and framework in place so the money could go directly into the community. We're not creating a new program. We're just able to reach more people with the programs we already have in place."
Scott, who has pledged to give away the bulk of her $57 billion fortune, has made many significant financial contributions to nonprofit organizations across the United States. In a Dec. 15 column that Scott posted on Medium.com, she said, "I asked a team of advisers to help me accelerate my 2020 giving through immediate support to people suffering the economic effects of the crisis. They took a data-driven approach to identifying organizations with strong leadership teams and results – with special attention to those operating in communities facing high projected food insecurity, high measures of racial inequity, high local poverty rates and low access to philanthropic capital."
Since last year, Scott has given more than $4 billion to 384 organizations across in the United States, Puerto Rico and Washington, D.C.
Penn said the local United Way will continue its own accountability efforts with a focus on increasing data collection across all programs. The goal is to evaluate the vulnerable populations United Way serves. Penn said this is critical in order to "ensure that we're promoting equitable access to education, financial wellness and healthy communities."
Edmund Marquez, board chair of United Way of Tucson and Southern Arizona, added, "Funds will start going out into the community immediately, through designated community partners who've joined us in the fight for racial equity and other pressing needs, and we'll continue to work aggressively to raise additional funds to show Ms. Scott how the magnitude of her investment can be multiplied."