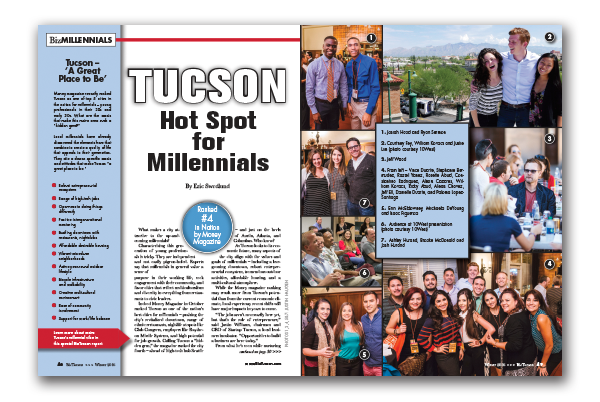 Tucson Hot Spot for Millennials
By Eric Swedlund –
Tucson Hot Spot for Millennials
Ranked #4 in Nation by Money Magazine
What makes a city attractive to the up-and-coming millennials?
Characterizing this generation of young professionals is tricky. They are independent and not easily pigeon-holed. Experts say that millennials in general value a sense of purpose in their working life, seek engagement with their community, and favor cities that reflect multiculturalism and diversity in everything from restaurants to civic leaders.
Indeed Money Magazine in October ranked Tucson as one of the nation's best cities for millennials – praising the city's revitalized downtown, range of ethnic restaurants, nightlife at spots like Club Congress, employers like Raytheon Missile Systems, and high potential for job growth. Calling Tucson a "hidden gem," the magazine ranked the city fourth – ahead of high-tech hub Seattle – and just on the heels of Austin, Atlanta, and Columbus. Who knew?
As Tucson looks to its economic future, many aspects of the city align with the values and goals of millennials – including a burgeoning downtown, robust entrepreneurial ecosystem, tremendous outdoor activities, affordable housing, and a multi-cultural atmosphere.
While the Money magazine ranking may result more from Tucson's potential than from the current economic climate, local experts say recent shifts will have major impacts in years to come.
"The jobs aren't necessarily here yet, but that's the role of entrepreneurs," said Justin Williams, chairman and CEO of Startup Tucson, a local business incubator. "Opportunities to build a business are here today."
From what he's seen while nurturing companies and young entrepreneurs, millennials "balance ambition and community-focused pride."
Ingredients for attracting millennials
"This generation is inherently entrepreneurial," Williams said. "They hustle for the next gig – and if we wire our community for that, in addition to the low-cost housing and great lifestyle – those are the ingredients for attracting millennials."
In October, international tech giant Samsung paid $200 million to acquire Smart Things, a local tech company started in 2012, and leased office space downtown. "That's the kind of trajectory we're on. These are new digital-economy jobs," Williams said.
The revitalization of downtown, led by the modern streetcar and the development it spurred, changed everything by adding one critical component – density. Tucson's music and art scene, young tech community, and the entrepreneurship ecosystem are all centered there, adding up to a critical mass that's been missing for decades – and creating a new mindset in the community that dovetails perfectly with millennial values.
"I'm excited to see there's more and more support for having a culture of self-esteem that allows us to build off what we do have and not focus on what we don't have," Williams said. "The light rail gave us permission to think of ourselves as a new community. We don't feel quite so small and off the map. That community shift in thinking is super important. It's a huge priority for our community to build off of this."
In addition to the many restaurants and nightclubs, the new Johnny Gibson Downtown Market ends downtown's status as a food wasteland. Tucson also offers affordable living in and near downtown, which is precisely where the millennials want to be.
Employers arefollowing millennials
"You don't have to be totally separated from where the action is," said Emily Yetman, executive director of the Living Streets Alliance and an Arizona native. "If you look at trends in other cities that are doing well, employers are following millennials. Cities are picking up on that and making a huge commitment to boosting the bicycle infrastructure and walkability."
Yetman sees the central core of Tucson, with its vibrant, mixed-use neighborhoods full of local businesses as the ideal economic development engine for the city to continue attracting millennials.
"The tendency for the leadership in the Tucson metro region is to think in terms of big ideas, like this one big thing will boost the economy. I would say it is the opposite. It takes all the little things together to make that difference – and that includes the infrastructure," she said. "I think about how many of my peers have opened small, local businesses and are thriving. Those projects are feeding the economy and it's growing out from there."
Even some of the areas that Tucson has struggled with, like higher poverty rates and slower job growth, point to potential advantages for millennials, said 25-year-old Zach Yentzer. He works with the next generation of church leaders as director of operations for Ministry Resources International.
"One of the knocks on Tucson has been a lack of opportunity, but I've always seen the opposite," he said. "Where Tucson is at in its growth is a perfect time to do something big. Everything here is so wide open.
"If you're a millennial with a big idea, Tucson is a great place to be – because it's probably not been done yet. What if I was trying to do what I do in Boston or San Francisco? There are things I've gotten to do here that I couldn't do anywhere else. You can define a name and a brand for yourself a lot easier than you could in other places."
Positive intergenerational opportunities
Through his work Yentzer has seen that millennials' approach to connectivity isn't limited to their own age group.
"As a millennial, I've found a lot of positive intergenerational opportunities in Tucson," he said. "There are a lot of older individuals who have a passion for the next generation who are willing to take time and be a mentor. Nobody is looking at me like a kid. There's a legitimate peer camaraderie. Because Tucson is Tucson, there's a lot more openness to doing things differently."
Tucson still has significant challenges in terms of capitalizing on positive momentum and making structural changes, Williams said. Only about 25 percent of Tucson's workforce has bachelor's degrees, in comparison to aspirational peers like Portland and Austin which are about double that percentage.
"There's a lot of inclination toward looking around at what we are today and thinking that's definitely our future. That's a mistake," Williams said. "What gets me up in the morning is the ability to make a big impact in this community. A lot of that work is already done in other places."
But those other places can serve as an example for Tucson, blending best practices elsewhere with the region's natural advantages for a brighter future.
"I'm completely unafraid to borrow ideas from more established communities and look for new ways to incorporate them into what we do," Williams said.
"One of the cultural changes we're trying to implement and help lead is a shift away from thinking in the mindset of scarcity, to things we can do with the limited resources we have. The community needs that optimistic leadership."