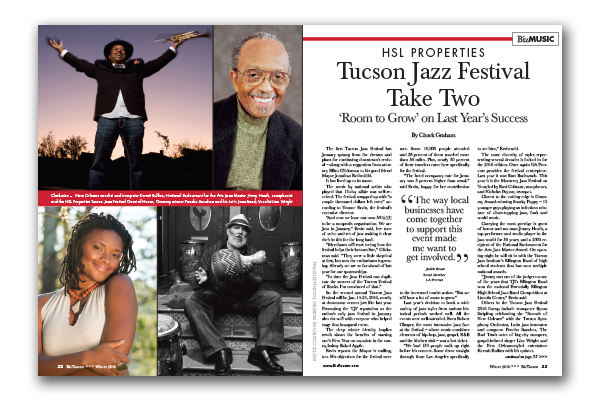 HSL Properties Tucson Jazz Festival
By Chuck Graham –
HSL Properties Tucson Jazz Festival Take Two
'Room to Grow' on Last Year's Success
The first Tucson Jazz Festival last January sprang from the dreams and plans for continuing downtown's revival – along with a suggestion from attorney Elliot Glicksman to his good friend Mayor Jonathan Rothschild.
It has lived up to its name.
The music by national artists who played that 13-day affair was well-received. The festival wrapped up with "a couple thousand dollars left over," according to Yvonne Ervin, the festival's executive director.
"And now we have our own 501(c)(3) to be a nonprofit organization. We are Jazz in January," Ervin said, her tone of voice and set of jaw making it clear she's in this for the long haul.
"Merchants will start seeing how the festival helps their bottom line," Glicksman said. "They were a little skeptical at first, but now the enthusiasm is growing. Already we are so far ahead of last year for our sponsorships.
"In time the Jazz Festival can duplicate the success of the Tucson Festival of Books. I'm convinced of that."
So the second annual Tucson Jazz Festival will be Jan. 14-24, 2016, mostly at downtown venues just like last year. Promoting the TJF reputation as the nation's only jazz festival in January also sits well with everyone who helped stage that inaugural event.
The deep winter identity implies much about the benefits of starting one's New Year on vacation in the sunny, balmy Baked Apple.
Ervin reports the Mayor is smiling, too. His objectives for the festival were met. Some 10,000 people attended and 28 percent of them traveled more than 50 miles. Plus, nearly 50 percent of those travelers came here specifically for the festival.
"The hotel occupancy rate for January was 5 percent higher than usual," said Ervin, happy for her contribution to the increased tourist action. "But we still have a lot of room to grow."
Last year's decision to book a wide variety of jazz styles from various historical periods worked well. All the events were well-attended. Even Robert Glasper, the most innovative jazz face at the festival – whose music combines elements of hip-hop, jazz, gospel, R&B and the kitchen sink – was a hot ticket.
"We had 150 people walk up right before his concert. Some drove straight through from Los Angeles specifically to see him," Ervin said.
The same diversity of styles representing several decades is locked in for the 2016 edition. Once again UA Presents provides the festival centerpiece. Last year it was Burt Bacharach. This year it is the Monterey Jazz Festival on Tour, led by Ravi Coltrane, saxophones, and Nicholas Payton, trumpet.
Closest to the cutting edge is Grammy Award-winning Snarky Puppy – 13 younger guys playing an infectious mixture of chart-topping jazz, funk and world music.
Carrying the most prestige is guest of honor and sax man Jimmy Heath, a top performer and studio player in the jazz world for 50 years, and a 2003 recipient of the National Endowment for the Arts Jazz Master Award. On opening night he will sit in with the Tucson Jazz Institute's Ellington Band of high school students that has won multiple national awards.
"Jimmy was one of the judges on one of the years that TJI's Ellington Band won the national Essentially Ellington High School Jazz Band Competition at Lincoln Center," Ervin said.
Others in the Tucson Jazz Festival 2016 lineup include trumpeter Byron Stripling celebrating the "Sounds of New Orleans" with the Tucson Symphony Orchestra, Latin jazz innovator and conguero Poncho Sanchez, The Rad Trads octet of big city stompers, gospel-infused singer Lizz Wright and the New Orleans-styled entertainer Kermit Ruffins with his quintet.
An instant hit at last January's inaugural fest was the free day of jazz to celebrate Martin Luther King's birthday, giving stage time to a number of local musicians and bands. For 2016, the main outdoor stage downtown will be dedicated to Latin jazz all day.
Everything about the festival has grown except Ervin's staff of one – herself. "The good news is I have a lot of volunteers this year," she said with a smile.
"Last year I wasn't able to attend any events," said Judith Brown, one of those new volunteers. She is a retired fundraiser for the University of Arizona and a current board member of UA Presents. "The way local businesses have come together to support this event made me want to get involved.
"And Yvonne has a national reputation, so I knew it would be stellar."
Including other local arts groups as the festival expands is another of Ervin's long-term plans. Along with the Tucson Symphony's participation for 2016, the downtown Etherton Gallery of contemporary fine art photography, 135 S. Sixth Ave., will be involved.
An exhibit of Herman Leonard's photographs of jazz musicians, most notably from the 1950s and 1960s, will be up during the fest. Don't worry if you haven't heard his name. You will recognize his photographs filled with moody film-noir shadows and cigarette smoke. It's a good bet you have at least one LP with a Herman Leonard photo on the cover.
Although jazz is generally considered music for an older audience, Ervin said "the bulk of our tickets were sold through social media." Quick to jump on this marketing shift, the festival now has an increased Facebook presence. There is a YouTube channel with many festival video clips as well.
"We will be on more social media platforms this year, including Facebook, Twitter, Instagram and Google Plus," said Ervin. "In the last couple of years I've learned so much more about social media than I ever…" her voice trailed off in wonder.
For complete details, times, dates and ticket prices, visit www.tucsonjazzfestival.org