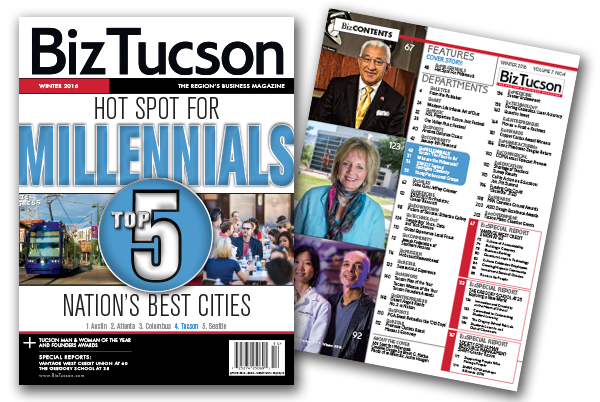 BizTUCSON Winter Issue 2016
From BizTUCSON Publisher –
This BizTUCSON Winter 2015 issue: This fall Money magazine reported on the Best Cities for Millennials and the exciting news is that Tucson ranked No. 4 in the country.
According to Money, our city's attributes include affordable and desirable housing, a revitalized downtown, high-tech employers such as Raytheon Missile Systems and Ventana Medical Systems, Inc., a robust entrepreneurial ecosystem and varied ethnic restaurants. The article also mentioned that Moody's projects 11 percent job growth for Tucson over the next five years.
Eric Swedlund files an in-depth report on the city's burgeoning millennial movement, complete with data on why Tucson has become a hot spot for young professionals age 20 to 35, which now accounts for nearly 25 percent of the region's population.
Local millennials identify a dozen specific assets and attitudes that make our metro area a "hidden gem." Start-up Tucson CEO and Founder Justin Williams said, "The jobs aren't necessarily here yet – but that's the role of entrepreneurs. Opportunities to build a business are here today."
In October, international tech giant Samsung paid $200 million to acquire Smart Things, a tech company that started here in 2012, and leased office space downtown. "That's the kind of trajectory we're on. These are new digital-economy jobs," Williams said.
Also on technology, Jay Gonzales introduces us to Sunquest Information Systems and its dynamic President Matt Hawkins. Sunquest provides diagnostic and laboratory information systems to 1,700 laboratories around the world. Hawkins has exciting plans for growth and investment for this healthcare software company founded in Tucson in 1979 by Dr. Sidney Goldblatt.
Sunquest recently announced that the former Muscular Dystrophy Association facility on Sunrise Drive will be its new international headquarters. The building, owned by Larsen-Baker, is 83,000 square feet, making this one of the largest office space leases in recent memory.
Another hometown success story is Vantage West Credit Union, celebrating its 60th anniversary. Gonzales, David Pittman and Mary Minor Davis provide an in-depth report about the origins of the organization, which began as the DMAFB Federal Credit Union, primarily serving Davis-Monthan Air Force Base employees, and its subsequent growth into a full-service, statewide credit union with assets of $1.5 billion.
Vantage West President and CEO Robert D. Ramirez has set big goals for continued growth. His vision for building Tucson into a better place through leadership, civic involvement and philanthropy engages employees in a "culture of accountability."
Speaking of community involvement, April Bourie details plans for Tucson's January 8th Memorial downtown and the fundraising campaign now underway. Renée Schafer Horton introduces you to the wide-reaching services of the Jewish Federation of Southern Arizona, both here and abroad. And Romi Carrell Wittman provides inspirational profiles of the 2015 Man & Woman of the Year honorees Fletcher McCusker and Rosey Koberlein, as well as Founders Award honorees Bishop Gerald Kicanas and Clarence Dupnik.
Another report explores The Gregory School, celebrating 35 years. Rhonda Bodfield provides a compelling look at this unique model for private-school education. Read about the innovation, creativity and commitment to excellence at the heart of this educational institution. Head of School Julie Sherrill shares her vision for the school's future.
As the New Year begins, mark yourcalendars to attend the Let's Talk Ed: Teacher Workforce summit on Jan. 7. Created by Tucson Values Teachers, Southern Arizona Leadership Council and Raytheon Missile Systems, the event features national and state experts discussing ways to improve teacher retention in Arizona and celebrates the winners of the Raytheon Leadership in Education Award.
Steven E. Rosenberg
Publisher & Owner
BizTucson