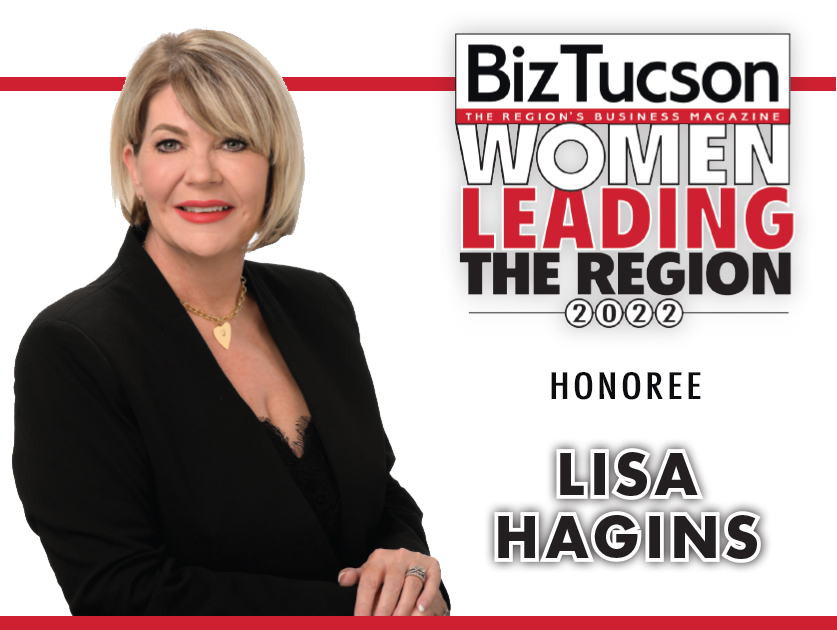 Regional President – OneAZ Credit Union
By Eva Halvax
When Lisa Hagins first moved to Tucson, she knew she'd found her place.
Originally from England, she arrived here when her husband retired from the military. They had never been to Arizona before and Hagins has never looked back.
Now, 13 years later, she is the regional president of OneAZ Credit Union. Prior to Tucson, Hagins garnered rich experience in the financial industry by working for Bank of America on military bases overseas where she lived. In Tucson, she continued in banking but wanted to work somewhere that focused on giving back to the community. She found that at OneAZ Credit Union.
"People are so warm and welcoming in Tucson, and it's an environment where people nurture you. I feel there's a big passion around nonprofit organizations and that there's a real passion about giving," Hagins said. "To me, Tucson is the heart of Arizona."
She began her career at OneAZ in 2013. Based in Arizona, OneAZ challenges social setbacks by using local connections to its advantage. In her role, Hagins' empathetic nature continues to meld with an unwavering ambition to better the lives of women and underserved youth in our community.
She aims to establish financial education programs in local high schools and colleges so young people can learn about investing, loans and other pivotal financial information.
OneAZ's mission emphasizes improving lives in the communities it serves, giving back through the OneAZ Community Foundation and its Five Pillars of Support – children's health, food banks, financial education, veterans' and first responders' issues, and local youth programs. Hagins said $750,000 in grants and donations have been given to nonprofits since the foundation's establishment in 2015, with a pledge of $500,000 in 2022.
"What's really important to me is leading with your heart, and having a passion for your team. And I think that's how I got to where I am. I love my team, the community of Arizona and being a part of that," Hagins said.
She is also a board member of I Am You 360, a nonprofit that mentors homeless youth in Tucson and provides small homes, hygiene products and other resources. She helps support financial education and an "I AM SOMEBODY" curriculum to boost self-confidence and independence in young people, particularly women.
"Lisa Hagins is a natural-born, compassionate leader," said Desiree Cook, I Am You 360 founder and CEO. "She also is invested in her community for direct and long-term impact and does it with grace and style."