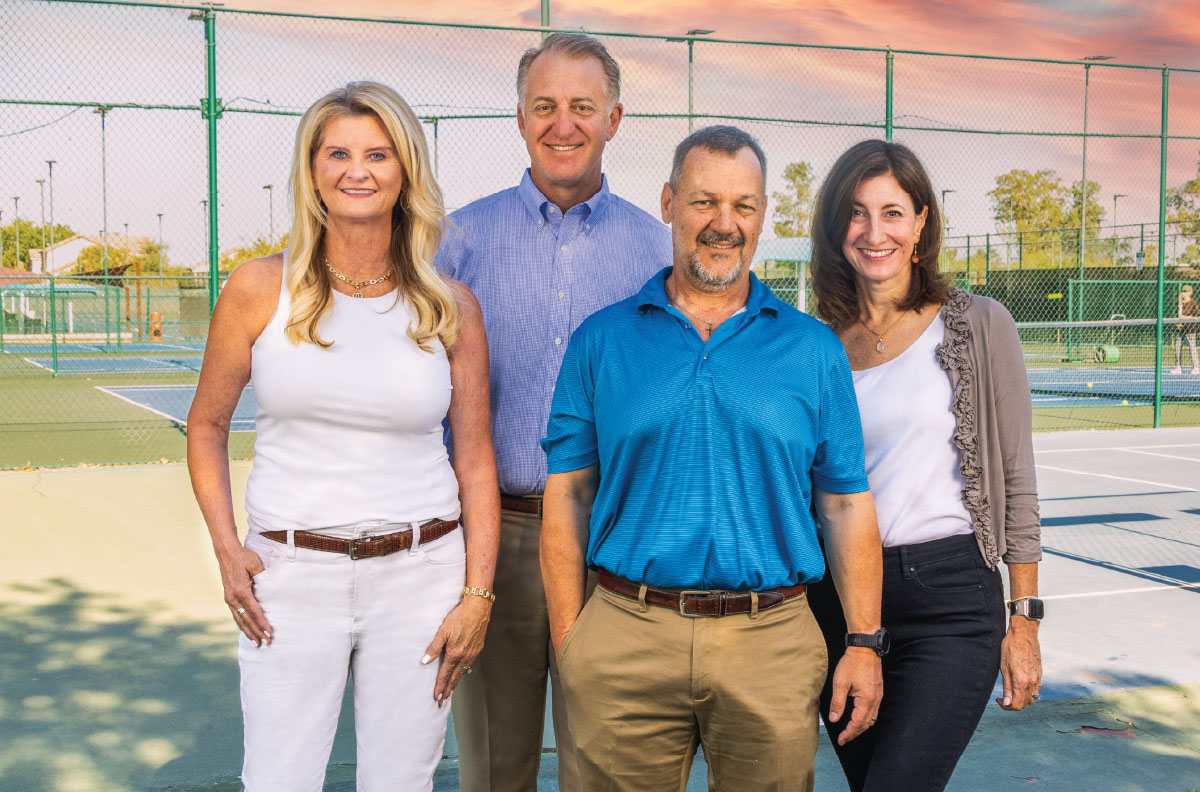 Tucson Racquet & Fitness Club's New Owners Serving Up Improvements
By Valerie Vinyard
Founded in 1967 by Joe and Marian Tofel, Tucson Racquet & Fitness Club has been a landmark institution serving premier tennis players and providing decades of safe, fun fitness for all ages.
In its 56-year history, the club has hosted numerous tennis tournaments, summer camps and popular Friday night barbecues to the public with live music. Many Tucsonans have childhood memories of camp or sports or remember the big names in tennis who frequented the national tournaments.
Now, two of Joe's grandchildren have purchased the club with plans to revitalize it for generations to come. Jim and Allyson Tofel, and David and Lynn (Tofel) Dent took ownership in May.
In the 1950s, Joe Tofel and his partners first built a tennis club on the land where El Con Mall stands today. The original El Conquistador was a premier resort on Broadway Blvd. When the mall conversion became a reality, Joe and Marian moved to open the Tucson Racquet Club at its current location on Country Club Road.
Jim said he's honoring his grandparents' wish that the club not be replaced with housing–a relief for many who were concerned the space would be converted to condos or apartments.
The new owners love the premier location on The Loop. They hired Sandy McCaslin as the club general manager, who brings 17 years of industry experience to the position. She sees tremendous opportunity for the club to further serve the community. "I have this industry on the back of my eyelids," she said, laughing. "This is where my heart is."
McCaslin wants the club to be a home away from home. "This is a country club-feel without the country club prices. People come here and they leave here feeling better."
Tofel and Dent own Tofel Dent Construction, which will help when making changes to some of the club's dated facilities. "A lot of the buildings still have a look of the '70s," Tofel said. "Much of what we're planning is cosmetic. Our challenge is modernizing the club without losing the family-friendly charm."
They plan to resurface courts, add new cardio equipment, improve the landscaping and create more indoor and outdoor space. They also will improve the club's technology, including an app to reserve courts and classes and order food.
The owners already have "spent a fair amount of money that people can't see," Dent said. He seconded plans to upgrade connectivity, accounting and point-of-sale software and would also like to add outdoor lighting for the Friday night barbecues.
For now, the owners are focused on adding courts and having the current ones resurfaced, which will thrill the scores of people who play tennis, racquetball and pickleball.
Pickleball fan Rebecca Block and husband Tim Haskin have been club members for roughly a decade.
"My husband and I have so many friends from the club, it's hard to imagine our life without them," said Block. "We have been members on and off over the years, but once we started playing tennis, we haven't left again."
Block, who serves as administrative support for Buffalo Exchange, goes to the club about three times a week. "They really have the whole package," she said.
The club's grounds include 30 lighted tennis courts, 12 pickleball courts, 11 indoor racquetball/handball courts, two 75-foot junior Olympic pools, basketball and volleyball courts, two Jacuzzis; a steam room and sauna. Over 70 fitness and yoga classes, a weight room and cardio machines offer many exercise options. It also has a salon, a pro shop, childcare and dining options.
The club uses about 14.5 acres, but four acres of raw desert remain available. "There's plenty of room to expand; maybe more courts, another building or more parking," said Dent, noting they have started the rezoning process. "We are going to take our time to determine what our members are really wanting at the club."
Leah Mein, a 37-year-old contract manager for Tofel Dent Construction, gushed about the club on a Facebook post. She first signed up her three kids for summer camp in 2021.
"I signed them up because of the availability in August," she said. "Honestly, the kids love the food the most. They get to go to the restaurant for lunch." She also recently attended her first Friday night barbecue, which usually attracts 500 to 900 people.
"Once we felt the vibe, we've been going back ever since," she said, adding that she knows the club is in good hands under the new ownership.
Pictured above from left – Allyson Tofel, Jim Tofel, Dave Dent & Lynn Tofel Dent. Photo by Brent G. Mathis