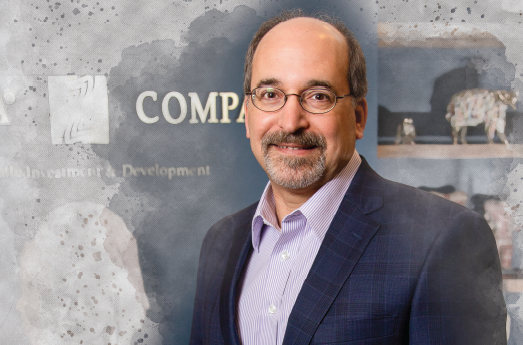 Leading a Global Portfolio
Holualoa Companies CEO Values Quality People, Strong Company Culture
By David Pittman
Richard B. Kauffman, CEO of Holualoa Companies, loves his job and the company he leads.
"I enjoy the opportunities and the challenges," he said. "It's a special place to be. If you're passionate about what you do and you're good at it, it doesn't seem like work."
Throughout its 35-year history, Holualoa has made consistent profits, while acquiring more than $3 billion in office, retail, industrial, multifamily, hotel, land and mixed-use properties stretching from Hawaii to Paris.
Kauffman became the CEO of Holualoa on Dec. 1, 2019, after serving as the company's CFO and VP of Finance for 20 years.
Raised in Pennsylvania, Kauffman earned a degree in accounting from Penn State University and began his career with KPMG in Philadelphia. He was working as a corporate auditor for Campbell Soup when he met his future wife, Sandy Capin, a member of the well-known family that operated Capin Mercantile Corporation in Nogales, Arizona and owned businesses in Tucson.
The couple moved to Nogales in 1990 where Kauffman worked for Capin Mercantile and later the Tuttle-Click Automotive Group before joining Holualoa.
Holualoa Companies began in Hawaii, but moved its headquarters to Tucson and later added offices in Scottsdale, Santa Monica, California, and Paris. The company has also operated in Colorado, Illinois, New York, Oklahoma, Texas and Mexico among its markets.
Though Holualoa covers a great deal of territory, Kauffman is not anxious to open more offices or increase the staff of 30 people.
"Growth for the sake of growth is not one of our goals," he said. "There are advantages being a company of our size. We are small enough to maintain a responsive, entrepreneurial spirit, but big enough to commit appropriate resources to opportunities. We have collaborated with most of our investors for many years and provided them with above average returns. As we see compelling new opportunities, we are confident our investors will continue to participate."
Kauffman said the knowledge and efficiency of Holualoa's staff, as well as the culture developed by the company's founder, are major factors in the company's success.
"We have quality people with very diverse and complimentary talents," he said. "Our key people are highly skilled in such areas as accounting, legal matters, business operations, real estate brokerage, property management, acquisitions and investment – and all of them are extremely analytical. When you put all those skills together you get a very strong result."
Kauffman, 60, said employees at Holualoa know each other well and the company's culture encourages open conversation, brainstorming and the sharing of ideas about the company and what it does.
"A wide range of opinions get expressed because everyone looks at things from different angles," he said. "That back and forth produces a better result. We are mindful not to change the culture that has worked so well for us without a compelling reason."
Kauffman said identifying and seizing opportunities is part of Holualoa's DNA. In fact, the decision to move the company's headquarters to Tucson in 1992 was made when I. Michael Kasser, Holualoa's founder and chairman, discovered while vacationing here that repossessed properties were being sold for pennies on the dollar in Tucson and Phoenix by the federal Resolution Trust Corporation. As a result, Kasser moved himself and his company to Tucson.
As for Holualoa's future, Kauffman anticipates the company will remain active in its primary markets, including the Southwest, western regions of the United States and France.
"We will also invest in other markets where we see exceptional opportunities or have experience and have realized success such as Hawaii, Washington D.C. and Mexico," Kauffman said. "In addition, we will continue to invest in select venture capital opportunities."
Holualoa has been active in France since 1998 and has about 25% of its assets there where the company has developed strong business connections and overseen a great deal of construction.
Closer to home, Holualoa will soon complete the transformation of a student housing complex into market-rate housing. The property, formerly known as Gateway Apartments, is at 2800 W. Broadway, near Pima Community College. It's being re-branded as Sonoran Reserve. The project, which includes 10 buildings and a leasing office, will be completed during the first quarter of 2021.
Kauffman said the Sonoran Reserve project is a case study of the kind of work Holualoa was doing in Tucson during the RTC days.
The student housing property went downhill after the City of Tucson approved new building regulations that allowed high-rise dormitories to be constructed near the University of Arizona. Many students chose to live in those large towers because of their proximity to UArizona, which resulted in properties such as Gateway, which is miles from campus, to lose rental clients to the new dorms.
In the case of Gateway, the lender took the property back and later put it up for auction, providing what Kauffman calls "an opportunity."
"We are aware of our market and we were fortunate to get a favorable price at auction," he said. "Holualoa started out as a value-add firm. We would buy something that was broken, either physically or financially, and fix it. The value-add skill is still with the company, though now we are also doing quite a bit of development."
Kauffman said most of the units have already been updated and are rapidly being leased. The renovation has also included a new lounge, landscaping and repaving of the parking lot, as well as improvements to the swimming pool, fitness room and leasing office.
Holualoa will soon be renovating one of its own buildings to be its new headquarters office.
It will not be moving far, just one block north of the intersection of Sunrise and Swan, which is near its current location in an office building at 3573 E. Sunrise Drive. The new digs will be in a 17,000-square-foot, two-story office building with enough room for two or three other firms.
Holualoa has taken steps to help some of its business clients that have experienced financial troubles caused by the pandemic.
"We understand the impact the pandemic has had on many businesses and we've taken a proactive approach to help our tenants through this difficult period," Kauffman said.
"For about 50 tenants, we made accommodations on their rent in various forms or another," he said. "The way we approached it was with transparency. If the tenant was willing to be open about their situation and share their numbers and plans with us, we were willing to help them through various abatements or modifications to their leases. It was well-received by our tenants and it was the right thing to do."
Kauffman believes Tucson will come back strong after the pandemic because of the climate, low cost of living and business environment. "A large number of businesses are leaving California and heading to lower-tax states, such as Arizona, Nevada and Texas," he said.