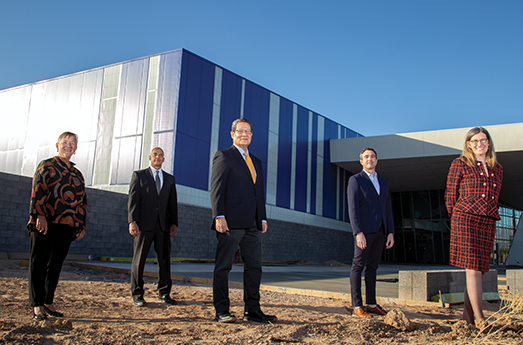 Historic $2.5 Million Gift for Pima Community College
Thomas R. Brown Family Foundation Boosts School's Tech Training
By Tom Leyde
Pima Community College is embracing the largest gift it has received in its 51-year history.
In October, the Pima Community College Foundation received $2.5 million from the Thomas R. Brown Family Foundation to support the college's Center of Excellence in Applied Technology.
"The (Brown) family feels that supporting these foundation institutions in our community is one of the best ways we can execute the legacy of the company…," said Sarah Brown Smallhouse, president of the Thomas R. Brown Foundations.
That company is the Burr-Brown Research Corporation, started by Smallhouse's father, Thomas R. Brown, in his garage and built into a world-renowned semiconductor firm. Burr-Brown, established with partner Page Burr in 1956, produced, designed, manufactured and marketed high-performance analog and mixed-signal integrated circuits used in electronic signal processing. It was purchased in 2000 by Texas Instruments for $7.6 billion.
Smallhouse, who leads the foundation with sister Mary Brown Bernal, said PCC was instrumental in providing training for the corporation's line workers. She said Chancellor Lee Lambert has been highly successful in helping to provide competent and skilled workers for technical jobs here.
"We feel this is a great opportunity for us to jump in and reinforce what he is trying to do," Smallhouse said. "We, at this point in time, have a good leader at Pima. This creates an opportunity for us to make an outsized gift to create an outsized gift to our community."
"We're just so grateful to the foundation for their commitment to the future of the college," said Lambert. "$2.5 million will make a significant difference."
Lambert said there are more than 175,000 low-wage earners in the Tucson area and half of them are people of color. This emphasizes the importance of having educational programs for high-demand worker training to upskill the labor force, "to strengthen what we already have or bring on something new and get us started."
Lambert is the driving force behind PCC's educational master plan that is creating facilities to help provide skilled workers for the future of Tucson businesses. The result is the establishment of the Centers of Excellence.
"For me, the Center for Excellence is as much a mindset as a place," he said. "We want to be best in class, and to be best in class, we're going to try to do industry standards."
PCC is currently building two new buildings at its downtown Tucson campus to house its new and existing technical programs. An automotive technology building is nearing completion, said Marcy Euler, president of the Pima Foundation, which raises money for the college. Groundbreaking for an advanced manufacturing and applied technology building will take place in early 2021, Euler said.
The $2.5 million gift will help achieve many things, including funding two endowed faculty chairs, one in aviation and one in advanced manufacturing.
Greg Wilson, dean of PCC Applied Technology, is working on how and when the money will be spent, Euler said.
At the October gift presentation, he said, "We work very closely with our industry and workforce partners because we want to understand what they need now and what they will need in the future. Our employers need students who are prepared to walk into their jobs, their workshops, their floors and be successful from day one. Thanks to this gift we can provide even more opportunities for them."
More specifically, the gift will allow for:
More professional development and regular training in innovation and technological advancement for Pima's faculty members.
More opportunities and training for students in the college's advanced manufacturing and automation programs, including machining, welding and computer-generated design.
Purchasing critical training equipment, including cyberphysical systems that incorporate networking, smart manufacturing and sensor and data analysis equipment. These systems are found in smart grids, autonomous vehicle systems, medical monitoring systems, industrial control systems, robotics and aviation.
Purchasing a 3D printing program and a flight and maintenance repair program for drones.
Demion Clinco, a member of the PCC Governing Board, said the economic recovery from COVID-19 will be difficult, but the $2.5 million gift will aid in Tucson's recovery.
"This funding will help these centers (of excellence) in that recovery and will help our community lead the way in many areas of Arizona," he said.
PCC also got another gift of sorts after the 2020 election in November, when voters approved Proposition 481. The move fixes an outdated expenditure limit that governed how much money could be spent per student at the college in certain areas.
PCC had been handcuffed, based on a per-student spending amount set in 1979, but now has more flexibility to spend tax-based revenues the college has already collected. "One of the challenges was getting people to understand that just because more money would be available to Pima, didn't mean there would be a tax increase," said former Tucson Mayor Jonathan Rothschild, who helped champion the cause.
The additional funds will help PCC acquire new equipment and programs for the Center of Excellence for Applied Technology, boost student services and increase the amount of people who can be trained for the region's future workforce.