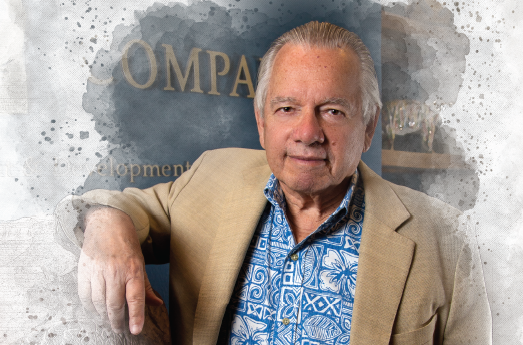 Super Achiever I. Michael Kasser
Real Estate Mogul, Avid Athlete, Philanthropist
By David Pittman
I. Michael Kasser has many interesting accomplishments to his name after 80 years on this planet.
His greatest business success is unquestionably Holualoa Companies, a Tucson-based real estate investment and development firm he founded and guided from the ground up. Today, the business oversees a diversified international portfolio of office, retail, industrial, apartment and hotel properties and land worth more than $3 billion.
Kasser has worked hard and over-achieved his entire life.
He was born during World War II – Dec. 9, 1940 – in Budapest, Hungary, to Alexander and Elisabeth Kasser. After the war, his family escaped to Mexico City before moving to the U.S. and bouncing between Trenton, New Jersey; Philadelphia and New York City, and finally landing in Montclair, New Jersey.
In Hungary, Kasser's father was an executive at one of the country's largest paper mills. By the time the war ended, the family had lost everything," said Kasser. "When we arrived in the United States we were broke."
As a youth, Kasser exhibited genius – skipping three grades and entering Massachusetts Institute of Technology at the age of 15. After receiving a bachelor's degree in 1960, he went on to earn a master's degree in chemical engineering from MIT in 1961 and a doctorate in engineering at the University of Grenoble (France) in 1964.
Kasser speaks six languages fluently – Hungarian, Spanish, English, French, German and Italian.
After getting his doctorate in engineering, Kasser went to work for two years with his father, also an engineer, at a small paper mill in Quebec. "My father built the mill from old spare parts and it really worked," Kasser recalled. "We made toilet paper from waste paper. After wrapping and boxing the individual rolls, I'd load them in a truck and sell the boxes to nearby grocery stores."
Kasser eventually left to attend Harvard Business School, where he earned an MBA in 1968. Following his Harvard stint, he went to New York City to begin a job as a financial analyst for W.R. Grace, an international chemical company. After a few years, Kasser went out on his own and purchased, "for no money down," a couple of saw mills in upstate New York.
Like his father, Kasser was a sports enthusiast. His father played professional soccer for the Peugeot team in France.
Kasser began running while in New York City and he's been running ever since. He ran his first marathon – the New York City Marathon – in 1976. "I've run more than 100 marathons over the years," he said. "I really got into it."
Kasser met his wife, Beth, when they shared a ride with a mutual friend to the Yonkers Marathon, where they both competed. They were married in 1984 and the next year moved to Hawaii, where Kasser launched Holualoa Companies.
An outstanding triathlon competitor, Kasser completed the Ironman Triathlon in Hawaii eight times. A photo of Kasser wearing an Ironman sleeveless t-shirt was featured on the cover of the April 1984 edition of SPORTSWISE magazine, which declared him "The Renaissance Athlete."
The prosperity produced by Holualoa Companies enabled Kasser and his wife to become influential philanthropists who've donated millions of dollars to local charities and various other causes – including the Tucson Museum of Art, the Arizona Theatre Company and several projects benefiting the University of Arizona. Kasser is also a venture capitalist who has directed Holualoa capital resources to early-stage, innovative companies in a wide range of business sectors.
Despite all his success, Kasser said his own story pales to that of his father's.
At the outset of World War II, Alexander Kasser frequently traveled to Sweden to find and purchase paper pulp for use at the mill where he worked. Because of those travels, he became close friends with professor Valdemar Langlet, a Swede who subsequently became head of the Swedish Red Cross in Budapest.
Langlet asked Alexander Kasser to help him in organizing and running the enterprise, which, among other things, was utilized in a clandestine operation to hide and rescue Hungarian Jews who otherwise were destined for shipment to Auschwitz or other Nazi death camps.
The Swedish Red Cross, led by Langlet and Alexander Kasser, rented buildings in Budapest and placed signs on the doors, such as "Swedish Library" or "Swedish Research Institute." The structures were then used as hiding places for Jews being hunted by Nazi authorities led by SS officer Adolph Eichmann.
Kasser's parents were part of a humanitarian effort directed by Raoul Wallenberg, an inspiring Swedish leader credited with saving more than 100,000 Jewish lives targeted by Adolf Hitler and Germany's Third Reich.
According to the Jewish Virtual Library, Wallenberg was able to negotiate the creation of thousands of protective passes to allow Hungarians with family ties to Swedes to immigrate to Sweden. To save as many Jews as possible, Wallenberg had three to four times more passes printed than were authorized.
Elisabeth Kasser contributed to the saving of lives as the interpreter for Wallenberg.
The Guinness Book of World Records credits Wallenberg as the all-time leader in saving the greatest number of people from extinction.
In 1999, Alexander (posthumously) and Elisabeth Kasser were honored with The Raoul Wallenberg Award from the Raoul Wallenberg Committee of the United States.
The war's ending wasn't kind to Wallenberg, who disappeared shortly after the Russians marched into Hungary. Soviet officials long maintained he died of a heart attack in a Soviet prison. However, in 2000, the Russian government announced Wallenberg had been executed in 1947 in a KGB prison.
Alexander Kasser was arrested and imprisoned by German and Hungarian authorities, but he managed to escape. And before he could be recaptured, the Reich fell and the war ended.