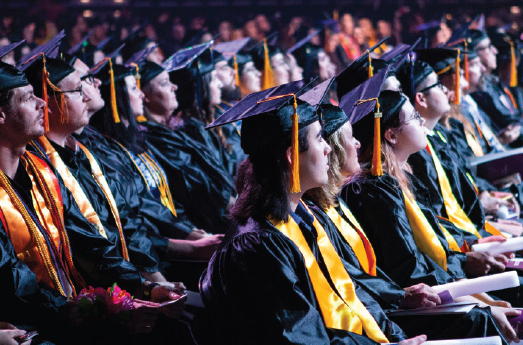 Skill-Building Program Helps Students Financially
Many college and tech school students get a "free ride" – paid tuition and other expenses – courtesy of having great grades, sports scholarships or wealthy parents.
Others go into debt.
Still others pay through a variety of resources – and that's where an Arizona program comes in.
That program, called Earn to Learn, offers an 8 to 1 match for students who qualify for a Pell Grant. The program will go national if the Earn to Learn Act, backed by Arizona Sen. Kyrsten Sinema and Utah Sen. Mitt Romney, goes through.
"You do your part, you're going to be successful. That's an important aspect of the program," said Pima Community College Chancellor Lee Lambert. "Ultimately you have to put in the effort."
Earn to Learn has been in place for nearly 10 years in Arizona.
"Earn to Learn is a skills-building program. You're learning the skills of financial management, which is so important to individuals. Also time management, which is so important," Lambert said. "You're also getting an incredible support system that goes along with it, so it's much more than you making a $500 investment. It helps you in so many ways."
The program also includes one-on-one coaching for students that includes personal finance training, college readiness training and ongoing support from the first day at the university all the way through graduation.
"You learn things from working that you don't learn in the classroom, and I think that sometimes that gets lost."
Lambert himself funded his upper-level education using a combination of grants, work-study programs, working as a residents' assistant, student loans and a U.S. Army program that matched what he contributed when he was a soldier.
"That earning part is you having skin in the game. So I think that is, to a degree, why I've been successful in my career. I didn't just go to learn. I had to do the earning part."
In Arizona the school with the most students participating in Earn to Learn is Pima Community College.
"Through the program's financial literacy component, Earn to Learn helps students learn money management skills that they'll be able to use the rest of their lives," Lambert said.
The money goes to the student's school after enrollment.
The Earn to Learn Act sets up educational savings accounts for students to save for higher education. Participating states and nonprofits are awarded grants to provide the tuition assistance and financial literacy training.
Sinema has said, ""Education was my key to opportunity, and I'm committed to ensuring all Arizona students have the same access to higher education that I did. Creating a college-matched savings program helps Arizona students save for school while teaching the importance of money management."
Earn to Learn scholars have a first-year retention rate of nearly 90 percent, and the majority graduate with little or no student loan debt, according to the press release.
Earn to Learn is supported by businesses, financial institutions, nonprofits, educators, credit counselors and others committed to enhancing the economic well-being of Arizonans. All recognize that higher education is the primary mechanism of upward economic mobility for low-income individuals and is essential to reducing poverty and improving local communities.
"I applaud sponsoring Sens. Sinema and Romney for their efforts to make this innovative program available to students across the country, fostering economic opportunity for low-income American families and helping to break the cycle of multigenerational poverty," said Kate Hoffman, Earn to Learn founder and CEO.