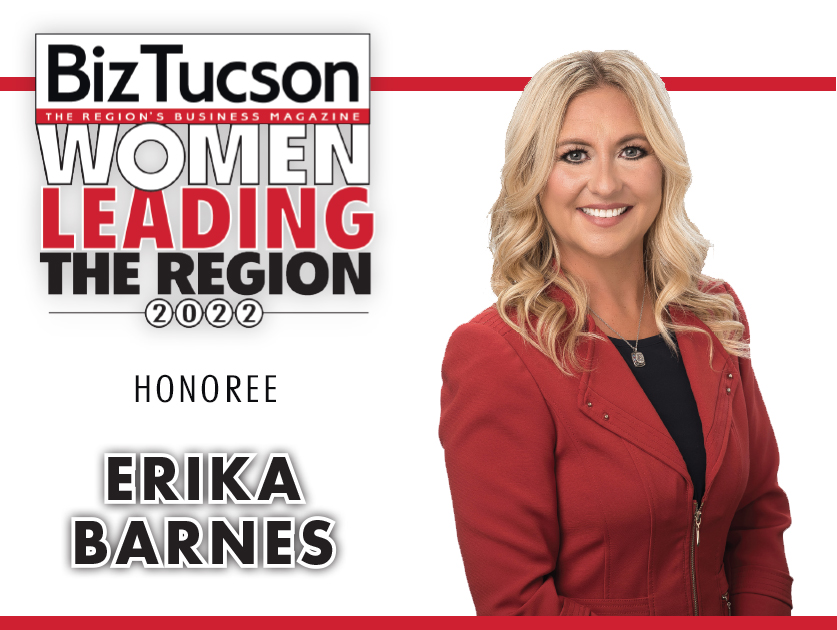 Executive Senior Associate Director of Athletics, SWA – University of Arizona
By Tara Kirkpatrick
The first sentence of Erika Barnes' bio says it all.
"Arizona Athletics prides itself in developing Wildcats for Life, and Erika Hanson Barnes is the epitome of that mission," her profile reads on University of Arizona's website.
Yet, the Arizona national softball champion turned executive senior associate director of athletics is the last to herald herself. Instead, she prefers the sage advice of her former coach, Mike Candrea. "You put your team first and the individual accolades come later."
Since joining Arizona Athletics in 2005, Barnes has served the Wildcats in many capacities, including oversight of all aspects of fundraising efforts and alumni letterwinners, sports administration and the C.A.T.S. student-athlete support services. When former AD Greg Byrne departed in 2017, Barnes was tapped as interim AD.
The mother of two—she married Arizona letterwinner and PGA Tour caddie Andy Barnes – has been an integral part of six capital campaigns totaling $250 million, including Richard Jefferson Gymnasium, Lowell-Stevens Football Facility, Mike Candrea Field at Rita Hillenbrand Memorial Stadium and the McKale Center renovation.
"She is a Wildcat through and through," agreed Arizona AD Dave Heeke. "As a former student-athlete here and a long-term member of the administrative team, Erika bleeds red and blue. Her role is truly a key element to ensure that University of Arizona student-athletes have a first-class experience, which has defined our athletics program for decades."
Barnes was part of Arizona's 2001 national championship team before graduating in communications with a minor in American Sign Language. "As players, we would do a lot of volunteer work with the Arizona School for the Deaf and Blind and we had a few fans who were deaf," she said. "I thought it was really important to communicate with them on game days…" Barnes earned her MBA from the Eller College of Management in 2010.
She is truly a welcoming presence at all Wildcat sports. Barnes serves on the Pac-12 Council, which governs conference policies. She oversees all fundraising for the Wildcat Club, she is the designated Senior Woman Administrator for Arizona Athletics and just finished a four-year term on the NCAA Softball Selection Committee. She also is a member of the board of directors for Ben's Bells, a non-profit with a mission to spread kindness. For Barnes, it's a fitting example of her character.
"Having integrity and playing by the rules" are key to leadership, she said. "And the golden rule – treating everyone like you would like to be treated. Athletics is a service industry and we are servant leaders."