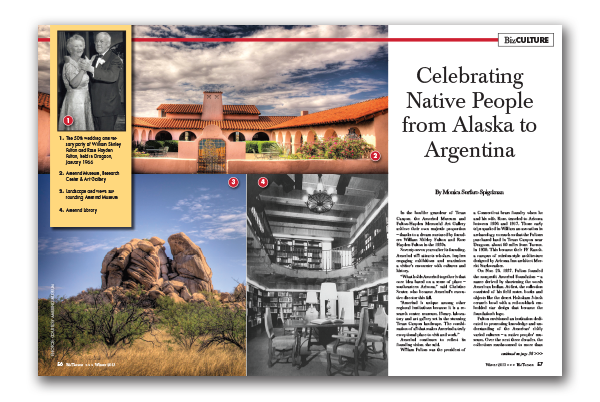 Celebrating Native People from Alaska to Argentina
By Monica Surfaro Spigelman –
In the boulder grandeur of Texas Canyon, the Amerind Museum and Fulton-Hayden Memorial Art Gallery achieve their own majestic proportion – thanks to a dream nurtured by founders William Shirley Fulton and Rose Hayden Fulton in the 1930s.
Seventy-seven years after its founding, Amerind still attracts scholars, inspires engaging exhibitions and maximizes a visitor's encounter with cultures and history.
"What holds Amerind together is that core idea based on a sense of place – southeastern Arizona," said Christine Szuter, who became Amerind's executive director this fall.
"Amerind is unique among other regional institutions because it is a research center, museum, library, laboratory and art gallery set in the stunning Texas Canyon landscape. The combination of all that makes Amerind a truly exceptional place to visit and work."
Amerind continues to reflect its founding vision, she said.
William Fulton was the president of a Connecticut brass foundry when he and his wife, Rose, traveled to Arizona between 1906 and 1917. Those early trips sparked in William an avocation in archaeology, so much so that the Fultons purchased land in Texas Canyon near Dragoon, about 60 miles from Tucson, in 1930. This became their FF Ranch, a campus of mission-style architecture designed by Arizona Inn architect Merritt Starkweather.
On Nov. 26, 1937, Fulton founded the nonprofit Amerind Foundation – a name derived by shortening the words American Indian. At first, the collection consisted of his field notes, books and objects like the desert Hohokam 5-inch ceramic bowl with a red-on-black embedded star design that became the foundation's logo.
Fulton envisioned an institution dedicated to promoting knowledge and understanding of the Americas' richly varied cultures – a native peoples' museum. Over the next three decades, the collections mushroomed to more than 20,000 objects reflecting 13,000 years of history and cultures from Alaska to Argentina.
Fulton's work attracted Charles Di Peso, who earned the University of Arizona's first doctorate in anthropology and joined Fulton in 1952 as Amerind's first executive director. Fulton and Di Peso collaborated with other institutions in massive research, including one project with the Mexican government in northern Mexico's Casas Grandes – a prehistoric site that became one of the most comprehensive studies in North American archaeology.
Reports published as a result of this work continue to be primary resources for understanding southwestern borderlands history.
After the passing of both Fultons in the 1960s and Di Peso in 1982, a succession of executive leadership built upon the Fulton legacy.
In 1985, Amerind's second executive director, Anne Woosley (now CEO of the Arizona Historical Society), filled 6,000 square feet of museum space with interpretive exhibits, and for the first time opened its doors to the public. A fine arts gallery of primarily Native American and Western artwork (originally opened in 1960) was revitalized.
John Ware became Amerind's third executive director in 2001. He addressed deferred maintenance of aging facilities and rebuilding the repository for Amerind's priceless collections – creating climate-controlled, state-of-the-art storage. Ware expanded the focus on research, building upon an advanced seminar series to gather experts in archaeology/anthropology. He also began digitizing the library's 25,000 references and developed a resident scholar program. A membership and public education program began in 2003.
Szuter was director of the University of Arizona Press when she first worked with Ware to create the Amerind Series in Anthropology, the published findings from Amerind's advanced research seminars. When Ware retired to Santa Fe, N.M., this summer, Szuter was named Amerind's executive director.
Research still forms the core of all that emanates from Amerind.
"Research results make it possible to create exhibits and interpret the 25,000 items within the Amerind collections," she said. "Research makes it possible to add a depth of understanding to the art that graces the walls of the Amerind Art Gallery and to write books that emanate from the Seminar House. Research creates materials that are housed in the Amerind Library and Archives.
"The power of research and in-depth analysis leads to the creation of new knowledge and new understanding of the past and of our collective cultural heritage."
Szuter envisions four initiatives as Amerind continues its founders' vision to promote the cultural heritage of the Americas through research, education and conservation.
"The first, indigenous culture and archaeology, builds on Amerind's core focus and foundation on Native Americans," she said. "The second, borderlands, builds on Amerind's physical location and history. The third, community engagement, creates new partnerships for leveraging current resources and brings diverse community voices into the museum and art gallery, and the fourth, the digital world, offers ways to expand membership and philanthropy to reach people who are not able to travel to Dragoon."
The original Fulton house is now renovated and converted into seminar quarters that are available for corporate or private rentals when seminars are not in session.
In October the Fulton-Hayden Memorial Art Gallery reopened 4,000 square feet of exhibit spaces with wheelchair accessibility, revamped lighting and climate control.
The nonprofit Friends of Western Art, dedicated to supporting the awareness of Western art in Tucson and Southern Arizona, collaborated with Amerind to conserve the collections and renovate the lighting system.
The Fulton-Hayden collection includes household names of Western art, including William Leigh, Frederic Remington and Carol Oscar Borg, plus contemporary Native American artists including Bunky Echo-Hawk, Melanie Yazzie, Terrol Dew Johnson and Emmi Whitehorse.
In this visually-arresting complex, the combinations of ancient and modern artifacts, art objects, textiles and documents leave visitors absorbed and amazed in equal measure.