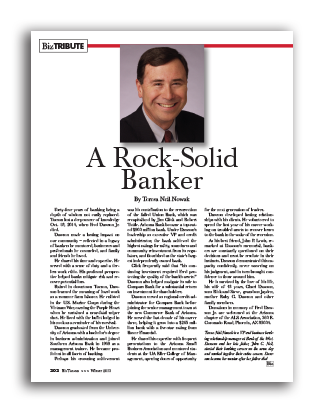 By Teresa Neil Nowak –
Forty-four years of banking bring a depth of wisdom not easily replaced. Tucson lost a deep source of knowledge Oct. 18, 2014, when Fred Dawson Jr. died.
Dawson made a lasting impact on our community – reflected in a legacy of bankers he mentored, businesses and professionals he counseled, and family and friends he loved.
He shared his time and expertise. He served with a sense of duty and a tireless work ethic. His profound perspective helped banks mitigate risk and recover potential loss.
Raised in downtown Tucson, Dawson learned the meaning of hard work as a summer farm laborer. He enlisted in the U.S. Marine Corps during the Vietnam War, earning the Purple Heart when he sustained a near-fatal sniper shot. He lived with the bullet lodged in his neck as a reminder of his survival.
Dawson graduated from the University of Arizona with a bachelor's degree in business administration and joined Southern Arizona Bank in 1969 as a management trainee. He became proficient in all facets of banking.
Perhaps his crowning achievement was his contribution to the resurrection of the failed Union Bank, which was recapitalized by Jim Click and Robert Tuttle. Arizona Bank became a top-rated $900 million bank. Under Dawson's leadership as executive VP and credit administrator, the bank achieved the highest ratings for safety, soundness and community reinvestment from its regulators, and flourished as the state's largest independently owned bank.
Click frequently said that "his continuing investment required Fred protecting the quality of the bank's assets." Dawson also helped navigate its sale to Compass Bank for a substantial return on investment for shareholders.
Dawson served as regional credit administrator for Compass Bank before joining the senior management team at the new Commerce Bank of Arizona. He served the last decade of his career there, helping it grow into a $265 million bank with a five-star rating from Bauer Financial.
He shared his expertise with frequent presentations to the Arizona Small Business Association and mentored students at the UA Eller College of Management, opening doors of opportunity for the next generation of leaders.
Dawson developed lasting relationships with his clients. He volunteered to spend the last year of his career working on troubled assets to recover losses to the bank in the wake of the recession.
As his best friend, John P. Lewis, remarked at Dawson's memorial, bankers are constantly questioned on their decisions and must be resolute in their instincts. Dawson demonstrated this capacity confidently, never wavering on his judgment, and in turn brought confidence to those around him.
He is survived by the love of his life, his wife of 43 years, Chari Dawson, sons Rick and Steve, grandson Jayden, mother Ruby G. Dawson and other family members.
Donations in memory of Fred Dawson Jr. are welcomed at the Arizona chapter of the ALS Association, 360 E. Coronado Road, Phoenix, AZ 85004.
Teresa Neil Nowak is a VP and business banking relationship manager at Bank of the West. Dawson and her late father, John C. Neil, started their banking careers on the same day and worked together their entire careers. Dawson became her mentor after her father died