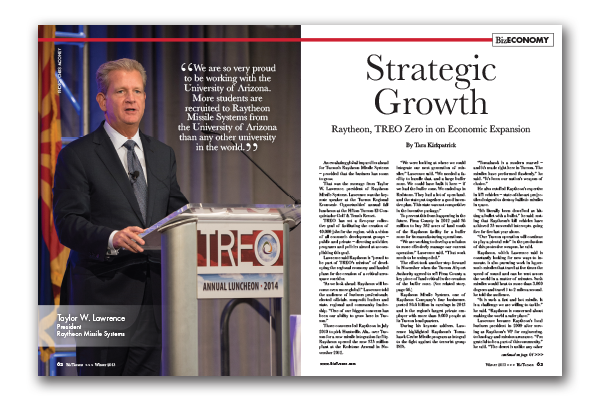 Strategic Growth – Raytheon, TREO Zero in on Economic Expansion
By Tara Kirkpatrick –
An escalating global impact lies ahead for Tucson's Raytheon Missile Systems – provided that the business has room to grow.
That was the message from Taylor W. Lawrence, president of Raytheon Missile Systems. Lawrence was the keynote speaker at the Tucson Regional Economic Opportunities' annual fall luncheon at the Hilton Tucson El Conquistador Golf & Tennis Resort.
TREO has set a five-year collective goal of facilitating the creation of 40,000 jobs for the region, with a vision of all economic development groups – public and private – directing activities, programs and policies aimed at accomplishing this goal.
Lawrence said Raytheon is "proud to be part of TREO's mission" of developing the regional economy and lauded plans for the creation of a critical aerospace corridor.
"As we look ahead, Raytheon will become even more global," Lawrence told the audience of business professionals, elected officials, nonprofit leaders and state, regional and community leadership. "One of our biggest concerns has been our ability to grow here in Tucson."
Those concerns led Raytheon in July 2010 to pick Huntsville, Ala., over Tucson for a new missile integration facility. Raytheon opened the new $75 million plant at the Redstone Arsenal in November 2012.
"We were looking at where we could integrate our next generation of missiles," Lawrence said. "We needed a facility to handle that, and a large buffer zone. We could have built it here – if we had the buffer zone. We ended up in Redstone. They had a lot of open land, and the state put together a good incentive plan. This state was not competitive in the incentive package."
To prevent this from happening in the future, Pima County in 2012 paid $6 million to buy 382 acres of land south of the Raytheon facility for a buffer zone for its manufacturing operations.
"We are working to develop a solution to more effectively manage our current operation," Lawrence said. "That work needs to be unimpeded."
The effort took another step forward in November when the Tucson Airport Authority agreed to sell Pima County a key piece of land critical in the creation of the buffer zone.
Raytheon Missile Systems, one of Raytheon Company's four businesses, posted $6.6 billion in earnings in 2013 and is the region's largest private employer with more than 9,000 people at its Tucson headquarters.
During his keynote address, Lawrence highlighted Raytheon's Tomahawk Cruise Missile program as integral to the fight against the terrorist group ISIS.
"Tomahawk is a modern marvel – and it's made right here in Tucson. The missiles have performed flawlessly," he said. "It's been our nation's weapon of choice."
He also extolled Raytheon's expertise in kill vehicles – state-of-the-art projectiles designed to destroy ballistic missiles in space.
"It's literally been described as hitting a bullet with a bullet," he said, noting that Raytheon's kill vehicles have achieved 35 successful intercepts, going five for five last year alone.
"Our Tucson operation will continue to play a pivotal role" in the production of this protective weapon, he said.
Raytheon, which Lawrence said is constantly looking for new ways to innovate, is also pursuing work in hypersonic missiles that travel at five times the speed of sound and can be sent across the world in a matter of minutes. Such missiles would heat to more than 3,000 degrees and travel 1 to 2 miles a second, he told the audience.
"It is such a fast and hot missile. It is a challenge we are willing to tackle," he said. "Raytheon is concerned about making the world a safer place."
Lawrence became Raytheon's local business president in 2009 after serving as Raytheon's VP for engineering, technology and mission assurance. "I'm grateful to be a part of this community," he said. "The desert is unlike any other place in the world."
In October, the Pima County Board of Supervisors unanimously approved planning for a proposed 16-mile Sonoran Corridor between Interstate 10 and Interstate 19 as part of a greater plan to provide that crucial space for Raytheon to expand.
County Administrator Chuck Huckelberry called it "the most important transportation improvement for economic expansion in decades."
"There can be no doubt in anyone's mind where we are going and what needs to be done," Lawrence told the TREO audience.
Lawrence called on business leaders to continue revitalizing downtown, and he praised the University of Arizona, saying Raytheon depends heavily on the school.
"We need highly qualified engineers," Lawrence said. "We are so very proud to be working with the University of Arizona. More students are recruited to Raytheon Missile Systems from the University of Arizona than any other university in the world. We can't attract without the UA."
The goal of building education and talent in the region is at the forefront of TREO's 2014 Economic Blueprint Update, a revisit to Southern Arizona's first directive penned in 2007, said TREO President and CEO Joe Snell.
The Blueprint Update sets a five-year goal for the creation of 40,000 direct and indirect jobs through the collaborative efforts of regional partners – particularly higher wage jobs producing products for export. Its four crucial focus areas are talent, infrastructure, business environment and healthcare.
"The talent issue is job No.1 for us," Snell told the audience, adding that 2,500 skilled jobs in this region are going unfilled because of a lack of qualified workers.
In terms of infrastructure, Snell said the region must be "connected to the global marketplace."
With Mexico's burgeoning economic growth that is attracting investment from China, Southern Arizona must capitalize on the potential trade opportunities. For example, the Port of Guaymas – roughly 335 miles south of Tucson – is expanding to become the second largest seaport in Mexico with the capacity for more than 30 million tons of cargo. Mexican officials are seeking solid Arizona ties.
"We cannot get bypassed," Snell told the audience, envisioning Tucson as a convergence center for goods and services.
Snell said he and other officials are involved in a concentrated effort to recruit quality companies to Tucson. TREO is also providing more assistance to local businesses with the knowledge that 80 percent of the region's economic growth will come from companies already established here.
TREO's efforts have resulted in a 54 percent increase in the last four years in its "pipeline" – the group of promising companies TREO works with on a daily basis to attract here, or if already here, to help expand.
Asked later about the pipeline, Snell said, "The increase we are experiencing is a result of increased outreach, sales and marketing of the Tucson region and helping 'connect the dots' – in other words, linking companies to resources they need for job and investment growth."
Among the 2014 highlights of growth in the region, aided by TREO:
• Duralar Technologies, a nanotechnology company that makes ultra-hard coatings, chose Marana for its U.S. headquarters.
• Hydronalix, a maker of unmanned rescue watercraft in Sahuarita, has expanded.
• Ascent Aviation, a premier airplane maintenance and storage company at Tucson International Airport, continues to grow with new contracts for service.
• Announced at the luncheon, Shared Services Center, an affiliate of Northwest Medical Center that provides business office support, is adding 200 jobs to the region.
"We have to make sure we operate in a pro-business environment," Snell said. "The pursuit of high-quality jobs should be everybody's focus. This is an aggressive but doable agenda – but it will only work if we are all in it together. We have the assets needed to recover from the recession, but we only 'win as one.' "
TREO Chairman Guy Gunther told the audience that the TREO team is consistently working with corporate site selectors who might consider Tucson and is zeroing in on what is essential to attract and create more jobs.
"TREO is very much about linking people and linking projects," Gunther said. "We are very lucky as a region to have this team."