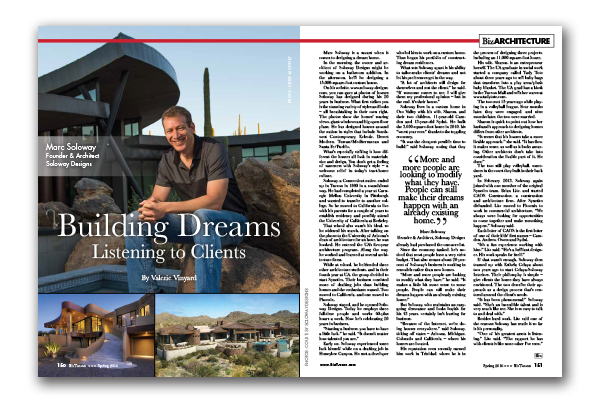 Building Dreams Listening to Clients
By Valerie Vinyard –
Marc Soloway is a savant when it comes to designing a dream home.
In the morning, the owner and architect of Soloway Designs might be working on a bathroom addition. In the afternoon, he'll be designing a 15,000-square-foot custom house.
On his website, www.soloway-designs.com, you can gaze at photos of homes  Soloway has designed during his 20 years in business. What first strikes you is the stunning variety of styles and looks – all breathtaking in their own right. The photos show the homes' soaring views, giant windows and big open floor plans. He has designed houses around the nation in styles that include Southwest Contemporary, Eclectic, Desert Modern, Tuscan/Mediterranean and Santa Fe/Pueblo.
What's especially striking is how different the houses all look in materials, size and design. You don't get a feeling of sameness with Soloway's style – a welcome relief in today's tract-home culture.
Soloway, a Connecticut native, ended up in Tucson in 1990 in a roundabout way. He had completed a year at Carnegie Mellon University in Pittsburgh and wanted to transfer to another college. So he moved to California to live with his parents for a couple of years to establish residency and possibly attend the University of California at Berkeley.
That school also wasn't his ideal, so he widened his search. After talking on the phone to the University of Arizona's dean of architecture for an hour, he was hooked. He entered the UA's five-year architecture program. Along the way, he worked and learned at several architecture firms.
While at school, he befriended three other architecture students, and in their fourth year at UA, the group decided to start Synetics. Their business consisted more of drafting jobs than building homes and the enthusiasm waned. Two moved to California, and one moved to Phoenix.
Soloway stayed, and he opened Soloway Designs. Today he employs three full-time people and works 60-plus hours a week. Now he's celebrating 20 years in business.
"Starting a business, you have to have a little luck," he said. "It doesn't matter how talented you are."
Early on, Soloway experienced some luck himself while on a drafting job in Honeybee Canyon. He met a developer who led him to work on a custom home. Thus began his portfolio of constructing dream residences.
What sets Soloway apart is his ability to tailor-make clients' dreams and not let his preferences get in the way.
"A lot of architects will design for themselves and not the client," he said. "If someone comes to me, I will give them my professional opinion – but in the end, it's their house."
Soloway lives in a custom home in Oro Valley with his wife, Sharon, and their two children, 11-year-old Camden and 13-year-old Sydni. He built the 3,600-square-foot home in 2010, his "worst year ever," thanks to the toppling economy.
"It was the cheapest possible time to build," said Soloway, noting that they already had purchased the one-acre lot.
Since the economy tanked, he's noticed that most people have a very strict budget. That also means about 20 percent of Soloway's business is working in remodels rather than new homes.
"More and more people are looking to modify what they have," he said. "It makes a little bit more sense to some people. People can still make their dreams happen with an already existing home."
But Soloway, who maintains an easygoing demeanor and looks boyish for his 43 years, certainly isn't hurting for business.
"Because of the Internet, we're doing houses everywhere," said Soloway, ticking off states – Arizona, Michigan, Colorado and California – where his homes are located.
His reputation even recently earned him work in Trinidad, where he is in the process of designing three projects, including an 11,000-square-foot house.
His wife, Sharon, is an entrepreneur herself. The UA graduate in social work started a company called Tady Tote about three years ago to sell baby bags that transform into a play area/plush baby blanket. The UA grad has a kiosk in the Tucson Mall and sells her wares at www.tadytote.com.
The two met 15 years ago while playing in a volleyball league. Four months later, they were engaged, and nine months later, the two were married.
Sharon is quick to point out how her husband's approach to designing homes differs from other architects.
"It seems that his houses take a more livable approach," she said. "It has flow, it makes sense, as well as it looks amazing. Other architects don't take into consideration the livable part of it. He does."
The two still play volleyball, sometimes in the court they built in their back yard.
In February 2013, Soloway again joined with one member of the original Synetics team, Brian Litz, and started CAOS Construction, a construction and architecture firm. After Synetics disbanded, Litz moved to Phoenix to work in commercial architecture. "We always were looking for opportunities to come together and make something happen," Soloway said.
Each letter of CAOS is the first letter of one of their kids' first names – Camden, Andrew, Owen and Sydni.
"It's a fun experience working with him," Litz said. "He's a brilliant designer. His work speaks for itself."
If that wasn't enough, Soloway then teamed up with Esthela Celaya about two years ago to start Celaya-Soloway Interiors. Their philosophy is simple – give clients the home they have always envisioned. The two describe their approach as a design process that's centered around the client's needs.
"It has been phenomenal," Soloway said. "She's an incredible talent and is very much like me. She is so easy to talk to and deal with."
Besides hard work, Litz said one of the reasons Soloway has made it so far is his personality.
"One of his greatest assets is listening," Litz said. "The rapport he has with clients is like none other I've seen."