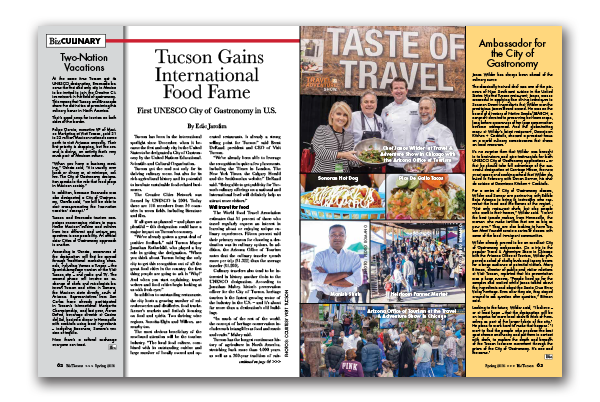 Tucson Gains International Food Fame
By Edie Jarolim –
First UNESCO City of Gastronomy in U.S.
Tucson has been in the international spotlight since December, when it became the first and only city in the United States to be designated a City of Gastronomy by the United Nations Educational, Scientific and Cultural Organization.
Tucson got the nod not only for its thriving culinary scene, but also for its rich agricultural history and its potential to incubate sustainable food-related businesses.
The Creative Cities Network was formed by UNESCO in 2004. Today there are 116 members from 54 countries in seven fields, including literature and film.
If all goes as planned – and plans are plentiful – this designation could have a major impact on Tucson's economy.
"We've already gotten a great deal of positive feedback," said Tucson Mayor Jonathan Rothschild, who played a key role in getting the designation. "When you think about Tucson being the only city to get this recognition out of all the great food cities in the country, the first thing people are going to ask is 'Why?' And when you start explaining, travel writers and food critics begin looking at us with fresh eyes."
In addition to outstanding restaurants, the city hosts a growing number of microbreweries and distilleries, food trucks, farmer's markets and festivals focusing on food and spirits. Two thriving wine regions, Sonoita-Elgin and Willcox, are nearby too.
The most obvious beneficiary of the newfound attention will be the tourism industry. "The local food culture, combined with its outstanding cuisine and large number of locally owned and operated restaurants, is already a strong selling point for Tucson," said Brent
DeRaad, president and CEO of Visit Tucson.
"We've already been able to leverage the recognition in quite a few placements, including the Times in London, The New York Times, the Calgary Herald and the Smithsonian website," DeRaad said. "Being able to get publicity for Tucson's culinary offerings on a national and international level will definitely help us attract more visitors."
Will travel for food
The World Food Travel Association estimates that 51 percent of those who travel regularly express an interest in learning about or enjoying unique culinary experiences. Fifteen percent said their primary reason for choosing a destination was its culinary options. In addition, the Arizona Office of Tourism notes that the culinary traveler spends more per trip ($1,322) than the average traveler ($1,200).
Culinary travelers also tend to be interested in history, another tie-in to the UNESCO designation. According to Jonathan Mabry, historic preservation officer for the City of Tucson, heritage tourism is the fastest growing sector of the industry in the U.S. – and it's about far more than a destination's old buildings.
"In much of the rest of the world, the concept of heritage conservation includes such intangibles as food and music and crafts," Mabry said.
Tucson has the longest continuous history of agriculture in North America, stretching back more than 4,000 years, as well as a 300-year tradition of raising livestock and cultivating fruit, including wine grapes. The reconstructed Mission Garden, showcasing Tohono O'odham, Spanish, Mexican and American crops, is among the many sites where visitors can explore the city's multicultural food heritage.
In addition to getting the word out, Tucson is gearing up to introduce City of Gastronomy-themed ways to appeal to visitors. These include everything from cooking classes by James Beard award-winning chef Janos Wilder to tours hosted by Edible Baja Arizona, the media sponsor for the UNESCO award. The magazine's first Edible Excursion, offered at the end of January, visited a local coffee roaster, a farmer's market, a working urban farm and a wine tasting room, among other stops.
But as Gary Paul Nabhan, the writer and ethnobotanist who spurred the city to apply for the UNESCO designation, put it, "We want people to see the City of Gastronomy as not just for gourmets, but as something that can help every sector of our economy. Small local businesses are going to be able to benefit from the award, too."
Growing food-related businesses
Nabhan, director of the University of Arizona's recently formed Center for Regional Food Studies, cites the student-run Compost Cats program as one of many food-related businesses that affects members of the community who don't necessarily dine out regularly. The food scraps that are picked up by the City of Tucson from some 50 businesses and turned into rich soil are a boon to local gardeners and also keep millions of pounds of food out of Tucson's landfills. "We used to get our compost from Ohio," Nabhan said. "Now you can buy it here, from student entrepreneurs."
Nabhan said many of his students at the Center for Regional Food Studies aren't your typical ivory-tower types. They are unemployed and retired farmers and farm workers who want to get back into the food economy. "I'm teaching seven short courses at the UA Tech Park on topics like greenhouse and nursery management, food safety for small food businesses, and water harvesting for food production," Nabhan said. "People with very little capital but a lot of time on their hands and good skill sets can go after these jobs."
The UNESCO designation was directly responsible for the creation in 2015 of The City of Tucson Commission on Food Security, Heritage and Economy, which also addresses the less glamorous side of the city's food scene. Mayor Rothschild said, "We have a number of food deserts in the city, relatively large areas where there's not fresh food, and a lot of people in the community who go hungry." The Commission will study these problems and propose solutions.
Of course, the distinctions drawn between gourmets and do-gooders are often misleading. Farmers markets, for example, are stereotypically seen as yuppie magnets, but the Community Food Bank of Southern Arizona manages four that provide fresh produce to lower-income residents. And the more upscale consumers at other markets help spur business practices that are crucial for the survival of small farmers.
Manish Shah, co-executive director of the three Heirloom Farmers Markets, said, "Vendors don't get into our markets just because they want to – we vet them. They have to provide high-quality food and packaging, correct pricing and have a good attitude towards consumers, who are often very picky."
International smorgasbord
Similarly, although food trucks have become trendy, they have their precedents in the mobile Mexican kitchens that have long been a part of this city's history. And the new, more internationally oriented trucks don't only cater to sophisticates.
David Aguirre, who organizes the Tucson Food Truck Roundup, said, "We especially like to go to the edges of Tucson where there are fewer culinary options – for instance, Rancho Sahuarita. We get a really strong following from families there."
Different family members are able to try different types of food, such as Caribbean, Peruvian, pizza and Texas barbecue, while all sitting together at one table. "It's lots of fun," Aguirre said.
The tourism boost spurred by the City of Gastronomy designation is likely to highlight this interconnectivity between different food communities – and to expand on it. Mabry believes that the increase in visitors seeking out unique dining experiences and products, combined with the trend toward buying local, will lead to business collaborations that will fill needs in the food economy infrastructure.
For example, he said, "Grass-finished beef has become a Southern Arizona specialty – but ranchers have to drive their beef all the way to Phoenix to have it processed." A meat-processing facility in the Tucson area would solve that problem and create more local jobs.
Supporters say the one thing that has already brought all the food sectors together is enthusiasm about the         UNESCO designation. There is so much potential.
"We're still in the initial stages," Mabry said. "There is a lot of brainstorming and creativity going on now about how best to use this designation for diverse community members, which is exactly what UNESCO intended for its Creative Cities Network."