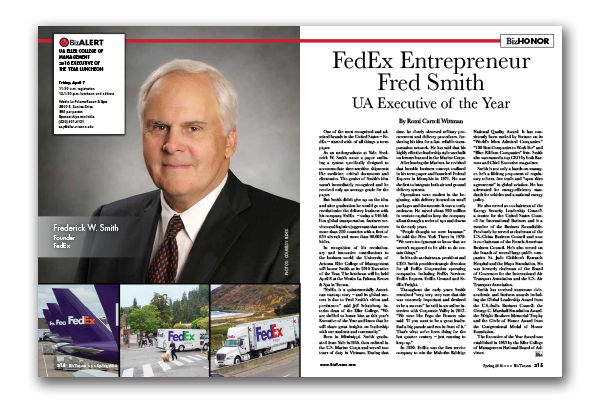 FedEx Entrepreneur Fred Smith
By Romi Carrell Wittman –
UA Executive of the Year
One of the most recognized and admired brands in the United States – FedEx – started with, of all things, a term paper.
As an undergraduate at Yale, Frederick W. Smith wrote a paper outlining a system specifically designed to accommodate time-sensitive shipments like medicine, critical documents and electronics. The genius of Smith's idea wasn't immediately recognized and he received only an average grade for the paper.
But Smith didn't give up on the idea and after graduation he would go on to revolutionize the delivery business with his company, FedEx  – today a $46 billion global transportation, business services and logistics juggernaut that serves more than 220 countries with a fleet of 634 aircraft and more than 90,000 vehicles.
In recognition of his revolutionary and innovative contributions to the business world, the University of Arizona Eller College of Management will honor Smith as its 2016 Executive of the Year. The luncheon will be held April 8 at the Westin La Paloma Resort & Spa in Tucson.
"FedEx is a quintessentially American start-up story – and its global success is due to Fred Smith's vision and persistence," said Jeff Schatzberg, interim dean of the Eller College. "We are thrilled to honor him as this year's Executive of the Year and know that he will share great insights on leadership with our students and community."
Born in Mississippi, Smith graduated from Yale in1966, then enlisted in the U.S. Marine Corps and served two tours of duty in Vietnam. During that time, he closely observed military procurement and delivery procedures, furthering his idea for a fast, reliable transportation network. He has said that his highly effective leadership style was built on lessons learned in the Marine Corps.
After leaving the Marines, he revisited that humble business concept outlined in his term paper and launched Federal Express in Memphis in 1971. He was the first to integrate both air and ground delivery systems.
Operations were modest in the beginning, with delivery focused on small packages and documents. It was a costly endeavor. He raised about $90 million in venture capital to keep the company afloat through a series of ups and downs in the early years.
"People thought we were bananas," he told the New York Times in 1979. "We were too ignorant to know that we weren't supposed to be able to do certain things."
In his role as chairman, president and CEO, Smith provides strategic direction for all FedEx Corporation operating companies, including FedEx Services, FedEx Express, FedEx Ground and FedEx Freight.
Throughout the early years Smith remained "very, very, very sure that this was extremely important and destined to be a success," he said in an online interview with Corporate Valley in 2013. "We were like Pogo the Possum who said, 'If you want to be a great leader, find a big parade and run in front of it.' That's what we've been doing for the last quarter century – just running to keep up."
In 1990, FedEx was the first service company to win the Malcolm Baldrige National Quality Award. It has consistently been ranked by Fortune on its "World's Most Admired Companies," "100 Best Companies to Work For" and "Blue Ribbon Companies" lists. Smith also was named a top CEO by both Barrons and Chief Executive magazines.
Smith is not only a hands-on manager, he's a lifelong proponent of regulatory reform, free trade and "open skies agreements" in global aviation. He has advocated for energy-efficiency standards for vehicles and a national energy policy.
He also served as co-chairman of the Energy Security Leadership Council, a trustee for the United States Council for International Business and is a member of the Business Roundtable. Previously he served as chairman of the U.S.-China Business Council and now is co-chairman of the French-American Business Council. He's also served on the boards of several large public companies, St. Jude Children's Research Hospital and the Mayo Foundation. He was formerly chairman of the Board of Governors for the International Air Transport Association and the U.S. Air Transport Association.
Smith has received numerous civic, academic and business awards including the Global Leadership Award from the U.S.-India Business Council, the George C. Marshall Foundation Award, the Wright Brothers Memorial Trophy and the Circle of Honor Award from the Congressional Medal of Honor Foundation.
The Executive of the Year Award was established in 1983 by the Eller College of Management National Board of Advisors.