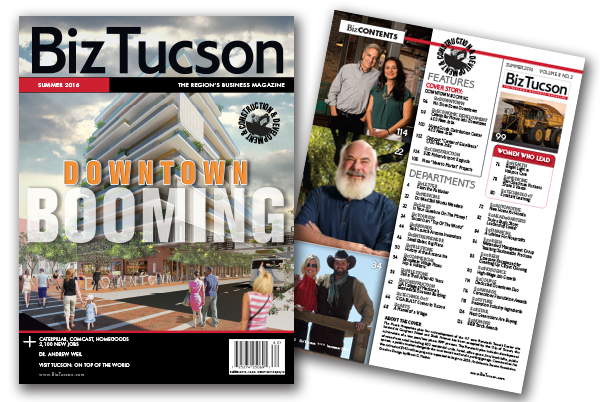 BizTUCSON Summer 2016 Issue
From the Publisher BizTUCSON Summer 2016 Issue  –
It's a Triple Crown for Tucson. Three Fortune 500 corporations have selected our region for major operations that will collectively provide jobs for more than 2,100 people. The HomeGoods Distribution Center near the airport, Comcast's "Center of Excellence" next to Tucson Mall and Caterpillar's new downtown facility are catalysts for Tucson's new economic trajectory. The potential economic impact is tremendous. Estimates are Comcast $385 million, Caterpillar $600 million and HomeGoods $870 million.
Caterpillar's recent decision to open a new division downtown is the icing on the cake for our revitalized city center. David Pittman reports on the building boom that continues downtown, including 22 planned residential projects. Public and private sector investments along the four-mile route of the Modern Streetcar total nearly $1 billion.
Pittman reports, "The mood among local developers, city officials, realtors and downtown boosters is absolutely buoyant – as the first new downtown hotel in 50 years is under construction, as Caterpillar promises to bring 600 jobs over the next five years to its new downtown offices, as the Tucson Convention Center Arena gets a makeover as a future entertainment and professional hockey site, and as new restaurant concepts continue to flock to Tucson's urban core."
That vibrant urban core is featured in Visit Tucson's hip, new travel video inspired by country star Randy Houser's "Top of the World." April Bourie reports on the high-impact collaborations with Houser that have put Tucson directly in the national spotlight. First Houser and crew came to produce the music video, "Like a Cowboy," working closely with Visit Tucson's Allison Cooper. That's when she first heard "Top of the World" and imagined the song as the soundtrack to a promotional video showcasing our amazing attractions and stunning vistas. That vision came to fruition – the centerpiece of an innovative marketing campaign. Then Houser liked the featured locations – like Windy Point on Mount Lemmon – so much that he returned to film "We Went." That video went No. 1 on Country Music Televisions Hot 20 Countdown in April. The three videos have had millions of views and Houser has become Tucson's adopted favorite son.
Another widely recognized local celebrity is Andrew Weil. Tucsonans are extremely proud of Dr. Weil, a pioneer of mind-body-spirit healthcare. Lee Allen reports on the world-renowned doctor who helped change the face of medicine. More than two decades ago, Weil established the University of Arizona's Center for Integrative Medicine. This approach to medicine at the time was viewed as controversial. Yet today more than 40 colleges nationwide have a Center for Integrative Medicine, many led by physicians who trained here. Weil has written numerous books, endorsed a wide variety of products and partnered to create "True Food" restaurants. Proceeds from all these ventures help fund the UA Center for Integrative Medicine.
Tucson's annual Global Retailing Conference attracts executives and experts from around the world. They gathered at Loews Ventana Canyon Resort to read the retail industry tea leaves and determine what the "next big thing" might be. Romi Carrell Wittman brings us those insights.
To better accommodate inbound and outbound travelers, Tucson International Airport is launching a $28 million renovation project that's expected to create an estimated 308 construction jobs. This edition of BizTucson also has a delightful assortment of small business success stories, several inspiring "Women Who Lead" features and a look into the exciting future of bioscience and technology.
Steven E. Rosenberg
Publisher & Owner
BizTucson