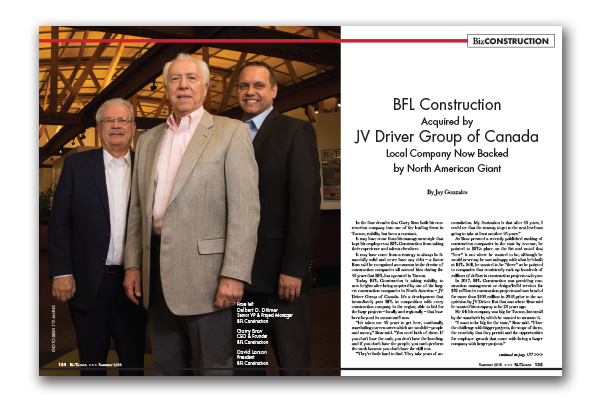 BFL Construction Acquired by JV Driver Group
By Jay Gonzales –
Local Company Now Backed by North American Giant
In the four decades that Garry Brav built his construction company into one of the leading firms in Tucson, stability has been a constant.
It may have come from his management style that kept his employees at BFL Construction from taking their experience and talents elsewhere.
It may have come from a strategy to always be financially solid and never have any debt – a factor Brav said he recognized as common in the demise of construction companies all around him during the 45 years that BFL has operated in Tucson.
Today, BFL Construction is taking stability to new heights after being acquired by one of the largest construction companies in North America – JV Driver Group of Canada. It's a development that immediately puts BFL in competition with every construction company in the region, able to bid for the large projects – locally and regionally – that have been beyond its means until now.
"It's taken me 45 years to get here, continually marshaling our resources which are twofold – people and money," Brav said. "You need both of those. If you don't have the cash, you don't have the bonding, and if you don't have the people, you can't perform the work because you don't have the skill sets.
"They're both hard to find. They take years of accumulation. My frustration is that after 45 years, I could see that the runway to get to the next level was going to take at least another 10 years."
As Brav perused a recently published ranking of construction companies in the state by revenue, he pointed to BFL's place on the list and noted that "here" is not where he wanted to be, although he would never say he was unhappy with what he's built at BFL. Still, he wanted to be "there" as he pointed to companies that consistently rack up hundreds of millions of dollars in construction projects each year.
In 2017, BFL Construction was providing construction management or design/build services for $82 million in construction projects and was headed for more than $100 million in 2018 prior to the acquisition by JV Driver. But that was where Brav said he wanted his company to be 20 years ago.
He felt his company was big for Tucson, but small by the standards by which he wanted to measure it.
"I want to be big for the state," Brav said. "I love the challenge with bigger projects, the scope of them, the creativity that they permit and the opportunities for employee growth that come with being a larger company with larger projects."
Growing Up Fast
A chance meeting between BFL's newly arrived executive and future president, David Larson, and a representative from JV Driver Group turned into a quick and easy courtship.
Larson, whom Brav had tapped as his heir apparent in April 2017, was attending an Arizona Mining Association conference in Sedona about a month later when he struck up a conversation with Ernie Smith, business development manager at JV Driver, who also was attending the conference. Both companies were exploring the prospect of adding mining site construction in Arizona to their business lines. The attraction was immediate, and they began talking about establishing some joint ventures in Arizona.
At the same time, Brav was already working on a succession plan for his company – hiring Larson and initiating the process of establishing an employee stock ownership plan for the company for the time Brav decided to call it a day. 
A meeting between BFL and JV Driver in Tucson at the end of October was followed by a meeting at JV Driver's headquarters in Canada over Thanksgiving weekend. Within a few days, the companies had gone way beyond the joint-venture conversation. They agreed to terms for an acquisition of BFL by JV Driver the following week.
It was a no-brainer, Brav said, because it accelerated BFL's capacity in a hurry – right to where Brav wanted it to be.
"It gets us to where it would have taken us another 10 years to get to with a little luck and some breaks," Brav said. "It's the difference between playing in the NCAA and playing in the NBA. Take that winning team (in the NCAA Tournament) and put them up against the Houston Rockets and it's not even a game."
Big Resources, Same BFL
One of the first things established when the two companies began talking acquisition was that BFL would remain BFL Construction. Brav and Larson cited the model of their neighbor on Broadway – locally managed UNS Energy and Tucson Electric Power owned by Fortis, a Canadian energy company. 
"BFL is going to remain a Tucson company," said Todd Patterson, COO of JV Driver buildings, civil and infrastructure enterprises. Patterson and JV Driver President Chuck Sanders negotiated and completed the acquisition of BFL. "We're going to expand into other areas beyond Tucson as well, but the BFL head office and our office for the Arizona market and beyond will remain here.
"The thing that we like about BFL is that they're very involved in the community. The organizations that we invest in, we're pretty careful to make sure that they're invested in the communities they work in."
With BFL keeping hold of the reins in Tucson, Brav said future clients will continue to experience what BFL has always brought to the table with its management, its employees, its expertise and its understanding of the community. It will just have a giant of a company and its resources behind it to expand its reach and capabilities.
"Clients know we have 40 years in the community, and JV Driver has the benefit of those roots because we're still here," Brav said. "The experience that this company brings is amazing.
"Over a period of the next 24 months, I think there's going to be some tremendous growth in the types of projects that we do," said Brav, adding that the company still will pursue the commercial construction projects in southeastern Arizona that have been its bread and butter, especially in the healthcare sector. 
What BFL can be, however, is distinctly different, Larson said. "There is no limitation – no geographic limitations, no size limitations."
What Has Been, What Will Be
A walk through BFL's office at Broadway and Euclid Avenue is a virtual tour of the Tucson region with photos displayed of the company's prominent projects through the years – schools, government buildings, small hotels, medical campuses, banks and housing.
BFL built the campus at Ventana Medical Systems, now known as Roche Tissue Diagnostics, at Innovation Park in Oro Valley, and over the last 20 years has completed new construction, remodeling and renovation projects on the campus totaling more than $60 million. It has built a number of projects for the nonprofit El Rio Community Health Center. Its multifamily construction subsidiary, BFL Builders (formerly known as Preferred Apartment Builders), has helped make the Avilla product of luxury rental home communities a success in Tucson and Phoenix.
What has been out of reach, however, were projects like the new nine-story hospital building going up at Banner University Medical Center, or any of the new multistory buildings that have gone up or are going up in downtown Tucson. 
"We can now direct our focus on that market and be credible because we have the expertise now to do that work," Brav said. JV Driver has specialized in vertical contracting since 1989.
Brav and Larson saw firsthand the magnitude of JV Driver's capabilities during their visit to its Canada offices last November. At that time, JV Driver had 24 buildings under construction in Vancouver alone. They saw the Olympic Village in Vancouver that JV Driver built for the 2010 Winter Olympic Games. They also visited Calgary, where there were several high-rises under construction. 
And that doesn't take into account JV Driver's massive industrial construction line of business.
Tucson now has access to the capability of a construction company with $1.2 billion in annual construction volume and anywhere from 3,500 to 5,000 employees depending on the amount of work in progress.
"Our business is focused on buildings, commercial construction, as well as some of the heavy civil works, as a growth area for us," Sanders said on a recent visit to the BFL offices.
"Looking all over North America, we look for opportunities like BFL. When you find those opportunities, you get to know them and you've either got a good alignment or not. We fell in love with BFL right away. It wasn't hard to see the value that can be created in terms of having the team of BFL and their great people inside our organization."
Right Place, Right Time
To use Brav's analogy, Larson has gone from coaching an NCAA basketball team to being the president of an NBA team.
The resources at his disposal now are massive. The opportunity is greater, but so is the responsibility.
Larson said he arrived in 2017 comfortable with BFL as a company and comfortable with what it stood for.
"You want to be with a company that shares your core values of integrity and honesty and fiscal responsibility," Larson said. "Garry has a great vision for the future. Having somebody like Garry as a mentor was an important thing to me."
At the time he took the job, Larson already had a vision to grow BFL into a company that could be strong locally and expand regionally. Brav's financial strategy – to always be in a strong cash position with no long-term liabilities – was conducive to a potential growth strategy, Larson said.
In addition, Larson saw a company where people stayed and built careers.
"During walks around the office, 50 percent of the staff had been here for 10 years or more," Larson said. "That says a lot about a company. You know that you're going into a company that has something to work with, some great people to work with."
From a strategic standpoint, Larson was intrigued by BFL's diversity in its business lines. BFL has close ties with several real estate development and investment firms – including Aerie Development, NexMetro and Iridius Capital – that create projects and match them with the necessary financing to ensure there is a steady stream of business.
Aerie Development and NexMetro are the developers of the Avilla product in Tucson and Phoenix. Iridius is a company that secures investors for the projects. Brav, through BFL Ventures, is an investor in all three companies.
"I'm really big on diversification," Larson said. "As I walked around the office, I saw the diversification and I knew that this is a company that will reinvent itself when needed. It didn't ever move the core values, but it diversified over the years from the very beginning of doing small tenant improvements to medical to mining to the Avilla product.
"When you're looking at a company that you are going to work with and be a part of, you want to be in one that's diversified because you know you're going to have to change your model at some point."
Now as part of JV Driver, BFL is going through its biggest quantitative change ever, while offering the same high-quality products and performance.
"It's just fantastic," Brav said. "What's neat is that it's not a major change in culture. It's the culture that I've tried to create here for years. It's worked and it's going to continue to work in the future. It's not like we're changing the way we do business now. We're just able to do business at the next level."