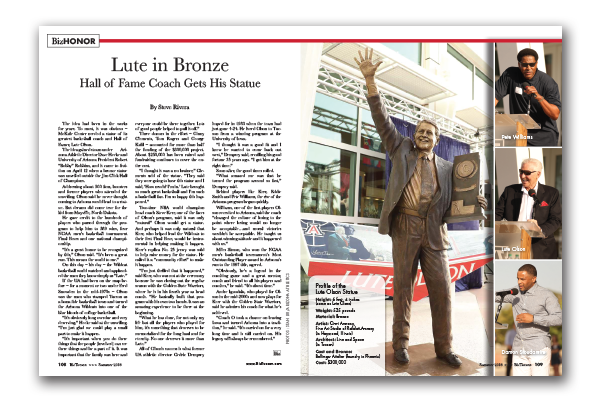 By Steve Rivera –
Hall of Fame Coach Gets His Statue
The idea had been in the works  for years. To most, it was obvious – McKale Center needed a statue of its greatest basketball coach and Hall of Famer, Lute Olson.
The idea gained steam under Arizona Athletic Director Dave Heeke and University of Arizona President Robert "Bobby" Robbins, and it came to fruition on April 12 when a bronze statue was unveiled outside the Jim Click Hall of Champions.
Addressing about 500 fans, boosters and former players who attended the unveiling, Olson said he never thought coming to Arizona would lead to a statue. But dreams did come true for the kid from Mayville, North Dakota.
He gave credit to the hundreds of players who passed through the program to help him to 589 wins, four NCAA men's basketball tournament Final Fours and one national championship.
"It's a great honor to be recognized by this," Olson said. "It's been a great run. This means the world to me."
On this day – his day – the Wildcat basketball world watched and applauded the man they know simply as "Lute."
If the UA had been on the map before – for a moment or two under Fred Snowden in the mid-1970s – Olson was the man who stamped Tucson as a bona fide basketball town and turned the Arizona Wildcats into one of the blue bloods of college basketball.
"It's obviously long overdue and very deserving," Heeke said at the unveiling. "I'm just glad we could play a small part to make it happen.
"It's important when you do these things that the people (involved) can see these things and be a part of it. It was important that the family was here and everyone could be there together. Lots of good people helped to pull it off."
Three donors in the effort – Ginny Clements, Tom Rogers and George Kalil – accounted for more than half the funding of the $300,000 project. About $250,000 has been raised and fundraising continues to cover the entire cost.
"I thought it was a no brainer," Clements said of the statue. "They said they were going to have this statue and I said, 'How much? I'm in.' Lute brought so much great basketball and I'm such a basketball fan. I'm so happy this happened."
Two-time NBA world champion head coach Steve Kerr, one of the faces of Olson's program, said it was only "natural" Olson would get a statue. And perhaps it was only natural that Kerr, who helped lead the Wildcats to their first Final Four, would be instrumental in helping making it happen. Kerr's replica No. 25 jersey was sold to help raise money for the statue. He called it a "community effort" to make it happen.
"I'm just thrilled that it happened," said Kerr, who was not at the ceremony because he was closing out the regular season with the Golden State Warriors, where he is in his fourth year as head coach. "He basically built that program with his own two hands. It was an amazing experience to be there at the beginning.
"What he has done, for not only my life but all the players who played for him, it's something that deserves to be memorialized for the long haul and for eternity. No one deserves it more than Lute."
All of Olson's success is what former UA athletic director Cedric Dempsey hoped for in 1983 when the team had just gone 4-24. He lured Olson to Tucson from a winning program at the University of Iowa.
"I thought it was a good fit and I knew he wanted to come back out west," Dempsey said, recalling his good fortune 35 years ago. "I got him at the right time."
Soon after, the good times rolled.
"What amazed me was that he turned the program around so fast," Dempsey said.
Behind players like Kerr, Eddie Smith and Pete Williams, the rise of the Arizona program began quickly. 
Williams, one of the first players Olson recruited to Arizona, said the coach "changed the culture of losing to the point where losing would no longer be acceptable…and moral victories wouldn't be acceptable. He taught us about winning attitude and it happened with us."
Miles Simon, who won the NCAA men's basketball tournament's Most Outstanding Player award in Arizona's run to the 1997 title, agreed.
"Obviously, he's a legend in the coaching game and a great mentor, coach and friend to all his players and coaches," he said. "It's about time."
Andre Iguodala, who played for Olson in the mid-2000s and now plays for Kerr with the Golden State Warriors, said he admires his coach for what he's achieved. 
"Coach O took a chance on leaving Iowa and turned Arizona into a tradition," he said. "It's carried on for a very long time and is still carried on. His legacy will always be remembered."