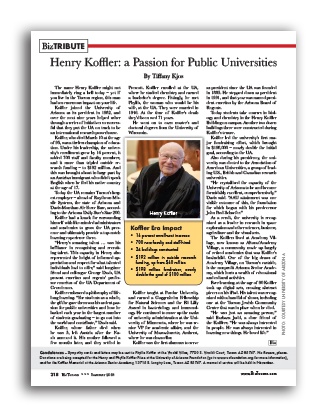 By Tiffany Kjos –
a Passion for Public Universities
The name Henry Koffler might not immediately ring a bell today – yet if you live in the Tucson region, this man had an enormous impact on your life.
Koffler joined the University of Arizona as its president in 1982, and over the next nine years helped usher through a series of initiatives so successful that they put the UA on track to be an international research powerhouse.
Koffler, who died March 10 at the age of 95, was a tireless champion of education. Under his leadership, the university's enrollment grew by 16 percent, it added 700 staff and faculty members, and it more than tripled outside research funding – to $192 million. And this was brought about in large part by an Austrian immigrant who didn't speak English when he fled his native country at the age of 17.
Today the UA remains Tucson's largest employer – ahead of Raytheon Missile Systems, the state of Arizona and Davis-Monthan Air Force Base, according to the Arizona Daily Star's Star 200.
Koffler had a knack for surrounding himself with like-minded administrators and academics to grow the UA presence and ultimately provide a top-notch learning experience there.
"Henry's amazing talent … was his brilliance in recognizing and recruiting talent. This capacity in Henry also represented the height of informed appreciation and respect for what talented individuals had to offer," said longtime friend and colleague George Davis, UA provost emeritus and regents' professor emeritus of the UA Department of Geosciences.
Koffler embraced a philosophy of lifelong learning. "For students as a whole, the gift he gave them was his ardent passion for public universities and how he basked each year in the largest number of students graduating – to go out into the world and contribute," Davis said.
Koffler, whose father died when he was 5, left Austria after the Nazis annexed it. His mother followed a few months later, and they settled in Prescott. Koffler enrolled at the UA, where he studied chemistry and earned a bachelor's degree. Fittingly, he met Phyllis, the woman who would be his wife, at the UA. They were married in 1946. At the time of Koffler's death they'd been wed 71 years. 
He went on to earn master's and doctoral degrees from the University of Wisconsin. 
Koffler taught at Purdue University, and earned a Guggenheim Fellowship for Natural Sciences and the Eli Lilly Award in bacteriology and immunology. He continued to move up the ranks of university administration at the University of Minnesota, where he was senior VP for academic affairs, and the University of Massachusetts, Amherst, where he was chancellor. 
Koffler was the first alumnus to serve as president since the UA was founded in 1885. He stepped down as president in 1991, and that year was named president emeritus by the Arizona Board of Regents. 
Today students take courses in biology and chemistry in the Henry Koffler Building on campus. Another two dozen buildings there were constructed during Koffler's tenure. 
Koffler led the university's first major fundraising effort, which brought in $198,000 – nearly double the initial goal, according to the UA. 
Also during his presidency, the university was elected to the Association of American Universities, a group of leading U.S., British and Canadian research universities.
"He crystallized the capacity of the University of Arizona to be and become formidably excellent, comprehensively," Davis said. "AAU attainment was one visible outcome of this, the foundation for which began with his predecessor John Paul Schaefer."  
As a result, the university is recognized as a leader in research in space exploration and other sciences, business, agriculture and the visual arts.
The Kofflers lived at Academy Village, now known as Altura/Academy Village, a community made up largely of retired academics that was Koffler's brainchild. One of the big draws of Academy Village, on Tucson's eastside, is the nonprofit Arizona Senior Academy, which hosts a wealth of educational and cultural activities.
Ever learning, at the age of 90 Koffler took up digital arts, creating abstract pieces on his iPad. His talent was recognized with a handful of shows, including one at the Tucson Jewish Community Center that was in place when he died.
"He was just an amazing person," said Barbara Judd, a close friend of the Kofflers. "He was always interested in people. He was always interested in learning new things. He loved life."