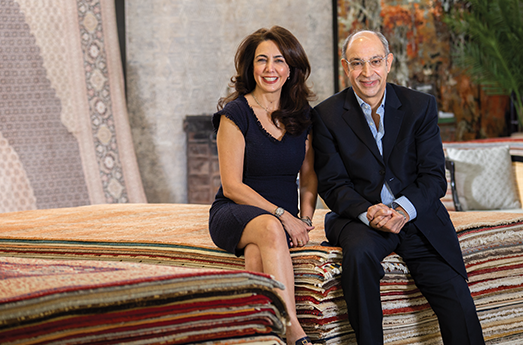 A Showroom of Possibility
Rug Gallery's New Location Offers Interior Design, Remodeling Services
By Christy Krueger
Majid Arabshahi recalls with pride his simple beginnings when he traversed the country selling rugs from the trunk of his car. Eventually he opened Rug Gallery in the Williams Center, where it remained for 20 years. Today, Rug Gallery is one of the largest rug companies in Arizona and serves Southern Arizona from its 6,500-square-foot showroom in the La Encantada outdoor mall in the Catalina Foothills.
Rug Gallery's new location has brought it more visibility than its most recent location on River Road. "The traffic here is a million times better," Arabshahi said. "People come here for lunch and walking. They bring visitors to La Encantada, and the hotels bring guests here on shuttles. We see all types of clients – from Seattle to New York. There's a lot more exposure." Rug Gallery moved to La Encantada in December 2019.
The increased showroom space has allowed Arabshahi to make major changes. "We've been able to carry more merchandise and changed the style of rugs. Our clients have a more expanded taste," he said. "We carry an excellent selection of modern and contemporary. I also have a lot of Southwestern and traditional designs, as well as antique rugs."
Rugs aren't the only merchandise at Rug Gallery. Last summer, Arabshahi's sister, Mitra Shahi, joined the business, bringing with her more than 20 years of interior design and construction management experience. Previously, Shahi owned a design showroom in Los Angeles, where she worked on multimillion-dollar projects for clients across the globe. Shahi operates out of an in-store 3,000-square-foot showroom filled with a full spectrum of finishes and design elements.
"Mitra is humble," Arabshahi said. "She's a designer and construction manager, and she knows what she's doing."
Shahi added, "We're turnkey, ranging from remodeling a bathroom or kitchen to building a 15,000-square-foot house. I manage everything. I work with the architect to help design the space, we get permits, and I send plans to engineers and ask where we can save money. I manage the job site and order plumbing fixtures, cabinets, accessories, furniture and, of course, include rugs."
Rug Gallery also features a 300- square-foot space where other designers can bring clients to select finishes. This gives local designers more flexibility since, as Shahi noted, many designers in Tucson take their clients to Scottsdale.
"Here, they have access to quality brands – from sinks to tile, carpet and furniture. And we have a conference room so they can bring clients and put orders in through us. If someone comes in to buy a rug and needs help, we'll help them pick a rug and we work together. We'll do a whole package," she said, adding that the service is free.
Shahi says she doesn't have a particular style. "I'm not doing everything the same for all clients. I listen to them and work with how they see their home. We make it happen together."
Earlier this year, Rug Gallery closed its doors for two months due to the pandemic, but business has rebounded well. "Business has been fantastic since we re-opened," Arabshahi said. "We go by the regulations. We have masks, gloves, sanitizer, and because our space is so big, social distancing is easy."
Shahi thinks the stay-at-home trend is good for Rug Gallery. "If you have an old kitchen at home, you see what you can do. At the start (of the pandemic), people were nervous about doing things. Then they decided this is part of life and life can't stop. Our construction part of the business has been extremely busy."
Arabshahi and his sister believe the future of their business is very promising. "I think it'll be fantastic because of the selection and quality of rugs and furniture, and our service is unmatchable in Tucson," he said.
"My goal," Shahi said, "is to keep our business local and tell designers that instead of driving two hours to Scottsdale, come here and we'll provide all the resources so they can spend their dollars locally."