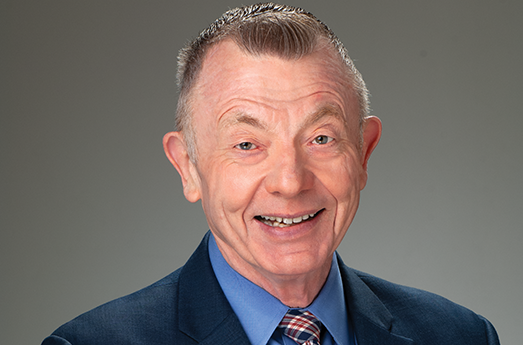 2020 Tucson Man of the Year
By Romi Carrell Wittman
Catching Donal Drayne in a quiet moment is nearly impossible. Although he's been retired from the Westin La Paloma Resort & Spa after a 40-plus year career in the hospitality industry, he's as active as ever volunteering for a number of organizations near and dear to his heart.
It's this dedication that's earned him the honor of being the Greater Tucson Leadership's 2020 Man of the Year.
McKensie Neff, executive director of the American Heart Association, nominated Drayne for the award. "Donal has dedicated his life to making a difference in the Tucson community," she said. "He commits more time to his community than most commit to their day-to-day profession."
Drayne came to Tucson in 1987 from Cincinnati, where he was working as the catering manager for a Westin property. La Paloma had opened the year before and the general manager called Drayne and offered him the job. "It was a two-minute phone call," Drayne said. "And then I moved."
Drayne has never been shy about exploring possibilities and seeking out adventure. His gentle brogue hints at his birthplace of Northern Ireland, which he still visits often. His extended family still operates a retail dairy farm in Belfast and, when Drayne visits, he stays in a 220-year-old home.
After settling in Tucson and his new job, Drayne immersed himself in the city and its culture. "I was brought up to adapt to places and embrace them," he said. Almost immediately, he signed up for an 8-week course at the Arizona Historical Society. "I can't talk like a native, but I can act like one," he laughed, referring to his status as an adopted Tucsonan.
He also began volunteering with the Tucson Metro Chamber. He traveled to local high schools and talked with students about negative stereotyping. He leaned on his natural ability to find common ground to win the kids over. "They were all negative stereotyping me as a white guy from La Paloma in a suit and tie," he said. "I let them talk and they said I had no idea, and I told them they were right."
Drayne then would steer the conversation to his family's business in Northern Ireland. "I told them that some people won't buy from us because we're Catholics. When I said that, I got their attention because they know I could understand," he said. "Do not feel 'poor me.' Just park the drama and take the high road," he added. "My main motivation is to connect with people. I don't care who you are. "
In addition to his work with the American Heart Association and its Heart Ball, Drayne serves as chairman on the boards of the Salvation Army, the Catholic Foundation for the Diocese of Tucson, the TMC Foundation Board and the TMC Board of Trustees. He also chairs several events, including the last three Catholic Foundation galas and the past four Salvation Army harvest festivals.
"Donal's sunny disposition and his humble demeanor inspire everyone he meets to be a better person," said Carla Keegan, a past GTL Woman of the Year honoree. "One day while volunteering at the Salvation Army, the janitor didn't show up, so he picked up a broom and started sweeping. A child said something to the effect of 'Hey, you're not the janitor, that's not your job.' Donal responded, 'My job is to do whatever needs to be done.' "
Though Drayne retired five years ago, he's as busy as ever. "I'm retired, but I'm so excited because I'm learning new things," he said. "When you see young kids, they're always smiling and laughing and it's because they're learning something new. It's the simple things that give me pleasure."
Although he doesn't have children of his own, Drayne is a proud godfather to Ryan and Courtney Retz. In addition to serving as a de facto bonus parent, Drayne took them to Ireland many times when they were children. Drayne and the children, who are now 30 and 26 years old, respectively, continue to be an active presence in one another's lives.
Drayne is thrilled, if a bit overwhelmed, by the Man of the Year honor. "I handled the event for many years as part of my job," he said. "It was a good event, but I thought there was no way I would ever get that award. I thought you had to be a CEO or a mover and shaker. I'm very humbled. It's a great honor to be recognized."
It's precisely this humility that makes him so special and remarkable. Said Neff: "His character and heart are rare and hard to find."