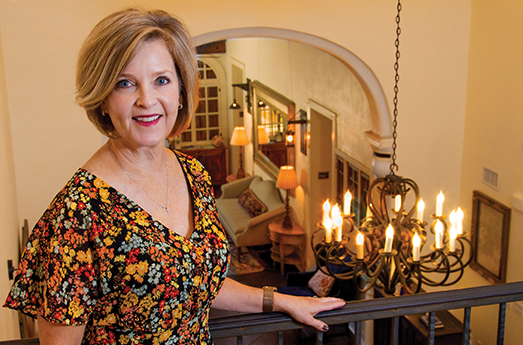 History Meets Modern Luxury
By Romi Carrell Wittman
When the pandemic shut down virtually the entire U.S., Armory Park Inn owner Amy Draper knew she had an advantage: a place steeped in history, yet thoroughly modern.
Located in the heart of Tucson's vibrant and historic downtown district, the Armory Park Inn was once a stagecoach stop near Tucson's armory, back when the area was not much more than a walled military settlement.
Built in 1875, the inn is among the oldest structures in the area. With 22-inch-thick adobe walls and 18-foot-high ceilings adorned with saguaro ribs, the inn features a traditional zaguan layout, with a center hall that runs from the front door to the back of the building. The design is both beautiful and practical, providing a means of air circulation in the years before electricity and air conditioning. Today, the Armory Park Inn stands as a gorgeous, living example of pre-railroad, Sonoran Transitional architecture.
While the inn is historic, it features thoroughly modern amenities. COVID-19-cautious travelers will appreciate the inn's contactless check-in procedures, not to mention its seven sumptuously appointed rooms, its full network connectivity and its environmentally conscious solar power.
"People are looking for smaller hotels," Draper said, referring to the new normal of traveling during the pandemic. "We offer a completely contactless experience with electronic keypads on both the front door and our guest rooms. We send guests a code and they let themselves in. They don't have to interact with anyone if they don't want to."
Further protecting guests, each room features its own self-contained air conditioning unit. In addition, all surfaces are sanitized several times a day and guests are required to wear masks. "People have been lovely," Draper said. "They've been understanding and cooperative."
The inn is appointed with carefully curated vintage and custom furniture and each guest room honors an Arizona pioneer who helped shape the state we know today. One such figure is Estevan Ochoa, the first Mexican mayor of Tucson. He later served in the Arizona Legislature and introduced a bill to create the first public schools in the state. Isabella Greenway, famed politician, entrepreneur, philanthropist and creator of the iconic Arizona Inn, is honored in another room. Peter R. Brady is honored in yet another room. Brady, a successful businessman who served in the Territorial Legislature, was the sheriff of Pinal County and started Arizona's first mining company. Brady also happens to be Draper's great-great-grandfather. She commissioned custom portraits that depict each pioneer's likeness as well as their story and achievements.
"We hope our guests get a sense of our history as well as what we offer today," she said. "We want guests to fall in love with Tucson."
An eighth generation Tucsonan, Draper has a deep appreciation of Tucson's history and its unique culture. When the inn, which previously was a private residence, went on the market some years back, Draper was immediately struck by the history within its walls. "I thought of how many stories have taken place here. It's really incredible," she said. "I was hooked."
The inn is a short walk or drive from a host of fun activities and destinations, like the University of Arizona, The Loop cycling path, museums, art galleries and some renowned restaurants that helped Tucson become the first American city to be named a UNESCO City of Gastronomy.
Draper said her guests come from all parts, but the vast majority have driven here. "We've seen several guests who were driving across country," she said. "It's been really fun hearing about their journeys."
"Amazing things are going on downtown currently and that's a huge help," Draper said. She credits people such as Carlotta Flores, owner of the El Charro family of restaurants; Sally Kane, owner of The Coronet, and the Rio Nuevo board for helping to create a thriving city center.
"I'm so proud of Tucson," she said. "I want to give a nod to those in the past as well as those in the present."