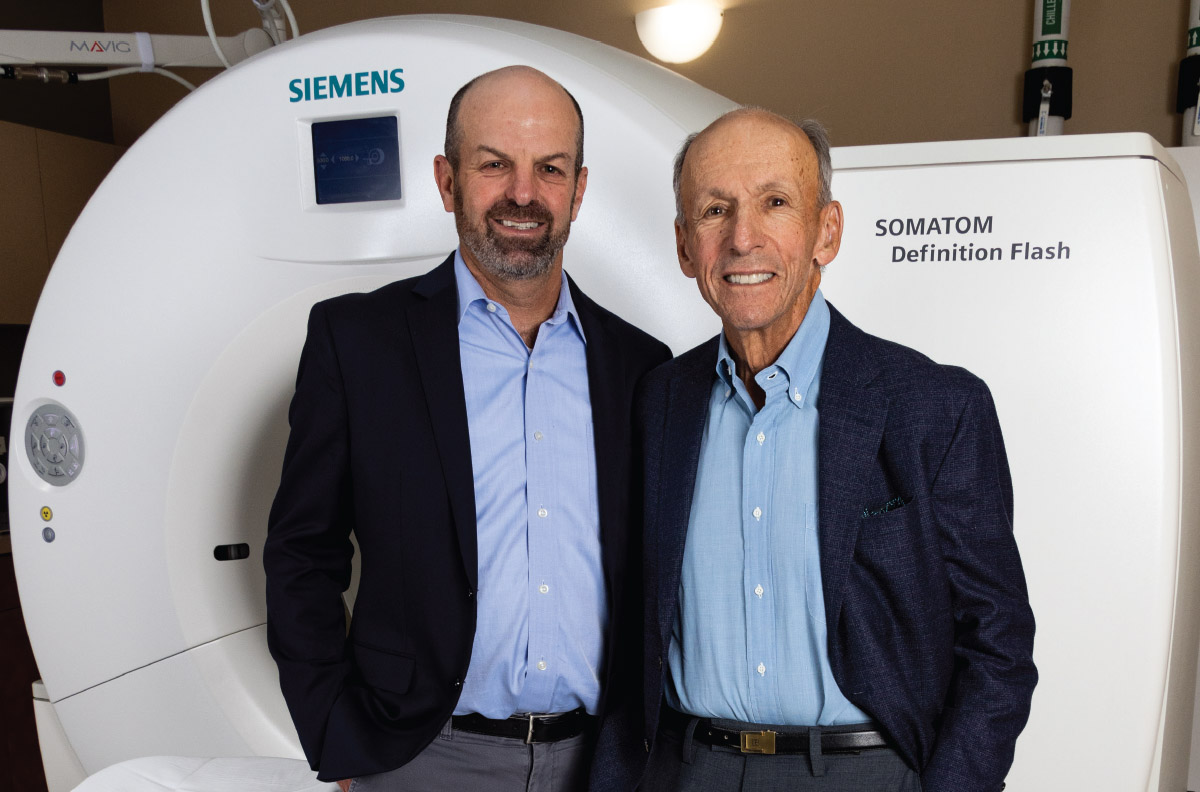 Father and Son's Legacy of Leadership
By Tara Kirkpatrick
The inclusive culture that has shaped Radiology Ltd., helping to fuel robust growth and foster employee longevity, has been stewarded by a dedicated father and son: Drs. Donald Jeck and David Jeck.
Don served as Radiology Ltd. president from 1980 to 2001. David joined the company one year later and became president and chairman in 2015. Together, their impact on advancing the region's top radiology practice over the past four decades has been indelible.
"This practice was the best I found, with highly trained radiologists at all levels," said Don, who was recruited to Radiology Ltd. in 1976. "The quality of the practice and its history in the community – that's why I joined."
"I was most proud of the fact that we have grown from 18 to 46 radiologists," he said of his tenure. "We put a lot into quality improvement and making sure we did things right. Internally, we were committed to look at our own processes and we continued to recruit the best radiologists we could find. The whole practice was a team from the ground up. We all worked together."
Don's kindness and empathy are still remembered by Radiology Ltd.'s most senior employees. "I started as a dark room technician and I remember he introduced himself to me and he took the time to have me sit next to him and learn," said Robert Martinez, a 26-year employee who now oversees the medical records department. "It was that caring for an employee that he started."
David remembered the same collegiality at Radiology Ltd. picnics as a kid. "They knew my dad as not just their boss, but as their friend," he said. "They knew he genuinely cared about their lives. That is the part that is ingrained in me."
Though Don never pressured his son to join Radiology Ltd., he couldn't be prouder that he did. "He's smarter and better than I ever was. To have him here, he could have gone anywhere and he's done a hell of a job."
"I knew Radiology Ltd. was as good of a place as I could get, but I wanted to be here on my own credentials," said David. "It's been a huge honor being in the role that my dad was."
Under David's tenure, Radiology Ltd. has continued to prosper throughout the region, adding a location on the St. Mary's Hospital campus, an interventional suite at the new Alvernon clinic and expanding into Green Valley. The company boasts more than 45 subspecialized, fellowship-trained experts in body imaging, women's imaging, interventional radiology, molecular imaging, pediatric imaging, cardiothoracic imaging and neuroradiology, with an expertly trained staff of more than 500. "We have continued to focus on people, but also technology and infrastructure that is allowing us to expand service to broader areas," he said.
Even with growth, Jeck and the leadership team have remained dedicated to supporting employees and bolstering the patient-centric approach that is signature to Radiology Ltd.
"They know that in any decisions we make, we will never compromise quality and I think they really respect that," David said. "We are not going to cut corners to make a dollar."
Just like his father, David and his family have been frequent volunteers at Radiology Ltd. community events, helping to make meals for Primavera Foundation Men's Shelter and other opportunities to support the community in other ways beyond practicing medicine.
In welcoming new President and Chairman Dr. Bobby Kalb, who takes over in January, David will refocus on his clinical practice in diagnostic and interventional neuroradiology. He'll also remain on board and committee leadership for Radiology Ltd.
"It's really important to have a smooth succession plan for any company," he said. "I love clinical medicine and I'm very excited about being able to do that full-time."
Both Jecks still enjoy when people approach them about their great patient experiences here. "I'm still so impressed by the presence of Radiology Ltd. in this community," Don said. "People come up to me and tell me what great care they received. It makes me very proud to have been a part of that success."
READ THE FULL SPECIAL REPORT HERE
Pictured above – Dr. David Jeck, President & Chairman, Radiology Ltd. and Dr. Donald Jeck, President from 1980 to 2001, Radiology Ltd. Photo by Brent G. Mathis