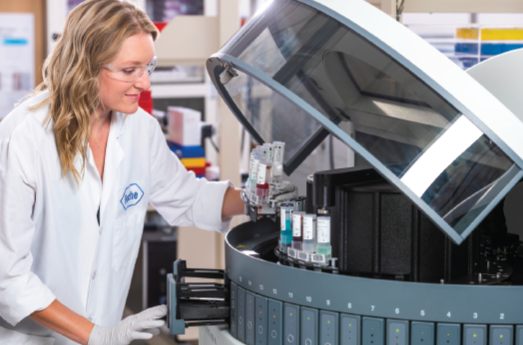 Roche Anchors Region's Bioscience Industry
Swiss Company Expanding its Local Presence
By Rodney Campbell
Founded in a Tucson industrial garage more than three decades ago, Roche Tissue Diagnostics in many ways kicked off the biotech boom in Southern Arizona.
The company was started in 1985 as Ventana Medical Systems by Dr. Thomas Grogan, a University of Arizona pathologist. Like others in his field, Grogan sought to improve the process of detecting cancer in patients. His goal was to achieve better accuracy and shorter waiting periods for patients who anxiously awaited news about their condition.
He and his team succeeded in creating an automated system that would revolutionize cancer testing. The company Grogan started 36 years ago has become a global leader in cancer diagnostics from its Oro Valley campus. Ventana was acquired by Roche, the world's largest biotech company, for $3.4 billion in 2008. Today it provides more than 250 cancer tests and associated instruments and technologies, impacting more than 27 million patients around the world each year.
"With some of the greatest scientific minds on our campus and in our company, I am excited not only for the future of Roche but for the future of healthcare," said Jill German, head of Roche Tissue Diagnostics. "As we learn more about cancer biology, we are able to develop tests and treatments that can address the needs of each cancer patient, with the ultimate goal of finding cures. Some of the most exciting work in this area is taking place right here in Tucson."
One of many advantages of having Roche in the Tucson market is the magnet effect the company has on related industry. Sun Corridor Inc. President and CEO Joe Snell chalks that up to the visionary leadership Roche Tissue Diagnostics has had since Grogan started the company.
Sun Corridor Inc. is also pleased that many of the highest-paying employers in the health-care sector – and the entire S&P 500 – are biotech companies, according to a 2019 analysis by The Wall Street Journal. Hundreds of large U.S. companies provided salaries for the study.
"Having a world leader in diagnostics right here in Tucson that was born out of the University of Arizona is a testament to the grit and determination of many leaders like Tom Grogan, Jill German and others along the way," Snell said. "They really have put us on the map for biotechnology strength. We simply could not sell this region without Roche."
Roche employs about 1,700 full-time and contract employees in Oro Valley and Marana. The University of Arizona and Pima Community College have been a pipeline for the company, which also has close to 30 countries represented in its workforce.
"Scientists, pathologists, engineers, business and manufacturing experts and marketing, regulatory and legal teams are among the professions that work together to improve healthcare for cancer patients, all from our campuses in Oro Valley and Marana," German said.
Roche has continually expanded its footprint in the region. It opened a 60,000-square-foot logistics center on Tangerine Road near I-10 in Marana in 2016. In May, it broke ground on a matching facility next door to the existing building that will house instrument and service productions. The two buildings will connect through a corridor. Completion of the second Marana facility is expected next year.
Roche also is augmenting its Oro Valley campus, including upgraded manufacturing space, a central utility plant and a center for employee and community events such as art exhibits in partnership with the Southern Arizona Arts and Cultural Alliance.
"Roche Tissue Diagnostics is committed to local economic development and to the growth of the bioscience industry in the region as we expand our state-of-the art facilities, which ultimately make us more competitive globally," said Roche Global Operations VP Himanshu Parikh.
More than 40% of Roche employees take part in the company's many charitable endeavors. Roche also supports UArizona's Teachers in Industry Program (paid fellowships for educators), partners with the UArizona College of Engineering, has summer college internships, holds educational and recruitment events for UArizona and Pima College students and backs STEM learning through volunteerism, scholarships and donations in local schools.
"We have a vision of a vibrant and diverse industry landscape for Tucson that draws talent from across the globe," German said. "This will only be possible through industry, government and community groups working together to invest in the region, bolstered by a thriving K-20 education system. We are committed to making this vision a reality through our dedication to improving the community where we live, play and work."
When Roche purchased Ventana Medical Systems, there were ripples of community concern that the Swiss company might move operations out of Southern Arizona. With a workforce that lives in, works in and supports the metropolitan Tucson community, Roche instead keeps strengthening its presence, with continuous expansion and innovation.
"We are honored to be part of the Tucson community," German said.