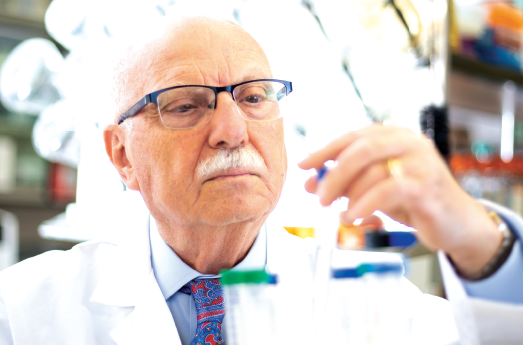 Dr. Fayez K. Ghishan's Research a Regional Asset
Saving Children Through Science
By Jay Gonzales
As the bioscience industry gained a foothold in the region, an esteemed physician and world-renowned researcher has long devoted his career here to curing diseases and saving lives through science and medicine.
Dr. Fayez K. Ghishan has served Tucson since 1995, working as a physician, a scientist, a researcher and a medical director leading efforts to cure and heal.
Most recently, he was named medical director of the University of Arizona's Clinical and Translational Sciences Research Center, where he oversees the center's critical research and directs which projects get access to its top resources.
It's just one part of Ghishan's significant role in the region's burgeoning bioscience industry. His UArizona resume is extensive and distinguished:
Chair, Department of Pediatrics
Professor, Pediatric Gastroenterology, Physiology and Nutrition
Fayez K. Ghishan, M.D., PANDA Endowed Director, Steele Children's Research Center
Physician-in-Chief, Diamond Children's Medical Center
Horace W. Steele Endowed Chair, Pediatric Research
Alan and Janice Levin Family Endowed Professor, Pediatrics
Medical Director, Clinical and Translational Sciences Research Center
Ghishan is perhaps most well-known to Tucsonans as the trailblazing force behind the Steele Children's Research Center, a global leader in research and treatment of pediatric gastrointestinal disease whose mission was later expanded to include other critical research in children's health.
"Dr. Ghishan is a passionate advocate for children's health and builds trust with his young patients and their families to deliver the best pediatric care," said Dr. Michael Dake, senior VP for UArizona Health Sciences. "As a professor of medicine in pediatrics, he shares his enthusiasm and knowledge with his students, and has mentored many early-career scientists who have become leaders in their specialties."
"I've been a doctor for 54 years, so my heart and my brain belong to the university," Ghishan told BizTucson last year when he was named medical director of CATS Research Center. "When the university wants something, I need to always respond positively.
"I have a vision of why I went to medicine," he said. "My vision is to help patients. I can help them with my clinical skills or through research. That's what I do. Vision without passion doesn't work. I have passion for what I do."
His vision, when he was recruited to Tucson in 1995 from Vanderbilt University School of Medicine, had three points of emphasis: recruiting top physicians, meeting clinical needs and establishing operations in translational research.
"Research moves medicine forward," he said. "I knew there was opportunity in Tucson to build highly academic research clinics which would attract top medical students and provide the needed clinical care."
In recalling his early days here, Ghishan said he found willing partners in his passion for children's health who had the capability of establishing the region as a leader in research, education and treatment.
"When I would speak about establishing a children's hospital during Steele Advisory Board meetings, one of the center's founders, Joan Diamond, would nod and express interest," Ghishan said. Ultimately, Diamond worked with Ghishan to open the first academic pediatric medical center in Arizona. The Diamond Children's Medical Center opened in 2010 and Ghishan became the hospital's physician-in-chief in 2011.
The center has since become a model for its research and impact, generating millions of dollars in funding from the National Institutes of Health, PANDA (People Acting Now Discover Answers), the Arizona Elks, Father's Day Council Tucson and individuals who have endowed some of the positions he holds.
"Dr. Ghishan's achievements in pediatrics have transformed the lives of children and their families," UArizona President Robert C. Robbins said when the Phoenix Women's Board of the Steele Children's Research Center, known as PANDA, established a $5 million endowment in Ghishan's name.
"This endowment will play an essential role in continuing this research and training of future pediatricians at the Steele Children's Research Center. I am incredibly grateful for the extraordinary support from PANDA and donors around the state that made this possible."
It's all been part of Ghishan's plan – his vision – for taking care of people through research, medicine and science.
"Medicine and science offer us a priceless perspective," Ghishan said. "Together, they remind us of the incredible privilege it is to continually create knowledge and then translate that to advance the wellbeing of the world's children."