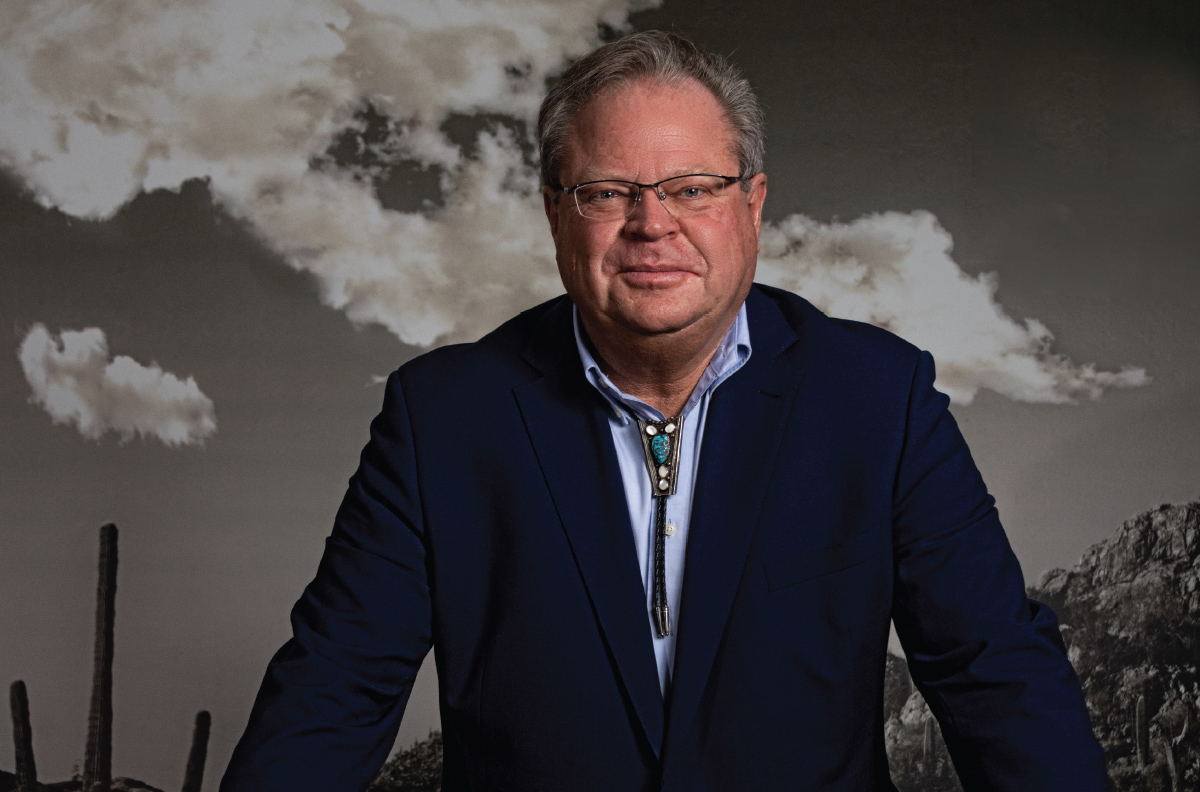 American Battery Factory to Build First Gigafactory in Tucson
By Jay Gonzales
In the careful and critical process of American Battery Factory's site selection for its first billion-dollar "gigafactory," President and CEO Paul Charles said the company had a long list of attributes to consider.
"We were looking for an area that was forward-thinking, that was concerned with the environment, and also concerned about the workforce," Charles said. "We were looking for an opportunity to partner."
The company currently based in Utah thinks it found what it needs here, making the announcement on Dec. 6 that it plans to build the first of a U.S. network of battery cell gigafactories near Tucson International Airport. The company also will set up its headquarters here, making Tucson the home base for a company that anticipates explosive growth in a clean-energy industry providing eco-friendly batteries for residential, commercial and utility use.
"We were able to see so many positive, small-town attributes but with a metro area of 1 million-plus people. That was very important to us," said Charles, who has familiarity with the region having spent 15 years living in Scottsdale prior to his involvement with ABF.
It's a huge economic development victory for the region on the scale of attracting Caterpillar's mining center to Tucson and convincing Raytheon to expand its business here by more than 2,000 employees, said Joe Snell, president and CEO of Sun Corridor Inc., Southern Arizona's economic development arm.
In its announcement, ABF said it plans to produce its lithium iron phosphate battery cells at a factory that will ultimately grow to 2 million square feet. The batteries are considered clean energy in that they don't use harmful materials in the batteries themselves or in the production process. Nickel and cobalt, long used as materials for batteries, are not used in the ABF batteries, which have the added value of doubling the performance of the average battery.
ABF said the capital investment in the gigafactory will be about $1.2 billion with an economic impact of $3.1 billion for the state.
In its first phase of development, the company expects to have 300 "high-paying" jobs scaling up to 1,000 jobs at the site in operations, production, research, development, automation, robotics and its executives.
"This investment represents a generational opportunity both for us as a company and for Tucson as a community as a means to truly make energy independence a reality for everyone," Charles said in the company's formal announcement. "Batteries make shifting to an entirely green energy economy possible. With this first factory, we will secure a strategically positioned company headquarters while taking the critical first steps in making it possible to one day move the country and the entire world to 100% renewable power."
Snell said it's more than an economic victory for the region, it's also a victory brought on by the region's overall long-term planning and collaboration between the public and private sectors and a wide range of interests.
"It was a true team effort. We always say that, but this one really defined it," Snell said. "There was a collective decision that we were going to win this. When you go into it with that mindset, I think it helps everybody align. Nobody's ego got in the way. We were in the business of why we can rather than why we can't."
Pima County currently owns the 267-acre site at the Aerospace Research Campus south of TIA and adjacent to Raytheon Missiles & Defense. The Board of Supervisors unanimously approved the lease to ABF, which also gives the company an option to purchase the land in the future.
Charles said one of the major issues that had to be resolved was reliable power to the facility when it's at full capacity. The company plans to build its facility in stages, adding modules to the campus until it is built out. The first module is expected to be producing product in 2024. Charles said the site has room for vendors and suppliers adjacent to the factory for efficiency.
"Power is one of the biggest challenges throughout America, because if you don't have that power already available or if you haven't anticipated and planned for that, you're years out in lead times," Charles said.
"We have an opportunity to work with the county in an air park that's tailor-made for us. All the utilities are right there. And then you had the utilities that stepped in and said we will make sure you have sufficient power in the timeframe that you need to have it."
Snell specifically called out Tucson Electric Power for its efforts in going "above and beyond" to address ABF's power needs.
Susan Gray, president and CEO of TEP, said the company was on board early with the project.
"Energy storage not only drives powerful environmental benefits for our region, but economic benefits as well," Gray said in the announcement of ABF's arrival. "TEP was a close partner on this project every step of the way, providing critical infrastructure and competitive pricing."
By its unanimous vote, the supervisors were satisfied the transaction is meeting all legal requirements in the lease/purchase agreement.
"Today's decision by the board is another significant return on investment made by the county and taxpayers 10 years ago when the board took positive steps to acquire the Aerospace Research Campus," Board of Supervisors Chair Sharon Bronson said. "American Battery Factory is exactly the type of high-wage employer we hoped to attract."
ABF's plan to build a network of U.S. gigafactories is part of a strategy to help the country gain a foothold in a battery cell market dominated by Europe, Asia and specifically China even though lithium battery technology was actually invented in the U.S., Charles said.
"China has had 15, 20 years to learn how to take this wonderful U.S. technology, expand it and enhance it," Charles said, estimating that China has about 80% of the battery cell production market. "They're on track over the next few years to have 200 gigafactories.
"We're truly in a third position but I believe that we'll be able to leapfrog ahead and really regain our posture of being the global leader in technology, and also to manufacture in a safe, clean environment in volume."
The modular approach to building the factory is one way the company plans to make its product cost-competitive, Charles said. The ABF factory modules use a "tension membrane structure technology" that has been around for many years but hasn't been used for battery manufacturing. He said a 500,000-square-foot module can be manufactured in about 10 weeks and then shipped to Tucson and put into operation in another 10 weeks.
Another of the many criteria ABF had to consider in its site selection was ensuring there is an available workforce. Jobs at ABF will range from requiring a high school diploma to a Ph.D.
Charles said the Pima Community College Centers of Excellence were just what ABF was looking for to ensure it has an ample workforce available. Pima College is building its Advanced Manufacturing Center at the downtown campus from where ABF expects to draw some of its workforce. The University of Arizona is a resource for some of the higher-end degrees needed.
"Our approach is a decentralized, modularized, rapid-construction approach to these factories," Charles said. "As we looked at these different areas throughout the U.S., we did not want to go in and create an environment in which we're poaching people from the local businesses. We wanted to augment enhance and create new opportunities without hurting the local businesses."
"We are strongly positioned to train the workforce ABF needs and partner with this new facility to fast-track next-generation battery innovations to full production capacity," said PCC Chancellor Lee Lambert. "We're looking forward to partnering with ABF on apprenticeship and internship programs for our students."
Now that its location is selected, the company is eager to get started in what it calls a partnership with the region, Charles said.
"They had anticipated a company like ours coming here," Charles said of the state and regional representatives he dealt with during the site selection. "That is one of the key differences between so many areas that we saw and what Tucson has really done. They've been preparing for this and apparently waiting for the right partner, so it's really an ideal match that we're very thankful and very appreciative for. We truly feel humbled by the outreach and love that we felt here."