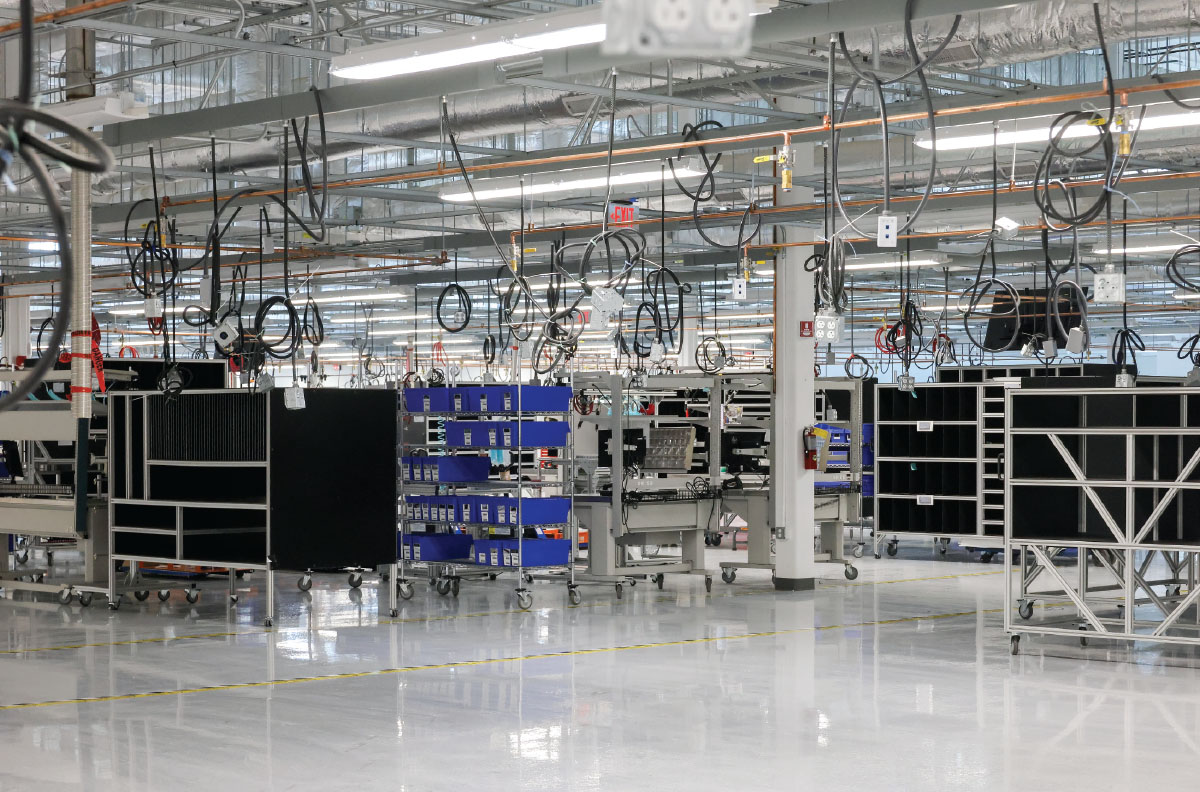 Roche Increases Local Manufacturing Footprint
By David Pittman
Roche Tissue Diagnostics is building and expanding manufacturing facilities in Marana and Oro Valley in its ongoing effort to meet a growing global demand for cancer-detecting instruments and tests.
At a Nov. 14 grand opening in Marana, Roche officials unveiled the company's newly built 60,000-square-foot manufacturing building that sits next to an eight-year-old Roche logistics center of similar size. Barker Contracting served as builder.
"With the new building in Marana we will be able to expand our instrument manufacturing, which is tremendously important, because it will allow us to provide customers, and ultimately patients, with reliable access to quality cancer diagnostics no matter where they are in the world," said Jill German, head of Roche Tissue Diagnostics.
Roche also intends to remodel its manufacturing facility on Innovation Park Drive in Oro Valley in 2023. Roche officials said the new Marana manufacturing building opens up a large amount of space in Oro Valley needed to increase reagent production.
"With the building in Marana and remodeling in Oro Valley, we are continuing to invest in Southern Arizona's bioscience industry while offering meaningful career opportunities to members of our local community," German said.
When completed, the Marana building will house instrument and service manufacturing, along with instrument labeling, operations and support functions such as engineering, purchasing, planning and finance.
"Relocating instrument assembly to Marana will make the manufacturing process more efficient, reducing the need to transport parts to Oro Valley for assembly into products," said Himanshu Parikh, VP of global operations for Roche Tissue Diagnostics. "It will also make room for the expansion of diagnostic assay production at the Oro Valley campus, allowing Roche Tissue Diagnostics to better serve a growing number of customers and patients globally."
German said medical data indicates the number of cancer cases will increase in the future. "Every year across the globe, more than 14 million people develop cancer, a number that is expected to grow to more than 21 million by 2030."
Approximately 140 Roche employees will be transferred from the company's Oro Valley manufacturing facility to its Marana production site, which will bring the number of Roche personnel to approximately 180 in Marana. The relocation of those employees was expected to be completed by early 2023. Roche has a combined workforce of 1,800 full-time employees and contractors at its Tucson area facilities in the Tucson area.
Kent Kost, global head of Roche diagnostics operations, and Marana Mayor Ed Honea were among those who spoke at the ribbon-cutting event celebrating the construction of the Marana manufacturing facility.
"The completion of this building, as fantastic as it is, is really just the start," Kost said. "I look forward to all the innovation that will come from within and all the hardworking employees who are going to come here and make a difference every day. That is what will make this place special."
Kost said Tucson is a unique and important place for Roche, adding that the quality of the products and the consistent performance of the workforce here is regarded highly throughout the multinational company.
"Roche Diagnostics has a large manufacturing presence around the globe with nine different sites and 8,000 employees," he said. "But Tucson is quite special because it is the only place where all of our reagents, as well as our instruments, are produced in a single location. It goes without saying that the products we make have an absolutely essential impact on human health."
Honea was effusive in welcoming the large crowd at the ribbon-cutting.
"If you do diagnostic treatment for cancer you are doing something special; and if you're doing that here, I think it's even more special," Honea said. "I'm thrilled about Roche being here, and thrilled about Roche being a Marana partner. I'm also thrilled about the jobs and opportunity it brings to our community. I'm very proud of the Roche facilities here."
Roche is a multinational healthcare company with two major divisions – Pharmaceutical and Diagnostic. It's the fifth largest pharmaceutical company in the world in terms of revenue, but it ranks as the top global provider of cancer treatments.
Roche has constantly supported its Tucson-area interests since acquiring Ventana Medical Systems for $3.4 billion in 2008. Ventana was founded in the mid-1980s by Dr. Thomas Grogan, a pathologist and University of Arizona professor, who ran Ventana in its early days from a small office and garage just off Prince Road and Interstate 10.
It was Grogan who pioneered the automation and standardization of tissue biopsy testing – a life-saving move that resulted in speedier, more accurate and greatly expanded cancer testing. Grogan didn't stop there. Knowing that body tissue contains a wealth of information that is vital beyond cancer diagnosis, he expanded his research to the chemistry of cancer biopsies.
In the process, Grogan and Ventana enabled oncologists to personalize cancer diagnosis and treatment options for individual patients.