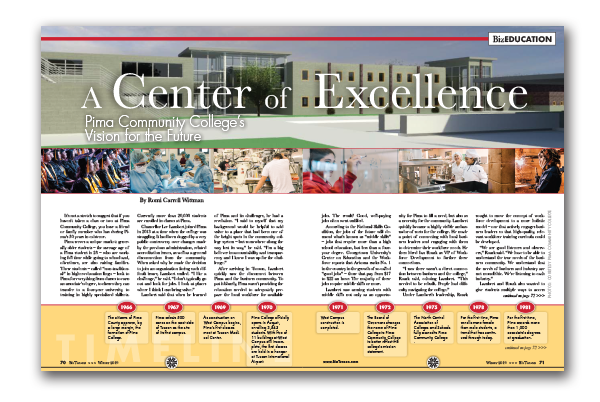 Pima Community College's Vision for the Future
By Romi Carrell Wittman –
A Center of Excellence
It's not a stretch to suggest that if you haven't taken a class or two at Pima Community College, you have a friend or family member who has during Pima's 50 years in existence.
Pima serves a unique market: generally older students – the average age of a Pima student is 28 – who are working full time while going to school and, oftentimes, are also raising families. These students – called "non-traditional" in higher-education lingo – look to Pima for everything from classes to earn an associate's degree, to classes they can transfer to a four-year university, to training in highly specialized skillsets. Currently more than 20,000 students are enrolled in classes at Pima.
Chancellor Lee Lambert joined Pima in 2013 at a time when the college was struggling. It had been dogged by a very public controversy over changes made by the previous administration, related accreditation issues, as well as a general disconnection from the community. When asked why he made the decision to join an organization facing such difficult issues, Lambert smiled. "I like a challenge," he said. "I don't typically go out and look for jobs. I look at places where I think I can bring value."
Lambert said that when he learned of Pima and its challenges, he had a revelation. "I said to myself that my background would be helpful to add value to a place that had been one of the bright spots in the community college system – but somewhere along the way lost its way," he said. "I'm a big believer in accountability and transparency and I knew I was up for the challenge."
After arriving in Tucson, Lambert quickly saw the disconnect between Pima and the business community. To put it bluntly, Pima wasn't providing the education needed to adequately prepare the local workforce for available jobs. The result? Good, well-paying jobs often went unfilled.
According to the National Skills Coalition, the jobs of the future will demand what's known as "middle skills" – jobs that require more than a high school education, but less than a four-year degree. Georgetown University's Center on Education and the Workforce reports that Arizona ranks No. 1 in the country in the growth of so-called "good jobs" – those that pay from $17 to $22 an hour. The majority of these jobs require middle skills or more.
Lambert saw arming students with middle skills not only as an opportunity for Pima to fill a need, but also as a necessity for the community. Lambert quickly became a highly visible ambassador of sorts for the college. He made a point of connecting with local business leaders and engaging with them to determine their workforce needs. He then hired Ian Roark as VP of Workforce Development to further these connections.
"I saw there wasn't a direct connection between business and the college," Roark said, echoing Lambert. "This needed to be rebuilt. People had difficulty navigating the college."
Under Lambert's leadership, Roark sought to move the concept of workforce development to a more holistic model – one that actively engages business leaders so that high-quality, relevant workforce training curricula could be developed.
"We are good listeners and observers," Roark said. "We have to be able to understand the true needs of the business community. We understand that the needs of business and industry are not monolithic. We're listening to each industry."
Lambert and Roark also wanted to give students multiple ways to access programs. "You can't have a linear program," Roark said. This means giving credit for prior learning and work experience, something that's particularly beneficial for veterans seeking to return to school.
"Pima Online is the fastest growing part of the college," Lambert said, speaking to the point of accessibility. "Through Pima Online to date, we've been able to reduce textbook costs to students by more than $1 million." Lambert points to this as an example of using technology to provide affordable, accessible education to students.
These various and multi-layered factors are ultimately what led to the concept of Centers of Excellence – or COEs – across Pima's various campuses. The COEs are the foundation of Lambert's long-term vision for the college and will serve to greatly advance economic development throughout Southern Arizona.
What is a Center of Excellence? Lambert says a COE embodies thought leadership combined with best practices in higher education and student learning.
"We're looking at Industry 4.0 and globalization and how this is redefining the notion of work. We have to make sure the college is in a place to help," Lambert said. "We need to make sure we're relevant in what we offer."
Pima's educational and facilities master plans call for major advancements in facilities and equipment, as well as in the quality and structure of its educational programs. The Centers of Excellence are the next stage of that work, with an end goal of increasing the quality and quantity of a highly skilled workforce. The expectation is this will result in increased opportunities community-wide, for employers as well as employees. The 10-year vision for the high-tech, collaborative Centers of Excellence is about $300 million, funded largely through bonds and fundraising.
Lambert and his team have identified several key areas around which Pima's Centers of Excellence will be built. Lambert says construction of each COE will take place over several years.
Applied Technology
To be located at Pima's Downtown Campus on Stone Avenue, the COE for Applied Technology will focus on transportation and logistics, advanced manufacturing with an emphasis on aerospace and defense, and infrastructure with an emphasis on mining and energy technology. New courses in diesel technology, quality assurance, optics and photonics, and autonomous vehicle technology are also in the works. Lambert has identified this as a top priority and it's the first COE Pima is undertaking.
"The goal is to prepare students for high-wage, high-skill jobs," Roark said.
Caterpillar, self-driving truck firm TuSimple and AGM Container Controls have actively worked with Pima to develop courses that upskill employees in the field of applied technology.
Caterpillar sent some of its engineers to Pima to take machining classes, so they would have a better understanding of how the designs they create affect day-to-day operations. TuSimple reached out to Pima in an effort to provide training for truck drivers who were at risk of being replaced by an autonomous truck.
"There was a narrative that we were destroying jobs," said Robert Brown, director of public affairs at TuSimple, "We didn't want to be a negative disruption in the community."
Brown reached out to Roark and together they looked to see how former long-haul truck drivers could be upskilled. "We asked, 'What skills does the modern truck driver need?' "
The answers weren't always obvious. "Logistics came to mind, as did diesel mechanics," Brown said. Curriculum was then developed around these needed skillsets – yet this will be an ongoing process as needed jobs evolve and change.
Pima plans to invest $45 million at the Downtown Campus for construction of the Applied Technology COE. The project is ambitious – involving an extensive renovation of the existing campus – as well as new construction on lots adjacent to the existing campus. The college wants to break ground on the COE in Applied Technology in late summer 2019.
Pima hopes the project will have benefits for the surrounding neighborhood as well. David Doré, campus president and vice chancellor of workforce and economic development, said that Pima has partnerships with a number of groups located in the area, such as the Beacon Foundation, La Frontera and Chicanos Por La Causa. Pima hopes the construction of the COE and improvements to the campus will serve as a catalyst for a neighborhood revitalization.
"Pima Community College Downtown Campus is partnering with these groups to revitalize the campus neighborhood with an intentional approach towards workforce and neighborhood economic development," Doré said.
Health-Related Programs
Pima has big plans for its health-related programs, which will be housed at a Center of Excellence at its West Campus on Anklam Road.
Nursing, surgery technology, critical care, dental services and radiologic technology are the primary focus areas of this COE, and there are even plans to develop a sleep center for respiratory therapy as well as a master's degree concurrent-enrollment program for nursing students with bachelor's degrees.
Public Safety and Security
Pima is looking to expand its current course offerings so that it can be a one-stop location for certification, refresher and recertification courses for those in the public safety field.
Ethnic, Gender and Transborder Studies
Pima has established a concentration in Ethnic, Gender and Transborder Studies for the associate's degree in liberal arts and is working closely with the University of Arizona on course build-out.
Information Technology
Pima is exploring best practices in the area of cyber warfare with the goal of significantly improving experiential learning for students and the community. This COE will be based at Pima's East Campus on Irvington Road.
Arts, Humanities and Communications
Pima faculty and staff are currently exploring this COE, with the goal of drafting a needs assessment. Work is ongoing.
Hospitality
Recognizing the critical role of tourism in our region's economy, Pima held an industry summit in November 2018 in preparation for launching a COE in hospitality sometime in 2019.
Lambert's enthusiasm for the future – and what that means for the community at large – is palpable. "The institution didn't really have a vision of where it was going. Now we do have a vision. We know where we're going," he said. "You're starting to see a whole new way of thinking. It's all about the mission and fulfilling that promise."