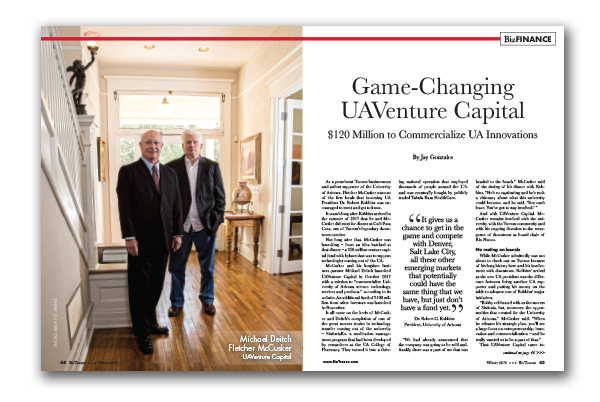 $120 Million to Commercialize UA Innovations
By Jay Gonzales –
Game-Changing UAVenture Capital
As a prominent Tucson businessman and ardent supporter of the University of Arizona, Fletcher McCusker was one of the first locals that incoming UA President Dr. Robert Robbins was encouraged to meet and get to know.
It wasn't long after Robbins arrived in the summer of 2017 that he and McCusker did meet for dinner at Café Poca Cosa, one of Tucson's legendary downtown eateries.
Not long after that, McCusker was launching – from an idea hatched at that dinner – a $20 million venture capital fund with bylaws that was to support technologies coming out of the UA.
McCusker and his longtime business partner Michael Deitch launched UAVenture Capital in October 2017 with a mission to "commercialize University of Arizona science, technology, services and products," according to its website. An additional fund of $100 million from other investors was launched in November.
It all came on the heels of McCusker and Deitch's completion of one of the great success stories in technology transfer coming out of the university – SinfoníaRx, a medication management program that had been developed by researchers at the UA College of Pharmacy. They turned it into a thriving national operation that employed thousands of people around the U.S. and was eventually bought by publicly traded Tabula Rasa HealthCare.
"We had already announced that the company was going to be sold and, frankly, there was a part of me that was headed to the beach," McCusker said of the timing of his dinner with Robbins. "He's so captivating and he's such a visionary about what this university could become, and he said, 'You can't leave. You've got to stay involved.' "
And with UAVenture Capital, McCusker remains involved with the university, with the Tucson community and with his ongoing devotion to the resurgence of downtown as board chair of Rio Nuevo.
No resting on laurels
While McCusker admittedly was not about to check out on Tucson because of his long history here and his involvement with downtown, Robbins' arrival as the new UA president was the difference between being another UA supporter and putting his money on the table to advance one of Robbins' major initiatives.
"Bobby celebrated with us the success of Sinfonía, but, moreover, the opportunities that created for the University of Arizona," McCusker said. "When he releases his strategic plan, you'll see a huge focus on entrepreneurship, innovation and commercialization – and he really wanted us to be a part of that."
That UAVenture Capital came together so quickly was a bit of a stunner to Robbins. As president and CEO of Texas Medical Center, Robbins had tried and tried to put together a venture capital fund for technologies being developed there. He worked potential investors in Houston. He went to the large funds centered in the VC havens of the San Francisco Bay Area and Boston – all with no success.
"We built this incredible infrastructure for developing technology at the world's largest medical center – but it had no major pharmaceutical, medical device or digital health company located in Houston," Robbins said. "There was no real venture capital fund."
Not in Houston anymore
Sitting with McCusker at Café Poca Cosa, Robbins knew the game was different in Tucson and at the UA.
"When you've got the whole portfolio of medicine, biotech, pharma, digital, computer science, and then you add on the No. 1 astronomy and space science program, the No. 1 optical science program, and if you can really get aligned and can leverage an entire university, then it's fairly obvious that there are opportunities," Robbins said.
McCusker and Deitch, along with longtime Tucson lawyer Larry Hecker, were soon on the move, putting their own money into the fund and then tapping their connections for investors to build the $20 million fund.
With UAVenture Capital, Deitch found himself in the middle of something different than anything he had done before. McCusker had hired Deitch on the spot in 1997 when he interviewed for the job of CFO at Providence Service Corporation, a holding company that McCusker founded. "We literally hired Michael in the interview," McCusker said. Deitch recalled, "We had one contract at that time and I took my first chance in life. I'm telling my wife, Valerie, that we could always go back if things didn't work out, but I was going to take a chance. It's been a great ride."
Formed in 1997, Providence went public in 2003. By 2013, Providence was a billion-dollar business and McCusker and Deitch left together to work on commercializing spinout companies at the UA along with TechLaunch Arizona, the UA technology commercialization arm. That's when SinfoníaRx came to fruition, which then led to UAVenture Capital.
Looking back on the success of Providence, then Sinfonía, and leading to millions of dollars available to invest in UAVenture Capital, it may look like the road was littered with rose petals and pots of gold for Deitch and McCusker.
Not so, Deitch said. Getting to where the two partners are today had plenty of hurdles.
"Since early on, there have been several times where I didn't know on Tuesday how I was going to make payroll on Friday," Deitch said. "We just pulled together every resource that we could find – whether it was bank debt, personal money invested, going on without paychecks. It's been a constant for all these years – searching for money and reinvesting everything we would make. Finally, it was after exiting SinfoníaRx that I felt I finally was on solid ground."
'In the game'
So instead of riding into the sunset, McCusker and Deitch are putting their money back in play. Their first round of funding initially went to three companies in July, and two more were announced in November and December. They are:
• Codelucida was formed by engineering graduates and faculty at the UA. The company has developed an error-correction technology that can enable cheaper, high-capacity, high-performance, solid-state drives for consumer and data center storage.
• Regulonix has developed a powerful non-opioid, non-addictive pain killer that has performed well in animals and is headed for human trials. The compound was invented by UA pharmacologist Dr. Rajesh Khanna and his team.
• Post.Bid.Ship has developed an application that automates the process of identifying and locating available haulers and matches them with shippers. A team led by Jarret Hamstreet, a graduate of the UA Eller College of Management, invented the application.
• Qwick connects hospitality businesses to workers in real time. Qwick has developed a technology platform which allows hotels and restaurants to immediately locate temporary staff by posting an open shift. Blaine Light, a graduate of the UA College of Engineering, is the company's COO and co-founder.
• Freefall has licensed antenna technology, invented by UA scientists and engineers, that has the potential to revolutionize both satellite and terrestrial wireless communications. The systems are compact, lightweight and low-power, enabling 360-degree, steerable, high-frequency communications with no moving parts. UA Venture Capital has acquired a 20-percent interest in the company.
Besides giving the UA the boost in reputation and opportunity for creative-minded faculty and students, Robbins said UAVenture Capital is a boost for the economy of the entire region.
"First, Fletcher will want to keep the companies in Tucson, which is good for the university and good for the regional economy," Robbins said. "And second, companies will potentially want to move to Tucson if that's where their funding comes from.
"It gives us a chance to get in the game and compete with Denver, Salt Lake City, all these other emerging markets that potentially could have the same thing that we have but just don't have a fund yet."