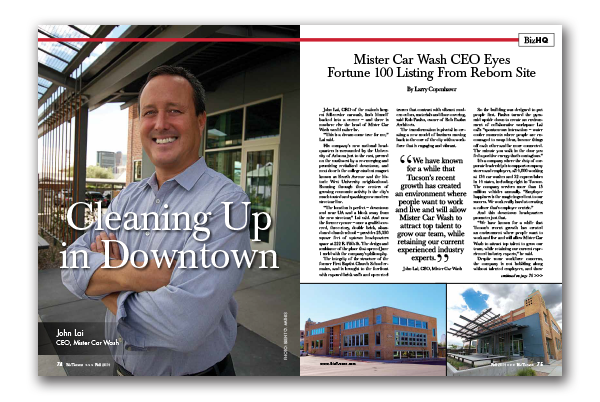 Mister Car Wash CEO Eyes Fortune 100 Listing From Reborn Site
By Larry Copenhaver –
John Lai, CEO of the nation's largest full-service carwash, finds himself backed into a corner – and there is nowhere else the head of Mister Car Wash would rather be.
"This is a dream come true for me," Lai said.
His company's new national headquarters is surrounded by the University of Arizona just to the east, pressed on the southwest by a re-emerging and promising revitalized downtown, and next door is the college-student magnet known as Fourth Avenue and the historic West University neighborhood. Running through these centers of growing economic activity is the city's much touted and spanking new modern streetcar line.
"The location is perfect – downtown and near UA and a block away from the new streetcar," Lai said. And now the former eyesore – once a graffiti-covered, three-story, double brick, abandoned church school – provides 25,350 square feet of uptown headquarters space at 222 E. Fifth St. The design and ambiance of the place that opened June 1 meld with the company's philosophy.
The integrity of the structure of the former First Baptist Church School remains, and is brought to the forefront with exposed brick walls and open steel trusses that contrast with vibrant modern colors, materials and floor covering, said Rob Paulus, owner of Rob Paulus Architects.
The transformation is pivotal in creating a new model of business moving back to the core of the city with a workforce that is engaging and vibrant.
So the building was designed to put people first. Paulus turned the pyramid upside down to create an environment of collaborative workspace Lai calls "spontaneous interaction – water cooler moments where people are encouraged to swap ideas, bounce things off each other and be more connected. The minute you walk in the door you feel a positive energy that's contagious."
It's a company where the duty of corporate leadership is to support company stores and employees, all 4,800 working at 134 car washes and 32 express lubes in 14 states, including eight in Tucson. The company services more than 15 million vehicles annually. "Employee happiness is the magic ingredient to our success. We work really hard at creating a culture that's employee centric."
And this downtown headquarters promotes just that.
"We have known for a while that Tucson's recent growth has created an environment where people want to work and live and will allow Mister Car Wash to attract top talent to grow our team, while retaining our current experienced industry experts," he said.
Despite some workforce concerns, the company is not hobbling along without talented employees, and those folks are looking for world-class headquarters.
For the 85 Mister Car Wash corporate employees in Tucson, the location offers access to a variety of eateries within easy walking distance. For those seeking a little exercise or lunch at more distant restaurants, the company has at the ready four shiny new bikes, complete with safety equipment. Use them and return them to the alcove, where they are parked in the lobby.
In the lower level there's a workout area with showers and a lounge that spills onto a shaded, landscaped entry courtyard. An extra large farm-style table, specially designed for the area, encourages employees to sit together to eat – a sort of barrier-breaking strategy.
Plans are underway to launch an intern program that schools younger professionals to look at the carwash industry as a career path, said Lai, who earned a degree at UA. "We've recently hired a number of Eller College of Management MBA's who have already made an impact on our company."
While Lai said renovating the old school – built in 1952 and closed since 2007 – into a functioning administrative center fulfills one of his dreams, he is eying another goal. He wants Mister Car Wash to be included in the prestigious Fortune 100 best places to work list, a list of elite publicly and privately held companies.
It's a lofty aspiration, but an achievable one, he said. Mister Car Wash is the largest conveyor carwash company in America, but even then it serves but 1 percent of the market, a market grossing $8.2 billion and growing 3 percent annually. He's got a plan.
Acquisition – perhaps as many as 20 stores a year across the country – is conceivable, Lai said. There are 24,000 conveyor carwashes in the U.S., and ownership is highly fragmented, with 95 percent of the industry owning fewer than five stores per business.
Mister Car Wash was founded in 1996 by Brown, McMillan & Co. to "roll up" some of the fragmented car wash industry through acquisitions and create a national company. In 1999, it leased space at La Paloma Corporate Center, and in 2007, the company was acquired by a private equity firm that moved the headquarters downtown.
To further capitalize on this acquisition strategy, the company in August 2014 was acquired by Leonard Green & Partners, a private equity firm based in Los Angeles.
"Leonard Green is a company that has a conscience and has been built on a pillar of core values. In my wildest dreams, I could not have picked a better partner to help us accelerate growth," said Lai.
Paulus said Lai "has taken on the philosophy of not only building corporate, he's building community. It's part of a national trend to create a fun environment to work in. John Lai is doing that in Tucson, and I cannot speak highly enough of his company and his vision."
The car cleaning company is expected to create nearly $2.9 million in direct and indirect additional tax revenues over eight years. Because of that, the city of Tucson agreed to give Mister Car Wash an eight-year property tax exemption on the headquarters building through the Government Property Lease Excise Tax program. The city also agreed to waive impact fees and some permit fees. Mister Car Wash expects to qualify for the Primary Jobs economic development incentive, which provides a credit of construction sales tax.
"We are good for Tucson because we are creating jobs, a lot of white-collar professionals in top-paying jobs. I'm very proud of what we are doing," Lai said.
The HQ renovation was completed on a tight schedule with the major portion being finished in four months, said Tommy Roof of W.E. O'Neil Construction, the contractor who did the renovation.
"The project is a great example of adaptive reuse of an existing building, using an existing structure in a responsible, sustainable manner to meet the needs of a new user," Roof said.
"In addition to saving an existing building, the project includes a number of sustainable design elements, including use of sustainable materials and energy efficient building systems," Roof added. "The project was a true team effort, with developer Mike Wattis, the realty group CBRE, Rob Paulus Architects, Mister Car Wash and W.E. O'Neil Construction working closely to turn vision to reality."