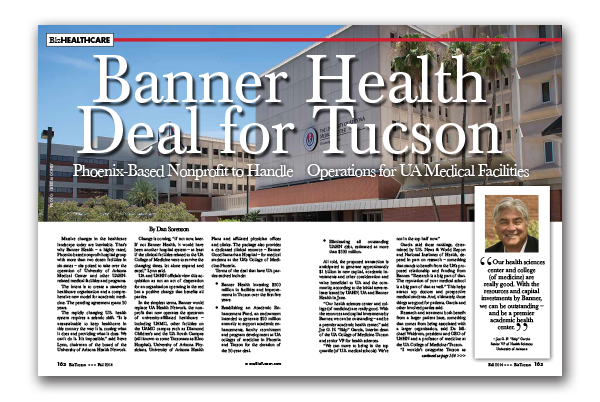 Banner Health Deal for Tucson – Phoenix-Based Nonprofit to Handle Operations for UA Medical Facilities
By Dan Sorenson –
Massive changes in the healthcare landscape today are inevitable. That's why Banner Health – a highly rated, Phoenix-based nonprofit hospital group with more than two dozen facilities in six states – sits poised to take over the operation of University of Arizona Medical Center and other UAHN-related medical facilities and programs.
The intent is to create a statewide healthcare organization and a comprehensive new model for academic medicine. The pending agreement spans 30 years.
The rapidly changing U.S. health system requires a seismic shift. "It is unsustainable to keep healthcare in this country the way it is, costing what it does and providing what it does. We can't do it. It's impossible," said Steve Lynn, chairman of the board of the University of Arizona Health Network.
Change is coming, "if not now, later. If not Banner Health, it would have been another hospital system – at least if the clinical facilities related to the UA College of Medicine were to survive the changing times, let alone expand and excel," Lynn said.
UA and UAHN officials view this acquisition as not an act of desperation for an organization operating in the red but a positive change that benefits all parties.
In the simplest terms, Banner would replace UA Health Network, the nonprofit that now operates the spectrum of university-affiliated healthcare – including UAMC, other facilities on the UAMC campus such as Diamond Children's and the UA South Campus (still known to some Tucsonans as Kino Hospital), University of Arizona Physicians, University of Arizona Health Plans and affiliated physician offices and clinics. The package also provides a dedicated clinical resource – Banner Good Samaritan Hospital – for medical students at the UA's College of Medicine-Phoenix.
Terms of the deal that have UA parties excited include:
• Banner Health investing $500 million in facilities and improvements in Tucson over the first five years.
• Establishing an Academic Enhancement Fund, an endowment intended to generate $20 million annually to support academic enhancements, faculty recruitment and program development at UA colleges of medicine in Phoenix and Tucson for the duration of the 30-year deal.
• Eliminating all outstanding UAHN debt, estimated at more than $300 million.
All told, the proposed transaction is anticipated to generate approximately $1 billion in new capital, academic investments and other consideration and value beneficial to UA and the community, according to the initial news release issued by UAHN, UA and Banner Health in June.
"Our health sciences center and college (of medicine) are really good. With the resources and capital investments by Banner, we can be outstanding – and be a premier academic health center," said Joe G. N. "Skip" Garcia, interim dean of the UA College of Medicine-Tucson and senior VP for health sciences.
"We can move to being in the top quartile (of U.S. medical schools). We're not in the top half now."
Garcia said those rankings, determined by U.S. News & World Report and National Institutes of Health, depend in part on research – something that stands to benefit from the UA's proposed relationship and funding from Banner. "Research is a big part of that. The reputation of your medical school is a big part of that as well." This helps attract top doctors and prospective medical students. And, ultimately, those things are good for patients, Garcia and other involved parties said.
Research and treatment both benefit from a larger patient base, something that comes from being associated with a larger organization, said Dr. Michael Waldrum, president and CEO of UAHN and a professor of medicine at the UA College of Medicine/Tucson.
"I wouldn't categorize Tucson as small," Waldrum said. "But really, to be able to do healthcare in the future requires large groups of people, big data. You have to have access to critical amounts of populations, of people to manage. With the new payment methods, having large populations becomes important.
"The traditional way that academic medical centers have run is they just concentrated on the sickest patients and very specialized services like transplants, those kinds of things. For instance, we are the only Level One (trauma center) in Southern Arizona.
"But in the future it will be hard to be successful financially if you're just doing that – because you have to have large populations to feed those high-end services. And so scale and population becomes important. And scale and having information available to do research helps."
The numbers are impressive for Banner, too. With the absorption of UAHN's 6,300 Tucson-area employees, Banner Health will become the state's largest employer, with roughly 37,000 employees.
Banner already operates 16 healthcare facilities in Arizona and has 12 more in six other states, according to its corporate website. And with that size, come economies of scale, said Banner President and CEO Peter S. Fine. "We will be looking for opportunities to take advantage of our supply chain expertise to reduce costs."
While there is little detail about the organization that will emerge when the deal is done, Lynn said there's no denying that spending a half billion dollars in Tucson over five years will have an economic impact.
"The thing that strikes me is the business implication for Tucson – beyond the increase in overall quality of medical care," Lynn said. "There's going to be an exceptional health impact. There's going to be an unbelievable research impact. There's going to be a very, very good academic preparation education impact on the college of medicine.
"But what is the business implication for Tucson beyond the increase in the overall quality of medical care? One of those things is that within five years there will either be built, or committed to be built, a half billion dollars in new facilities in Tucson – which will create jobs and which will increase the quality of medical care by virtue of the facilities that it produces. And that's just one part of the deal.
"We haven't spoken with one business person who hasn't listened to the deal and said, 'That's a no brainer. Why wouldn't you do that?' They get it. Business people get this deal because it is an exceptional business deal on the one end. And it is an exceptional healthcare deal for the community and the state. It is literally a win-win. There is no loser here."
Questions raised at the press conference announcing the deal and in newspaper letters to the editor reflect concern that this pending acquisition by Phoenix-based Banner Health might threaten the primacy of Tucson.
Indeed, the proposal includes Banner providing clinical facilities for students at the University of Arizona College of Medicine-Phoenix, which while a part of the UA, has its own dean, administration and faculty.
Yet Lynn said the effort to provide clinical opportunities for physicians in training at the UA College of Medicine-Phoenix was actually the seed for the larger deal that now is to include UA's Tucson operations. He said that deal was in the works when it occurred to UA and UAHN officials that a larger vision might be the better answer. They asked Banner to consider a larger strategy.
When asked about the effects of privatizing staff at UAMC, Lynn said workers haven't been state employees since the 1980s, when the regents leased the hospital to University Medical Center Corporation, which evolved into part of UAHN. Lynn said that's when the first deal was made between UA and an outside group to run what was then known as UMC. University Physicians that later became University of Arizona Health Network.
Banner executives would only say that current UAHN employees are guaranteed their jobs and benefits for six months after the closing planned for Jan. 1, 2015, and would not speculate about any changes in total number of jobs, pay or benefits.
Fine said that though this is Banner's first takeover of an academic-based medical institution, it is not completely new ground. "The acquisition of Sun Health by Banner (in 2008) was similar in that it involved two hospitals, a research facility and more than 4,000 employees. However, this is the first time Banner has been involved in an agreement that involves a long-term commitment to an academic institution."
Lynn said that although the Principles of Agreement document signed by Banner and the Arizona Board of Regents is the result of only a few months of negotiations, a UA deal with Banner has been in the wind for a few years. He said it is common knowledge that Banner executives had also talked with Tucson Medical Center and Carondelet Health Network (which operates St. Mary's and St. Joseph's hospitals) officials in recent years about collaboration, but nothing came of it.
Lynn said scale has an impact on institutions' capabilities, which is particularly true of academic medical institutions. He said metropolitan areas of fewer than 5 million residents rarely are home to major medical colleges because the patient pools are typically too small, particularly to support certain kinds of medical research, programs – including transplants – and specialized training.
The Banner connection with UA College of Medicine-Phoenix, which has not had a primary hospital and clinics for training its students – plus its much larger potential patient base – could benefit the Tucson campus as well, Lynn said.
"There are those who fear any sort of change and therefore change is the enemy," Lynn said. "And in healthcare if you feel that way, it's going to be a really bumpy ride because there isn't anything that's staying the same. Change is everywhere and change will be constant over a long period of time.
"The question is how do you react to that? Do you follow it – or do you try to lead it? Do you accept it or reject it? Do you try to imagine where you should be and get there? Or do you wait until it hits you in the face and try to react to it?
"Those are all questions healthcare entities have to grapple with, and I think UAHN took the path that we weren't as much interested in having it done to us as we were interested in figuring what to do and doing it for ourselves."