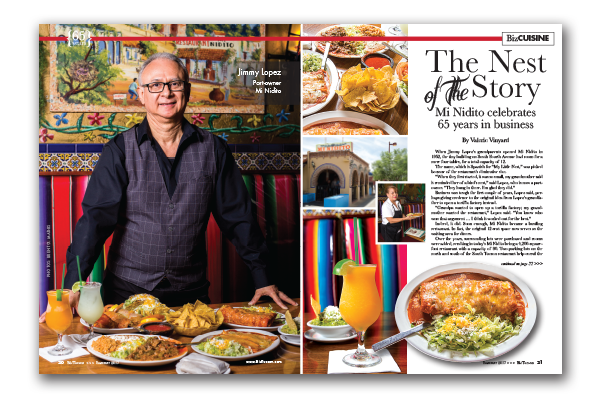 Mi Nidito celebrates 65 years in business
By Valerie Vinyard – 
When Jimmy Lopez's grandparents opened Mi Nidito in 1952, the tiny building on South Fourth Avenue had room for a mere four tables, for a total capacity of 12.
The name, which is Spanish for "My Little Nest," was picked because of the restaurant's diminutive size.
"When they first started, it was so small, my grandmother said it reminded her of a bird's nest," said Lopez, who is now a part-owner. "They hung in there. I'm glad they did."
Business was tough the first couple of years, Lopez said, perhaps giving credence to the original idea from Lopez's grandfather to open a tortilla factory instead.
"Grandpa wanted to open up a tortilla factory; my grandmother wanted the restaurant," Lopez said. "You know who won that argument … I think it worked out for the best."
Indeed, it did. Soon enough, Mi Nidito became a bustling restaurant. In fact, the original 12-seat space now serves as the waiting area for diners.
Over the years, surrounding lots were purchased and rooms were added, resulting in today's Mi Nidito being a 4,200-square-foot restaurant with a capacity of 90. Two parking lots on the north and south of the South Tucson restaurant help corral the hordes of patrons looking for a parking space.
Now in its 65th year – on July 3, to be exact – there looks to be no end in sight.
Lopez estimated 3,600 diners are served each week at Mi Nidito – and the restaurant is closed Mondays and Tuesdays.
"It's an historic site," Lopez said. "We have very good food, reasonable prices and a friendly atmosphere. It's a tradition to a lot of people in Tucson."
He remembers when he started working at Mi Nidito 45 years ago.
"My grandmother was getting older and my dad thought she needed help," said Lopez, now 63. "I was in high school, and when I graduated, he asked if I wanted to try it."
Lopez agreed, in part, because it tripled his income from the printing shop where he was working.
In addition to the locals and tourists, the restaurant has attracted more than its fair share of celebrity diners. The Travel Channel's "Man vs. Food" was filmed at Mi Nidito in 2009. But perhaps the restaurant is best known for then-President Bill Clinton stopping in for lunch in 1999.
Lopez remembers Clinton's visit.
"He went and said 'Hi' to everyone in the dining room, and then he went back in the kitchen and said 'Hi,' " Lopez said. "We were popular before that, but he put us on the map. He gave me advertising I couldn't pay for."
During his visit, Clinton displayed a voracious appetite. It resulted in Mi Nidito adding an oversized menu option – the $15.50 Presidential Plate. The loaded platter comes with a bean tostada, beef taco, chili relleno, chicken enchilada and beef tamale. Though Clinton indulged at the time, rice and beans don't come with the dish, undoubtedly showing mercy to a diner's stomach capacity.
Other celebrities and political figures have stopped in over the years. Hopeful diners who put their name on the list for a table, which often comes with a 90-minute to two-hour wait on weekends, are welcome to peruse the photos and descriptions on the restaurant's walls. They'll see pictures of Lopez or his dad with Willie Nelson, Gabrielle Giffords, Julio and Enrique Iglesias and most recently, a February visit from Gov. Doug Ducey.
At 11:30 a.m. on a recent Saturday, the wait time already was about 20 minutes, and couples and families milled around inside and outside the restaurant. Lopez said that diners can start lining up around 10 a.m., even though the restaurant doesn't open for an hour.
One occasional visitor had friends visiting from El Paso, Texas. Dominga Barrio, a 52-year-old Tucson resident, said Mi Nidito is a mandatory stop for tourists.
"This is one of the places you have to take visitors to Tucson," Barrio said. "The food is great, and the history is so interesting."
Once the patient patrons are seated at one of the booths or tables, they'll have a chance to look over the expansive menu. Offerings include appetizers, soups, combination plates and a la carte items. Lopez said the current hot item is Combination No. 7, a flavorful juicy birria – or shredded beef – plate that comes with corn or flour tortillas, rice and beans.
Ever since a customer inadvertently bumped into a server, upending a loaded tray, servers have used carts to deliver food and drinks. During their meal, diners could hear music that includes mariachi, Creole and tunes from the 1980s.
Lopez said his now-retired father served as his guiding force in the business.
"All those years I spent with him have really helped me to manage a successful business," Lopez said. "He taught me patience and to be nice to customers and employees."
Lopez took classes in marketing, finance and bookkeeping at Pima Community College to learn more about the business side of things.
Mi Nidito employs 46 workers, including Lopez's brother, who helps manage the restaurant. Lopez is No. 3 in a line of eight brothers and one sister, but most of his siblings have chosen another path. He has three children himself, including one son who works as a server at the restaurant.
The menu doesn't really change, but Lopez needs to raise prices 5 to 10 percent each year to cover rising costs. He said the recent increase in the state's minimum wage has added almost $5,000 to each payroll.
Lopez is grateful for Mi Nidito's success but is quick to praise other eateries in the area.
"There are a lot of great Mexican restaurants in Tucson," he said. "We've been very fortunate."
Mi Nidito
Address: 1813 S. Fourth Ave.
Phone: (520) 622-5081
Website: www.minidito.net