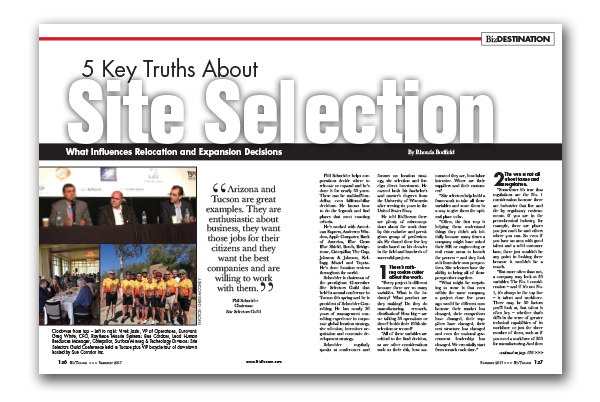 5 Key Truths About Site Selection
By Rhonda Bodfield – 
Phil Schneider helps corporations decide where to relocate or expand and he's done it for nearly 30 years. These can be multimillion-dollar, even billion-dollar decisions. He knows how to do the legwork and find places that meet exacting criteria.
He's worked with American Express, Andersen Window, Apple Computer, Bank of America, Blue Cross Blue Shield, Bosch, Bridgestone, Caterpillar, The Gap, Johnson & Johnson, Kellogg, Mattel and Toyota. He's done location reviews throughout the world.
Schneider is chairman of the prestigious 42-member Site Selectors Guild that held its annual conference in Tucson this spring and he is president of Schneider Consulting. He has nearly 30 years of management consulting experience in corporate global location strategy, site selection, incentives negotiation and economic development strategy.
Schneider regularly speaks at conferences and forums on location strategy, site selection and foreign direct investment. He earned both his bachelor's and master's degrees from the University of Wisconsin after serving six years in the United States Navy.
He told BizTucson there are plenty of misconceptions about the work done by this exclusive and prestigious group of professionals. He shared these five key truths based on his decades in the field and hundreds of successful projects.
1. There's nothing cookie cutter about the work. 
"Every project is different because there are so many variables. What is the industry? What product are they making? Do they do manufacturing, research, distribution? How big – are we talking 30 operations or three? Is this their 100th site selection or second?
"All of these variables are critical to the final decision, as are other considerations such as their risk, how automated they are, how labor intensive. Where are their suppliers and their customers?
"Site selectors help build a framework to take all those variables and score them in a way to give them the optimal place to be.
"Often, the first step is helping them understand things they didn't ask initially because many times a company might have asked their HR or engineering or real estate areas to launch the process – and they look at it from their own perspectives. Site selectors have the ability to bring all of those perspectives together.
"What might be surprising to some is that even within the same company, a project done five years ago would be different now because their market has changed, their competitors have changed, their suppliers have changed, their cost structure has changed and even the national government leadership has changed. We essentially start from scratch each time."
2. The win is not all about taxes and regulation.
"Sometimes it's true that regulations are the No. 1 consideration because there are industries that live and die by regulatory environments. If you are in the petrochemical industry, for example, there are places you just can't be and others where you can. So even if you have an area with good talent and a solid customer base, there just wouldn't be any point in looking there because it wouldn't be a match.
"But more often than not, a company may look at 50 variables. The No. 1 consideration – and if it's not No. 1, it's always in the top five – is talent and workforce. There may be 50 factors you'll look at, but talent is often key – whether that's skills in the sense of greater technical capabilities of its workforce or just the sheer number of them, such as if you need a workforce of 500 for manufacturing. And then there are other sub-factors even within that. You're looking at everything from the availability to the quality, the sustainability and the cost.
"The other is infrastructure. You have to be able to physically do the work. You have to have electric power at the quantity, quality and cost you need. You need the fuel, the water, sewer, fiber, broadband and telecom. These things have to be there.
"You can have a great workforce, a great regulatory environment and great real estate, but it's not a match if you don't have the infrastructure to handle the dozen trucks you're sending out a day or the rail or airports you need for shipping.
"From there, if you determine an area would meet your physical needs, you start on the sub-factors, including what image you'll be projecting when your customers come to your plant or when the talent you're trying to attract from elsewhere comes to look around.
"We often visualize this process as a funnel, with screens that get smaller and smaller until there are just a few left."
3. Time constraints are becoming more significant. 
"When I first started, we had nine months to do a project. Now we have nine weeks. The process really has tightened up as data has become more ubiquitous.
"Other areas of the world don't necessarily have the tools and information that we have here in the U.S., so there is a lot of pressure from clients who expect to have that kind of speed everywhere else in the world. That's not always realistic."
4. Incentives are one piece – not the main driver.
"Ultimately, our goal is to find two to four locations that have met all the criteria so that we're confident we're not likely to make a big mistake. Any of them will work, but now the question is identifying the best of the best of the best.
"You hear so often in the media or political circles that it's all driven by incentives. Very few of them are – and, in fact, I don't think I can think of any project in 30 years where that's the case.
"That doesn't mean they aren't important. When we've gotten to that very small list where any could work – then those incentives to reduce cost or help a company get into business faster make a difference. Whether you're offering expedited permitting to get things up and running quicker or helping with training, companies listen to that because those things have value."
5. Pom-poms beat an ambivalent yawn any day.
"Guild members and our clients see these efforts as a public-private partnership. Companies are bringing jobs and investment to the table, while states and communities are bringing infrastructure and talent.
"Sometimes you'll read in the press about those greedy companies trying to squeeze something out of the state and city. They're forgetting about the other side of the equation: It's a competitive environment.
"And it's a big risk for these companies. You have to answer to your shareholders on why you're spending tens of millions building a new plant and training workers and disrupting your supply chain. It could be a career-ending decision so they want to see that partnership.
"The best projects consist of a great company, a great city and state, and a great consultant. Bring those three together and you'll have a great result and a great solution. If one falls apart, you don't have the partnership you'll need for long-term success.
"There is nothing worse than working up these projects for months and at the end of the day, the leaders are too busy golfing. Why would you go to a place that is not enthusiastic about you when options and choices exist?
"Arizona and Tucson are great examples. They are enthusiastic about business, they want those jobs for their citizens and they want the best companies and are willing to work with them.
"It's important to site selectors and to clients to come to an enthusiastic area that will go the extra mile to get the job done. And that's been the case here."