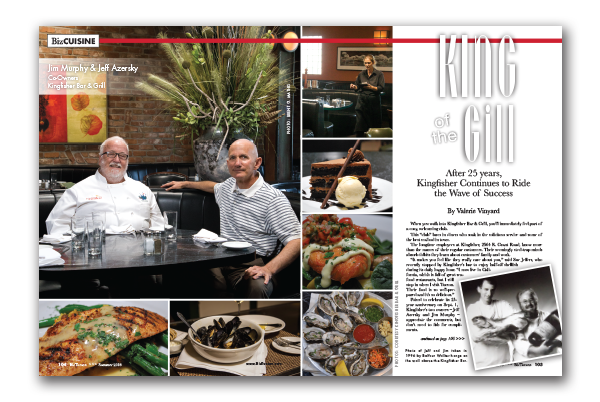 By Valerie Vinyard –
After 25 years, Kingfisher Continues to Ride the Wave of Success
When you walk into Kingfisher Bar & Grill, you'll immediately feel part of a cozy, welcoming club.
This "club" lures in diners who soak in the solicitous service and some of the best seafood in town.
The longtime employees at Kingfisher, 2564 E. Grant Road, know more than the names of their regular customers. Their seemingly steel-trap minds absorb tidbits they learn about customers' family and work.
"It makes you feel like they really care about you," said Sue Jeffers, who recently stopped by Kingfisher's bar to enjoy half-off shellfish during its daily happy hour. "I now live in California, which is full of great seafood restaurants, but I still stop in when I visit Tucson. Their food is so well-prepared and it's so delicious."
Poised to celebrate its 25-year anniversary on Sept. 1, Kingfisher's two owners – Jeff Azersky and Jim Murphy – appreciate the comments, but don't need to fish for compliments.
Over the years, the restaurant has maintained an impressive presence in Tucson's dining scene as many other longtime restaurants have closed.
Upon entering the sophisticated and vibrant setting, you might be greeted by longtime employee Meg Daily or Teddy Hall, Kingfisher's GM.
"It's got such a loyal following," said Daily, who has been at Kingfisher almost 17 years. "They're very good to us. They provide health insurance. They feed us. And we're a family. And yeah, the money's good."
The Long Island, New York-born Daily, who over the years has owned two restaurants and a small hotel, said it's Kingfisher's consistency that has made it a perennial favorite.
"When the guests see the longevity of the staff, they like that," said Daily, who ended up settling in Tucson years ago because her car broke down. "The product is good, it's plated very nice and they love the food."
In 1993, Azersky partnered with Murphy, Tim Ivankovich and John Burke to open Kingfisher, which originally was home to the Iron Mask restaurant. Murphy had just received his degree from the Culinary Institute of America, and when he returned to Tucson, he hooked up with three friends who had worked together at long-gone Bocata and Jerome's restaurants. 
The team borrowed most of the money from family members, then later acquired a $365,000 small business loan to open the 5,000-square-foot restaurant.
Ivankovich unexpectedly died of a heart attack in 2012, so Kingfisher now is helmed by Azersky and Murphy. Both men are talented chefs, but they leave executive chef duties to Fred Harris, who has been with the restaurant 20 years.
Murphy noted that the original restaurant space lacked a few things, including natural lighting. "When we came in, there were no windows, no skylights," Murphy said. 
They added a few windows and skylights, but they kept the brick walls, barstools and booths from the Iron Mask days. A couple of years ago, the kitchen was renovated, and this summer two new air conditioning units will be installed.
Kingfisher is open daily, save for major holidays and a couple of weeks in July, though originally the partners had decided to be closed on Mondays. 
"We realized we can't make money if the doors are locked," Murphy said.
Perhaps for that reason, the restaurant often is open more hours than it is closed, from 11 a.m. to midnight Mondays through Fridays and 5 p.m. to midnight Saturdays and Sundays. "It became a real big deal for us pretty quickly," Azersky said.
Well, not that quickly. In those first few months, Murphy said, "you could have thrown a football through the dining room."
Those ball-throwing days are long gone. The restaurant, which employs about 45 people, is comfortably full most nights. Now, Azersky is amazed when longtime residents say they've never visited. "I'm happy when I hear it," he said. "There's new business to be had."
Doug Levy is the chef and owner of Feast, an innovative bistro that serves an eclectic, monthly changing menu that is located just over three miles from Kingfisher. Levy said Kingfisher came along at the right time.
"Kingfisher came along at a juncture in Tucson where the seafood restaurants were the Red Lobster and Rodriguez Seafood Market," Levy said. "The Solarium didn't even exist anymore, nor did the Nantucket Lobster Trap. Then here came four guys – Jeff and Murph, who were cooking real food, and John and Tim, who were offering real service – in an era when even fine dining restaurants in town were serving frozen orange roughy, farmed Atlantic salmon and brown tiger shrimp. 
"Kingfisher made Tucsonans understand that quality seafood could be gotten in the desert, and that there were people here who were capable of preparing it correctly."
Kingfisher recently tweaked its menu to include such seasonal items as roasted chile verde soup, Fatoosh salad with tahini-lemon sauce and grilled sea bass with smoked mussel relish and pineapple BBQ glaze, plus orange-almond olive oil cake with blood- orange caramel and fresh strawberries.
"Add to that a level of service that made you feel well-taken care of, a neighborhood atmosphere that was clubby but never stuffy and a nice-looking room adorned with original artwork from local artists that made you feel like you were getting the night out you deserved and it's no wonder it's become an institution here," Levy said.
Locally made art includes Tom Philabaum's glass pieces and selections from Etherton Gallery. Diners sit at tables and cozy horseshoe-shaped booths in the dining room, while a combination of comfortably close tables and barstools in the bar usually are full with people taking advantage of the restaurant's superb daily happy hour or watching sports on television. 
In an industry where turnover is the norm, Kingfisher has held onto many employees over the years. Besides Harris, members of the 20-year-plus club are pastry chef Marianne Banes and bartender "Diamond" Jim Smith.
Smith also worked at Jerome's, where he was an oyster shucker for a few months before transitioning to bartender. 
"It's a great atmosphere, the people are great," said Smith, an affable bartender who knows the menu inside and out, reciting the daily mouth-watering specials and skillfully guiding diners to their perfect meal while concocting delicious drinks or pouring a glass from the carefully chosen all-American wine list. 
Levy said, "Kingfisher has a simple formula that sadly isn't imitated enough: Use real, fresh ingredients of the best quality you can find and don't dump in additives or canned and frozen substitutes. Staff your kitchen with people who care about what they produce and staff the front of the house with people who understand that service requires true hospitality, not just taking orders and dropping food in front of your guests. Serve something you can be proud of in a way that you can be proud of."