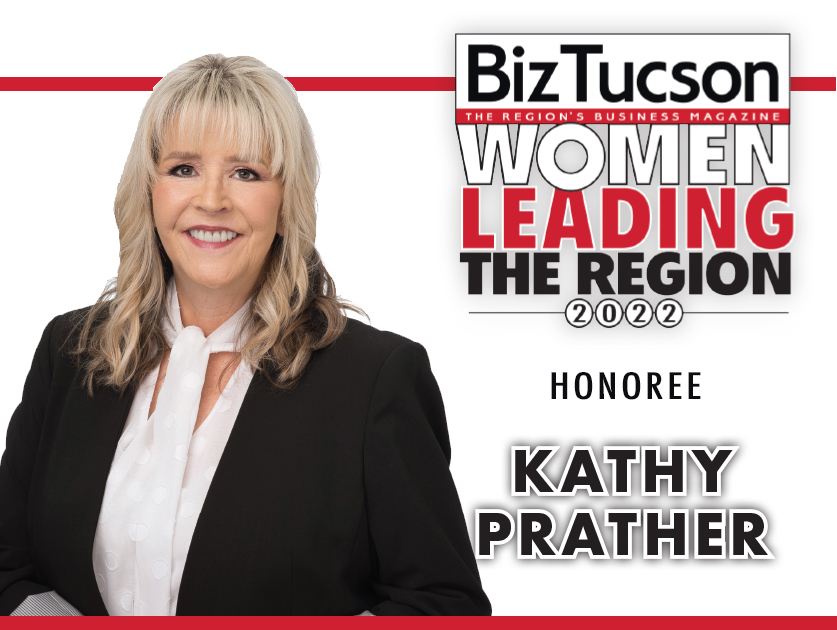 Superintendent and CEO – Pima Joint Technical Education District
By Eva Halvax
Kathy Prather has never lost sight of the importance of community.
As CEO and superintendent of Pima Joint Technical Education District, Prather's dedication and innovation have helped transform the futures of students across Southern Arizona.
It's no wonder that auto mogul Jim Click once told BizTucson, "there wouldn't be a JTED in Tucson without Kathy."
Established in 2007, Pima JTED provides high school students across the region with free career and technical education programs, allowing them to earn industry certifications and licenses for direct employment, and dual credit for post-secondary success.
"Our goal is to ensure that our students have the highest level of opportunities in our community," Prather said. "To do that, we have to be aligned with what is happening in industry and what local businesses need. Not just what those needs are today, but what those needs are in the future. That pushes us to be proactive and to be cutting edge."
Prather has an extensive background in education, and taught at schools across Arizona. But as a born and raised Tucsonan, Prather's heart is here. Her ingenuity and hard work have served this community well. With thousands of students able to access education that best suits their goals, they can prepare now for their futures after graduation.
"We bring contextual learning into academics, and it makes our students academic performance stronger," she said. "That's what we're about. We're really excited about the engagement of our young people and their ability to be successful through the way that we deliver education."
Under Prather's leadership, Pima JTED has established a synergistic relationship with businesses and community leaders to provide a qualified workforce for the future. "We want to ensure that students have the cutting-edge skills, credentials and licenses that businesses need," she said.
Prather and the Governing Board continue to advance the quality of Pima JTED education. Currently, in collaboration with the University of Arizona and others, JTED is building a new school for students pursuing health and medical careers. Soon, students will use virtual reality to peer inside the human body thanks to a grant from Rotary Club of Tucson.
"Kathy has done a remarkable job expanding access to a unique blend of technical education opportunities for students throughout Southern Arizona," said Wes Kremer, president of Raytheon Missiles & Defense. "The work Kathy and her JTED team do to cultivate top talent is crucial for the growth of our community and the health of our business."