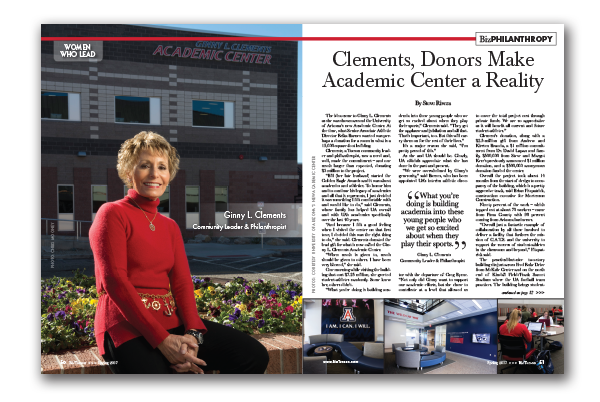 By Steve Rivera – 
Clements, Donors Make Academic Center a Reality
The idea came to Ginny L. Clements as she was shown around the University of Arizona's new Academic Center. At the time, what Senior Associate Athletic Director Erika Barnes wanted was perhaps a donation for a room in what is a 15,000-square-foot building.
Clements, a Tucson community leader and philanthropist, saw a need and, well, made the commitment – and one much larger than expected, donating $3 million to the project.
"Bill (her late husband) started the Golden Eagle Awards and it was about academics and athletics. To honor him and to continue his legacy of academics and all that it represents, I just decided it was something I felt comfortable with and would like to do," said Clements, whose family has helped UA overall and with UA's academics specifically over the last 40 years.
"And because I felt a good feeling when I visited the center on that first tour, I decided this was the right thing to do," she said. Clements donated the lead gift for what is now called the Ginny L. Clements Academic Center.
"When much is given to, much should be given to others. I have been very blessed," she said.
One morning while visiting the building that cost $7.25 million, she greeted student-athletes randomly. Some knew her, others didn't.
"What you're doing is building academia into these young people who we get so excited about when they play their sports," Clements said. "They get the applause and jubilation and all that. That's important, too. But this will carry them on for the rest of their lives."
It's a major reason she said, "I'm pretty proud of this."
As she and UA should be. Clearly, UA officials appreciate what she has done in the past and present.
"We were overwhelmed by Ginny's generosity," said Barnes, who has been appointed UA's interim athletic director with the departure of Greg Byrne. "Not only did Ginny want to support our academic efforts, but she chose to contribute at a level that allowed us to cover the total project cost through private funds. We are so appreciative as it will benefit all current and future student-athletes."
Clement's donation, along with a $2.5-million gift from Andrew and Kirsten Braccia, a $1 million commitment from Dr. David Lapan and family, $500,000 from Steve and Margot Kerr's previously announced $1 million donation, and a $500,000 anonymous donation funded the center.
Overall the project took about 14 months from the start of design to occupancy of the building, which is a pretty aggressive track, said Brian Fitzpatrick, construction executive for Mortenson Construction.
Ninety percent of the work – which topped out at about 70 workers – came from Pima County with 98 percent coming from Arizona businesses.
"Overall just a fantastic example of collaboration by all those involved to deliver a facility that furthers the mission of C.A.T.S. and the university to support the success of student-athletes in the classroom and beyond," Fitzpatrick said.
The practical-but-nice two-story building sits just across Fred Enke Drive from McKale Center and on the north end of Kindall Field/Frank Sancet Stadium where the UA football team practices. The building brings student-athletes together to assist in academics in a more one-on-one approach with more privacy than in the past.
"We're so grateful to be here," said Marisol Quiroz, associate director of student development. "We're able to accommodate so many. We were able to multipurpose the best we could with the space we had (in the old area)."
But it clearly outgrew the area.
The new building houses life skills, sports psychology and personal-development services as well as the C.A.T.S. Academics staff, which is made up of 14 full-time staff members, including six academic counselors, five learning specialists and administrative staff. In addition, the full-time academic staff is supplemented by six part-time assistant learning specialists and approximately 60 student tutors/mentors.
The facility isn't your mom or dad's study table. Less than 20 years ago and as recently as last year, study tables were in coach's offices or in the bowels of McKale where so many student-athletes had to spend time in cramped quarters where privacy was nonexistent, with small rooms, few necessities and lots of day-to-day traffic.
"We've come a long way," Barnes said, laughing. "What an opportunity they have. It's just so wonderful for their educational experience." Barnes had to deal with the cramped quarters in as much as she was a former standout UA softball player.
Clearly, the space and comfort was needed in that UA was outgrowing the space it had in McKale.
"Prior to the new facility, our academic, life skills and sport psychologist were all located in different parts of McKale," said John Mosbach, associate athletics director for C.A.T.S. Academics. Now, being housed under one roof allows the student a "one-stop shop" experience that is efficient for the students and staff.
"We're excited, encouraged," Mosbach said. "I don't know if there are enough adjectives to explain how the staff and student-athletes feel. One that is definitely felt is appreciative."
C.A.T.S. Academics facilitates close to 1,000 hours of academic appointments weekly for more than 500 student-athletes on campus.
"I definitely see a difference with the students. There is higher volume of traffic in this center compared to McKale and one of the main reasons is because of the extra space and diverse learning environments," Mosbach said.
"Another area that has gotten great reviews from students is the upgraded technology. Many of our computers were getting fairly old in the previous space and with the building came an entirely new allotment of computers. Also, it's just a cool, fresh space with amazing natural light and great views."
Student-athletes are spending more time in the facility, Mosbach said, because of its comfort and it's the place to connect with other student-athletes. There are a total of 41 rooms, which includes staff offices and student spaces. Just as important is the equipment where 70 new computers are in use.
"Our department's number one goal and principle," Mosbach said, "is to graduate student-athletes and this facility is certainly going to help with that goal."