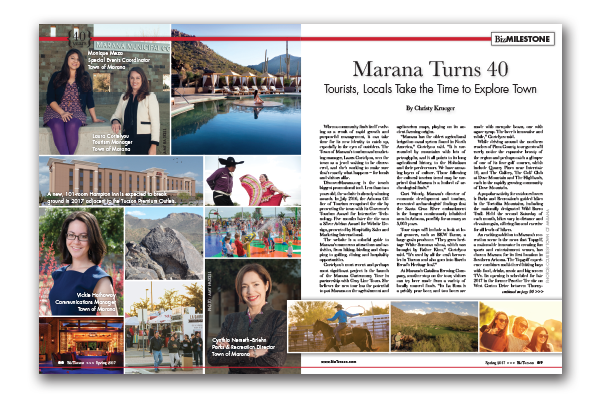 By Christy Krueger – 
Tourists, Locals Take the Time to Explore Town
When a community finds itself evolving as a result of rapid growth and purposeful management, it can take time for its new identity to catch up, especially in the eyes of outsiders. The Town of Marana's tourism and marketing manager, Laura Cortelyou, sees the town as a jewel waiting to be discovered, and she's working to make sure that's exactly what happens – for locals and visitors alike.
DiscoverMarana.org is the town's biggest promotional tool. Less than two years old, the website is already winning awards. In July 2016, the Arizona Office of Tourism recognized the site by presenting the town with its Governor's Tourism Award for Interactive Technology. Five months later the site won a Silver Adrian Award for Website Design, presented by Hospitality Sales and Marketing International.
The website is a colorful guide to Marana's numerous attractions and activities, from hiking, birding and shopping to golfing, dining and hospitality opportunities.
Cortelyou's most recent and perhaps most significant project is the launch of the Marana Gastronomy Tour in partnership with Gray Line Tours. She believes the new tour has the potential to put Marana on the agritainment and agritourism maps, playing on its ancient farming origins.
"Marana has the oldest agricultural irrigation canal system found in North America," Cortelyou said. "It is surrounded by mountains with lots of petroglyphs, and it all points to its long agricultural history, to the Hohokam and their predecessors. We have amazing layers of culture. Those following the cultural tourism trend may be surprised that Marana is a hotbed of archeological finds."
Curt Woody, Marana's director of economic development and tourism, recounted archaeologists' findings that the Santa Cruz River embankment is the longest continuously inhabited area in Arizona, possibly for as many as 5,000 years.
Tour stops will include a look at local growers, such as BKW Farms, a large grain producer. "They grow heritage White Sonoran wheat, which was brought by Father Kino," Cortelyou said. "It's used by all the craft breweries in Tucson and also goes into Barrio Bread's Heritage loaf."
At Marana's Catalina Brewing Company, another stop on the tour, visitors can try beer made from a variety of locally sourced foods. "Its La Rosa is a prickly pear beer, and two beers are made with mesquite beans, one with agave syrup. The beer is innovative and subtle," Cortelyou said.
While driving around the northern reaches of Pima County, tour guests will surely notice the expansive beauty of the region and perhaps catch a glimpse of one of its four golf courses, which include Quarry Pines near Interstate 10, and The Gallery, The Golf Club at Dove Mountain and The Highlands, each in the rapidly growing community of Dove Mountain.
A popular activity for outdoors lovers is Parks and Recreation's guided hikes in the Tortolita Mountains, including the nationally designated Wild Burro Trail. Held the second Saturday of each month, hikes vary in distance and elevation gain, offering fun and exercise for all levels of hikers.
An exciting addition to Marana's recreation scene is the news that Topgolf, a nationwide innovator in creating fun sports and entertainment venues, has chosen Marana for its first location in Southern Arizona. The Topgolf experience combines multi-tiered hitting bays with food, drinks, music and big screen TVs. Its opening is scheduled for late 2017 in the former Practice Tee site on West Costco Drive between Thornydale Road and I-10.
Tourists aren't the only ones enjoying the area's great natural, manmade and historical amenities. Marana residents love the sense of community in coming together to celebrate their culture and heritage. And that will be especially true in 2017 as they commemorate 40 years of incorporation. Recognizing the milestone birthday will be part of Marana's annual events, including Founders' Day and the Marana Cotton Festival.
"Our goal is to celebrate 40 years all year long. For all events, we have added an element of celebration," said Special Events Coordinator Monique Meza.
Official recognition of the town's 40 years will take place during the State of the Town Address and Luncheon on April 14 at The Ritz-Carlton, Dove Mountain in partnership with Marana Chamber of Commerce. It will start with a business showcase and feature a presentation by Mayor Ed Honea about the town's bright future. Registration is required.
A more casual, family-friendly celebration will take place during the March 25 Marana Founders' Day at Ora Mae Harn District Park. "We come together to celebrate our founders, agriculture, the people. It's a get-to-know-your-neighbors event," Meza said.
During the Oct. 21 Marana Cotton Festival, locals honor their heritage with a rodeo, carnival rides, a petting zoo and plenty of food. And the                         Dec. 2 Marana Holiday Festival and Christmas Tree Lighting is a good time, according to Meza. "We have the largest tree in Southern Arizona and we draw a lot from all over."
For vacationers coming from a distance or locals looking for high-end resort hospitality, The Ritz-Carlton, Dove Mountain is tough to beat. It helped introduce the world to Marana when the WGC Accenture Match Play Championship was held at its golf course, The Golf Club at Dove Mountain.
Anyone who has visited the picturesque resort, tucked back into Wild Burro Canyon in the Tortolita Mountains, has been intrigued and awed by its setting and the feel of a mysterious ancient presence. Petroglyphs can be viewed just a few steps out the door of the hotel. A Native American flautist stands atop a rock ledge and plays to the setting sun as the hauntingly tranquil notes echo off the looming cliffs. It's all part of the experience of discovering Marana.