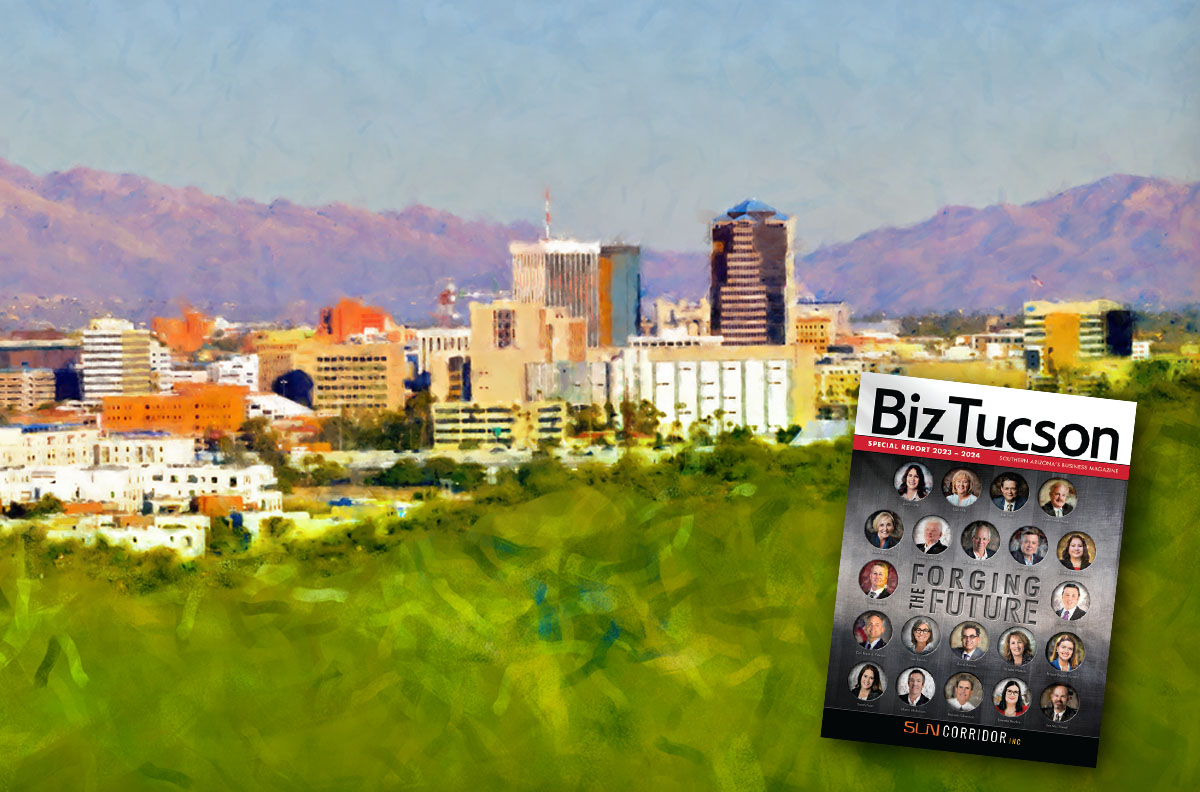 Sun Corridor Inc. Special Report
Region Responds to Post-Pandemic Site Selection Trends
By Jay Gonzales
When Tucson lands a new company or large expansion that brings jobs, revenue and often new industries to the region, it usually has been through an intense job interview of sorts.
Companies looking for a location for their organizations where they can succeed hire site selectors – headhunters, in a way − to find the perfect place to bring their jobs, their employees and their infrastructure for what they anticipate is a long-term relationship.
The proverbial job requirements are not a mystery to any region trying to attract the best types of businesses: ones with high-paying jobs, hundreds or thousands of employees, and a financially bright and long-term future. The competition for them has always been fierce. Now, there's an added element – COVID has changed the site selection landscape, says Joe Snell, president and CEO of Sun Corridor Inc.
It's taken some time, but regions like Southern Arizona are recognizing how the landscape changed and they are taking action.
Supply Chain Issues Emerge
Disruptions in the supply chain that materialized during the pandemic changed strategies for thousands, even millions of companies. They realized the reliance on China in the supply chain was a huge risk for U.S. companies. It was a "wakeup call," Snell said.
The result, he said, has been a "massive push" to relocate manufacturing companies out of China to areas where transportation and logistics are more stable – areas like Tucson.
"We have seen a 40% increase in our pipeline of manufacturing projects over the last three years," Snell said, adding that a global focus on climate change has put the region on the map for the automotive industry, particularly the supply chain for the millions of electric vehicles and parts being produced.
"We have experienced explosive growth in the number of qualified projects from the clean energy industry," said Snell. "In the last three years, we have seen a 330% increase in automotive-related projects, specifically EV."
Talent Still the Driver
Even with the changing landscape, Snell said, one thing that hasn't changed is the importance of having the talent in your region for the new companies that are arriving.
"Most of the drivers are still the same as they've been either before, during or after the COVID pandemic," said Snell. "We have seen some new trends and new drivers emerge, but the No. 1 driver that has been the No. 1 driver since about the mid-1980s is talent. Talent drives all market decisions."
Talent was a major component of the Pivot Playbook, a region-wide, post-pandemic strategic plan produced by Sun Corridor Inc. in collaboration with business and government leaders to identify trends that emerged during the pandemic. The plan led Sun Corridor Inc. to launch a talent attraction web site called "Thrive in Tucson," which is a one-stop resource to promote the region's lifestyle, rankings, quality of life, affordability, and other attributes to those looking to relocate. The campaign gained steam this past year with new social media channels, an influencer campaign and digital advertising.
"A community's ability to attract talent absolutely defines wins and losses," Snell said. "We're no different."
An unexpected, post-pandemic trend has been a low unemployment rate nationally, leading to the talent supply in a number of industries not keeping up with the demand in communities like Tucson, Snell said.
"Every competitive region has to have a continuous focus on workforce development," said Susan Gray, president and CEO at Tucson Electric Power. She is the current chair of Sun Corridor Inc.
"The University of Arizona is a true draw for companies looking for that innovative talent pipeline, and Pima Community College has done an amazing job creating career pathways that are aligned with existing businesses," Gray said. "But as significant as our higher education institutions are, they can't do workforce development programs alone."
Growing the local talent is a critical component of the talent question, Snell points out.
"We feel like we're a step up because of Pima Community College, and the University of Arizona and ASU's presence here," he said. "But there's still a gap. If we kept every engineer that the University of Arizona graduated, there still aren't enough to fill all the engineering jobs in Tucson."
"We want to grow and train up our population. That's the best way to do it because we don't have to convince somebody what it's like to live here. But frankly, we can't just rely on that. In-migration really has to be a comprehensive strategy."
Infrastructure Remains Critical
Like any quality job candidate, a community has to have multiple skills, or more accurately, multiple attributes.
Topping that list is the availability of land and existing buildings so companies can avoid years of site preparation, permitting and installation of infrastructure such as power, water and roads to move in.
"Land availability is a big driver, especially in Tucson," Snell said. "If companies can't find that in the market, they're moving to the next market immediately."
American Battery Factory announced in December that it was locating its first "battery cell gigafactory" in Tucson on 267 acres of land owned by Pima County at the Aerospace Research Campus south of Tucson International Airport. The company expects to bring more than 1,000 jobs to the region.
"Pima County's partnership with American Battery Factory signifies a high return on investment made by the County and taxpayers 10 years ago when the Board took positive steps to acquire the Aerospace Research Campus," Supervisor Sharon Bronson said. "American Battery Factory is exactly the type of high-wage employer we hoped to attract."
"Available land with the right zoning was critical to getting that deal," Snell said. "American Battery needed a big footprint. Pima County had that. All the hard work had been done."
Cooper Sutherland, VP for acquisitions and development for the Arizona region for Schnitzer Properties, said his company recognized a few years ago that Tucson was ripe for development, speculation and investment, and so far, the national real estate developer has been right.
The company currently has seven properties in the Tucson area and Oro Valley totaling nearly 1 million square feet, with most of it leased. Schnitzer "made investments for multiple reasons," Sutherland said. "There's obviously a quality of life you can have in Arizona. There's a fantastic economic development effort in Sun Corridor Inc. and great governmental organizations that assist with drawing businesses to Tucson."
He also pointed out that Interstate 10 and its access to California and parts east is a built-in advantage that weighs heavily on industrial real estate decisions.
"We've been able to take calculated risks in Tucson on a spec basis and be very successful," Sutherland said. "The population growth of Tucson and the growth of the UA got to the point where the feedback was getting to the development community that Tucson was ripe for larger, newer commercial developments."
Not surprisingly, in the competition to attract companies, addressing recent negative media attention, such as water availability and infrastructure, is a constant issue for the region, Snell said.
The low water levels at Lake Mead and Lake Powell along the Colorado River are highly visible ammunition for competing regions to claim that water – or a lack of it – makes Arizona a place to avoid for companies looking for an area to grow.
"I reassure companies and we show them through the assured 100-year water supply program that we have adequate supplies," Snell said. "But unfortunately, we're having to address this all the time. I think our region has done very, very well, and we've long recognized how important water is."
Focus on Competitiveness
One of the main ways Sun Corridor Inc. leadership is forging the future is a determination to zero in on where the work, the time and the resources need to be deployed. Sun Corridor Inc. is embarking on a detailed analysis to measure the region on all major economic competitiveness topics.
"In order to forge the future, we have to deeply understand what it takes to compete," Snell said.
"We are going to push out a pretty big competitive analysis that says, 'Here are the gaps. We have to fix these things immediately,' " said Snell. "I think it's needed right now because we're at an inflection point in this region. We don't want to see any interest slow down for issues we can fix."
READ THE FULL SPECIAL REPORT HERE.